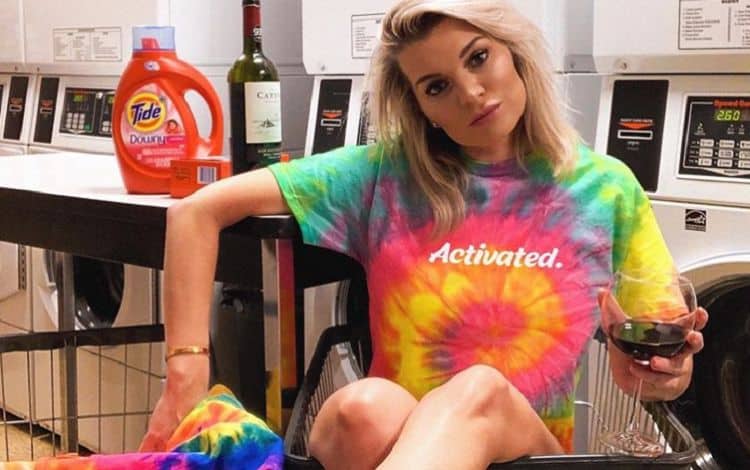 "Summer House" has brought forth a few reality stars among whom is Lindsay Hubbard. The 33-year-old has put on quite a show on the series especially regarding her dating life. She said that she likes to live a life without regrets so while to some of us her romantic life maybe a bit risky Lindsay has no apologies to make. As we continue waiting for her to reveal more of her crazy side in season four, here is everything you need to know about Lindsay.
1. She has struggled with acne for over a decade
Lindsay's skin is usually complimented, but people do not know how much she has had to deal with to get it to be as smooth as it is today. In her puberty years, Lindsay had to use Accutane to control the skin breakouts, and now as she combats adult acne, she has found laser treatments to be useful. She admits to being on and off topical creams, but she has gotten a skincare regimen that works for her.
2. She got stressed over her breakup with Everett
Some people move on at the speed of lightning; others like Lindsay can take a while before letting the break up sink in, causing them to be depressed. When she and Everett split up, Lindsay was so stressed that she could not eat. Her appetite was gone; hence she lost a lot of weight and gained anxiety instead.
3. She can be petty
Cristina Gibson and Lindsay Hubbard got into a huge fight when Lindsay said that Cristina had been fired. What made matters worse is that she made the public aware of how much she had helped Cristina find some freelance work to get by. It is unfortunate to have someone help you then going around saying how much they have been supporting you. Consequently, Lindsay rubbed Cristina in the wrong way, and the two ended up going from best friends to not speaking to each other.
4. She had to use birth control while in college
Puberty hits people at different stages; while some will develop breasts as early as ten years old, others have to wait a bit longer. Lindsay fell in the latter category, and she only started maturing into an adult in her senior year of high school. Her periods were irregular, and Lindsay had to use birth control to regulate them.
5. She had plastic surgery
Breasts are usually made up of fat cells; hence the more the fat cells, the bigger the breasts. Consequently, when Lindsay lost weight, her breast size reduced, and even though she started eating again, their initial size never returned. The reality star was not comfortable not being feminine; hence she thought it best to have a breast augmentation procedure. She posted on Instagram that she was tired of having teenage-like breasts, yet she was in her thirties and if that meant having fake breasts, so be it. After all, she was doing it for herself not to please a boyfriend.
6. She believes the universe put Peyman in her life to help her get over Everett
Lindsay admitted to AOL that she kept going back to Everett because she would forget all the bad things about him and was blinded by the good. However, the minute she met Peyman, her attention was drawn to him not just because of his European accent and green eyes, but also because he knew what he wanted. That attracted Lindsay to him, and although they also broke up, he enabled her to get over Everett.
7. She felt she had wasted enough time with Everett
Lindsay kept hoping that Everett would be the one, so she gave him chances. After breaking up, the two got back together again before calling it quits and then hooking up with him again. She said the fact that they were both in the Hamptons did not help in healing her. However, she got together with Peyman but then broke up again after a while. Lindsay said that at 32, she was not slowing down her dating life after spending two and a half years with someone who proved not worth it. Therefore even after splitting up with Peyman, she still got another guy, Johnny, and until she gets an alpha male, she will keep looking.
8. She hooked up with her best friend
In mid-2019, Lindsay disclosed that she was not attracted to Carl romantically, and even though fans told them they looked cute together, she only saw him as a friend. 2020 has seen Lindsay change her mind about the friendship because she said the new season would have the audience see them taking risks on their friendship. Lindsay said that she hooked up with Carl and now they are closer than ever.
9. Her father stopped watching "Summer House."
Lindsay told E! News that her father was always eager to watch his daughter; therefore, he tuned in for the entire first season. However, he could not go beyond the first episode of the second season because he saw Lindsay removing her top and getting into a hot tub. However, he has enlisted a friend to watch the show on his behalf. Lindsay knows that she will be wild in season four; thus, she was kind enough to warn him not to bother watching it.
10. Why she preferred a short hair cut
It seems like the breast augmentation had Lindsay realizing that she has to be more herself and not wait around for someone to validate her. Apart from taking her breast augmentation journey to the public through Instagram, she also changed the way she looked by getting an icy blonde haircut. The starlet said that she had worn her hair short back in her college days and she felt more of herself with the look than with long hair. Besides, Halle berry's short, blonde hair on "X-Men" might have inspired her because she asked fans who wore it best.
Tell us what's wrong with this post? How could we improve it? :)
Let us improve this post!