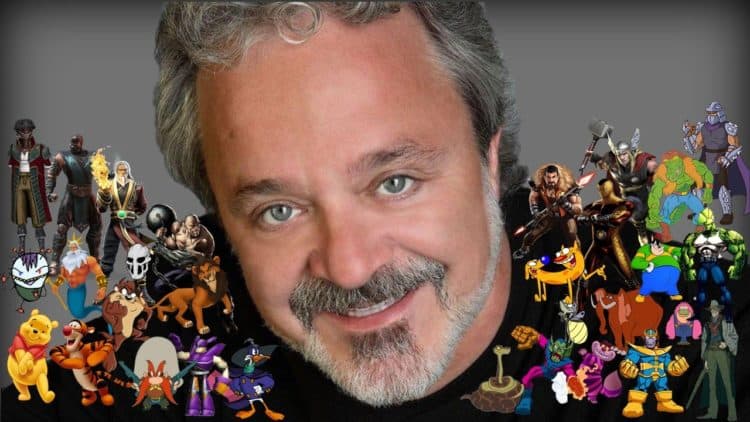 Voice actors tend to get a lot of credit for their work but in terms of having a fanbase and being widely known, there are a lot of them that don't ever really become huge stars in the same manner as live-action actors. Jim Cummings however is a name that many people know since he's portrayed quite a few very enjoyable and familiar characters over the course of his career. Just as a bit of interest in the guy he did design and paint floats for Mardi Gras early on and he even served as a deckhand for a riverboat. He was even part of a successful rock band for a while and in the 80s he managed a video store before making the leap into voice-acting. One has to wonder just how that happens, but sometimes things just work out apparently and some people are so fond of, and so good at, mimicking and imitating voices that they decide that it might be worth it to make a career out of it. The list of voice roles that he's taken on in his career is impressive since he's voiced several characters that people might need to be reminded of and many others that people would no doubt recognize right away. He's even taken over for other voice actors at certain points since he replaced Hal Smith as the voice of Winnie the Pooh, which might come as a bit of shock to some people since the beloved bear is one character that a lot of people might have thought had been the same for quite some time.
That's not the only character he's stepped in to play since he's also taken on the role of Tigger, Taz from Looney Tunes, and even the voice of Scar from The Lion King, when Jeremy Irons was having issues with his vocals. While that might sound kind of awkward one has to remember that a lot of voice actors might stick within their wheelhouse in order to do what they can for one project or another, but Jim has managed to voice some of the most impressive and iconic characters over the course of his career and has done so with such a remarkable amount of accuracy that it's fair to state that a lot of people might notice a slight difference between his voice and the original actors, but very few have likely thought it to be too different to enjoy. One thing about voice acting is that if it's not convincing enough then it doesn't work, which means that Cummings has been more than convincing since he's been voicing certain characters for long enough that people might have forgotten or never even known that a switch was made unless they have clips of the same character side by side and can compare their voices at the same time. It's not always a perfect match, since every voice is going to be just a little different, but at this time it's fair to state that Jim has managed to become good enough at what he does that expressing any displeasure with his voice roles is the act of someone that's being extremely picky about what they like.
Jim did have a nasty spat with his ex-wife since in 2019 she hurled a number of charges against him such as domestic abuse and even rape allegations, but in the end, the two of them shared custody of their two daughters and were handed mutual restraining orders as Jim did his best to show that his ex was being extremely manipulative. While the case might not have gone down as well as they both liked Cummings has since made it clear that he's attempting to dispel any claims that he's been abusive and has continued to keep working. The life of a voice actor isn't bound to be any less hectic at times than a live-action actor whose face is in the news constantly, but it does feel that regardless of their lack of face-time, voice actors do find their lives to be every bit as difficult sometimes as anyone else. Thankfully though that hasn't stopped him from working since he's been keeping at it in a steady manner as he's voiced a number of different characters for Disney over the last several years and has continued to be one of the most popular voice actors on the scene as his name has only continued to get bigger.
One note about this is that some people might think that being a voice actor is so much easier than being on screen and having to put your image out into the world for people to judge, but there are other difficulties. Just imagine the care one has to take with their voice, especially when it's the way one makes a living.