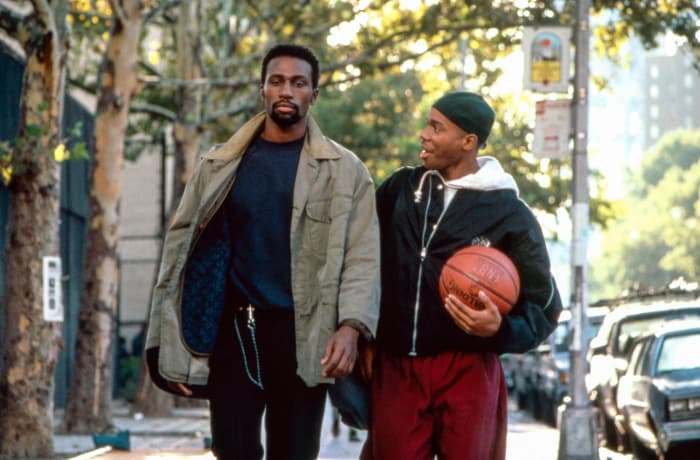 If there was an award for the most serious look in movies then Leon Robinson might be in the running since the guy can go without cracking a smile for a seriously long period of time in any movie. But when he does smile it's like watching the light peek through the clouds since his entire demeanor appears to change. This is one reason why it doesn't make a lot of sense that his career didn't skyrocket since he's a good actor, but he's been taking on a lot of roles in the past decade or so that have gone largely unnoticed by a lot of people. But back in the day when he was a bit younger he managed to snag several roles that might not have been among the best but were still memorable. He's never really been Oscar material, but he's been dependable and he's put in a good performance whenever he's on-screen, which is more than others have done in their time, and he's also been entertaining, which is definitely worth something since several of his characters have been entirely believable. One might think that he's been shafted out of a lot of other opportunities that should have come his way, but what roles he has been given have been impressive enough to remember him by since he's been around long enough to have seen and done a few things in his time.
One role that a lot of people probably remember him in is the role of Thomas Sheppard, a former basketball player that was arrested when his best friend went jumping off of a roof after trying to challenge Shep to a contest of who could hit higher on the backboard. Shep is shown to be a down-and-out individual that's still haunted by the memories of the fateful night when he lost his friend and has been down on his luck for quite a while as he hasn't had any prospects since that moment. When he takes on the position of a security guard at the high school of a young up and coming star he begins to take an interest in the young man, played by Duane Martin, as he sees a lot of himself in Kyle. When his old coach tries to get Shep to help him with the team though, Shep is hesitant since he's still uncertain of his place in the game after what happened. As much as he tries to run from it though, he and Kyle eventually end up having words, and Kyle, who is arrogant and cocky, doesn't want to listen. When Shep starts a relationship with Kyle's mother though, Kyle becomes violent, especially after finding out that a neighborhood thug, Birdie, played by Tupac Shakur, is Shep's younger brother. After finally confronting Kyle and showing him that he's not perfect, Shep is about ready to leave town when he decides to join his old coach's team for a community basketball tournament, taking his place on the team as he and Kyle proceed to win the game.
While that was one of his best roles by far, there have been others, such as the mercenary role he took on in Cliffhanger, which showed him being about as vicious as he's ever been. Eventually, his character was taken out as he was impaled by a stalactite by Sylvester Stallone's character and left to rot in an ice cavern. He also had a role in Ali, he's played the part of Little Richard, he was in Waiting to Exhale, and he was featured in a Madonna video 'Like a Prayer'. It's fair to say that Leon has done quite a bit with his career and he's been more than a little popular at some points since he's even been in the movie Cool Runnings that had to do with the Jamaican bobsled team. While it was loosely based around the real story that happened years ago, it was a lot of fun since Leon took on the role of Derice, who was the continually upbeat and slightly naive leader of the team who gained a great deal of maturity as the movie went on since he quickly learned that the dream he wanted so badly, to go to the Olympics, was going to take far more effort than he'd realized, especially when heading into a sport that he knew nothing about. Seriously, all ambitions and goals aside, at one point no one would have believed that Jamaica could field a bobsled team since there was no way to think that they would have any real understanding of what the sport was all about. But obviously those that made this happen didn't want to take no or derisive laughter for an answer. Leon made this role in a big way since he played it both loose and just serious enough to be convincing. That's why he's worth remembering and paying attention to.