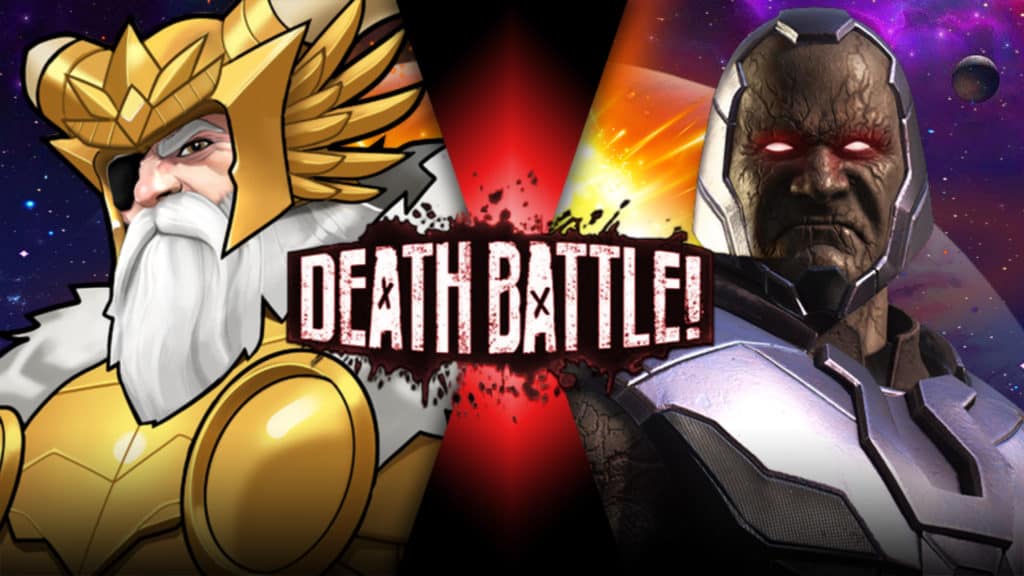 When two of the most powerful characters in their universes go to war it's fair to say that no one would really win apart from those that can avoid the universal damage that will tear worlds apart before a victor is decided. There's usually someone who will mention that the winner of such fights will always be determined by the writer and the situations that they put the two characters in, and that's entirely accurate since as fictional characters, Darkseid and Odin are only bound to be a powerful as their creators make them. One of the biggest differences however is that Odin is a character taken from Norse mythology while Darkseid is a comic book creation. In all honesty, the actual legend of Wotan, or Odin, from the old Norse legends don't really measure up to the upgrade that he's received from Marvel, but since this is what we're here to discuss, this will be a version of the Allfather that we're going to use, and in all honesty, he is a powerhouse that has accomplished feats that Darkseid might be able to match up to a certain point but was born a god, whereas Darkseid had to steal his divinity from the Old Gods.
Some might say this means that Darkseid is stronger since he had to trick the Old Gods into feuding so that he could reap the benefits, but others might state that Odin has a much more natural upbringing when it came to learning how to use the power that would become his. Neither character is innocent since Odin has done plenty of shady things in his past, though in recent versions of the character he has at least tried to be a good ruler and a father that his children can look up to. Obviously he's fallen short at times, but Marvel comics and the MCU have made Odin look like w wise and strong ruler a lot of times since he's cut quite the figure when he's on the panel and when he's on the big screen. In the comics Odin is extremely powerful, yet so is Darkseid, which does pose the question of who would win if such a fight were to come around.
To say that the heavens would shake is putting it likely since the power that these two combatants would unleash would no doubt be enough to shake an entire universe if not destroy it completely. However, if we're going by the MCU's version, it feels as though Odin would be put on his heels just a bit since he might be of the mind to go on the defense to keep the nine realms from being destroyed or subjugated by Darkseid, who tends to live to conquer and find the Anti-Life Equation. But if Odin went to war it's fair to think that against Darkseid he'd still have a fight on his hands, but the Allfather would still be victorious when all was said and done largely because Odin's power base is not only greater, but he can tap into the Odinforce in order to increase his power even further, thereby overwhelming Darkseid, no matter how much stronger the DC deity might be.
Plus, when it comes to overall toughness, Odin has taken on characters such as Galactus, who was shown in a crossover to have handled Darkseid and his best attacks. Odin is a character that has actually headbutted Galactus, and while this didn't stop him, it certainly got his attention. But there's also the idea of asking what would happen if both combatants were at full power and allowed every advantage their respective universes could give them, and if they were set in one environment or another. Odin outstrips Darkseid when he's allowed to access the Odinforce, and has the Odinsword, and Gungnir, no matter what Darkseid wants to bring to the fight. What's really interesting about this however is that Odin will likely be the one to stand his ground before flexing on Darkseid, as the ruler of Apokolips is bound to be the type that will test his opponent's defenses first and then come up with an insane attack of some sort that is meant to blow Odin out of the water.
The thing is though, Odin might have limits when he's not accessing the Odinforce, but the moment that he takes hold of that power, there aren't a lot of characters that can touch him, since the biggest cosmic threats in Marvel, some of them at least, have refused to mess with Odin or have tried and found that it wasn't the smartest move. This is one reason why it would be less than wise for Darkseid to ever pick a fight with Odin or set his sights on Asgard in general. This wouldn't be an easy fight, but it would end with Odin standing tall.