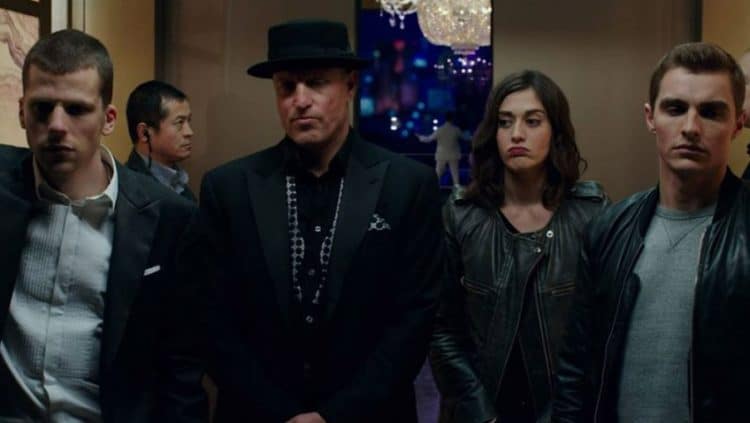 A year before Now You See Me 2 even came out of the theaters, Lionsgate had already announced that they were going to pursue a third installment of the successful films so far. This was back in 2015. Three years later, we haven't heard any news of the next movie. Now You See Me first hit the theaters back in 2013, and it was something that was completely fresh. Although its subject of magic had been done plenty of times in the past, it hadn't been done like Now You See Me before. The group dynamic was wonderful; the suspense was just enough. More importantly, the twist at the end was a complete shocker to most of us. It was absolutely unexpected as was the charm of the entire film.
It then made sense that Lionsgate would capitalize on the success of that first film and release a second film right away. Now You See Me 2 came out in 2016, and it was very much a success as well. Although we'd seen the antics before, we were still surprised in several occasions. The magic scenes, as well as the magicians themselves, managed to still stay fascinating. The addition of new players played well for the movie. Because of the momentum of the films, it made sense for Lionsgate to announce the release of the third film at the time they did, but was it too premature? Did they actually jinx the project altogether?
What Do We Know
Since Lionsgate made the announcement back in 2015, there hasn't been any further news about the third installment. We do know a few background details that are important. So far, we know that director Jon M. Chu signed back on as director again. Chu directed the second film, and he's also known for a few other famous projects as well. Also, writer Ed Solomon has also signed back on to work on both the story and the characters. Solomon is expected to work with two other writers new to the project and fairly new to screenwriting altogether: Gavin James and Neil Widener. Solomon also received executive producer credits in the second film and is being credited as producer for third film.
So far, we also know that the film is set to be released in 2019. There hasn't been any further news about that release since its announcement. As a trivial fact, we know for sure that Isla Fisher will not be reprising her role of Henley, which she didn't do in Now You See Me 2 anyway. There are also rumors that the main villain will again be British, considering that the villains from both the first two movies were both British. Might Benedict Cumberbatch be interested in any way? We could certainly only hope so.
As of right now, none of the original actors have signed on to do the project. Unless they're being secretive for some reason, the movie doesn't have any actors signed up for the project at all, which is odd considering the project was announced three years ago.
What We'd Like to See
If the movie were to actually happen, the first thing we'd like to see is the gang back together again. Mark Ruffalo, Jesse Eisenberg, Dave Franco, and Woody Harrelson are all a must. We don't mind a new female figure at all; it can be a thing for the franchise to have a new female figure with each installment. We'd also like to see crazier tricks, of course. That's a given but still worth mentioning regardless.
Given how the storyline unfolded in both of the first films, we'd like to see the development of the Eye's arc. The group has been mysterious from the beginning, and we'd like to see some answers already. Also, even though Michael Caine and Daniel Radcliffe had both been awesome adversaries in the first two films, they weren't true adversaries in magic form. It would be nice to see the Four Horsemen face-to-face with another individual or group that deals in magic as well. That's really the only way to test just how talented the Four Horsemen actually are. We'd like to see a change of pace, where the lead characters may be in real trouble for once. We believe it's about time the Four Horsemen faced someone who will give them a run for their money.
Now You See Me 3 is looking dimmer and dimmer as the days go by. We still have hope that the movie will happen, but right now it's not looking good. At least we've got the first two to enjoy.
Tell us what's wrong with this post? How could we improve it? :)
Let us improve this post!