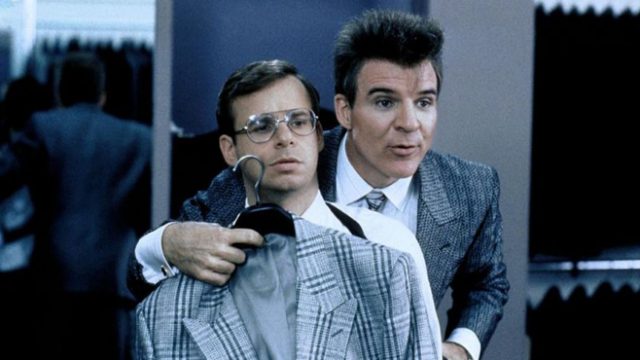 I like Steve Martin as much as the next guy. While I don't personally think he's as funny as most people do, I still like him as a serious actor and writer. By the way, that whole King Tut thing on Saturday Night Live in the 70s was never funny and never will be and The Jerk was not a funny movie. I just had to mention that. Anyway, let's get into your typical Steve Martin character. For the most part Steve Martin's that guy with the white hair who's great in family oriented movies. He's great at throwing a tantrum, lighting up the mood, and spitting off a number of sarcastic lines. By no means am I saying that Steven Martin is a typecast actor but I will say that many of his characters he's played share similar qualities.
In Father of the Bride he's a father dealing with pressure about his daughter getting married. In Cheaper by the Dozen he's a father dealing with tons of kids while juggling being a football coach. In Parenthood he's a stressed out dad. Getting the picture here? Like I said, he's had his fair share of serious moments. Take Shopgirl for example. I thought he was solid in that. And even though he had a bit part in And the Band Played On, I liked him in that too. But if there's one movie where Steve Martin just isn't Steve Martin, it's My Blue Heaven.
To this day when I watch My Blue Heaven I refuse to believe that Vinnie is played by Steve Martin. Seeing him with gray spiked hair, wearing mafia suits and talking with a Brooklyn accent is practically unheard of. I personally think it's the greatest character he's ever played. But again, when you watch it, it's just not Steve Martin. You know in the back of your mind that Steve Martin is playing this part but you can't help but think "this CAN'T be Steve Martin." I don't know. I just thought I'd bring it up because if you haven't seen My Blue Heaven, you need to.
It's a classic comedy and Rick Moranis is also awesome in it. Again, Steve Martin as a mafia guy. It just doesn't fit any other movie he's ever done and I absolutely love it.
Here's one of the best scenes in the movie.