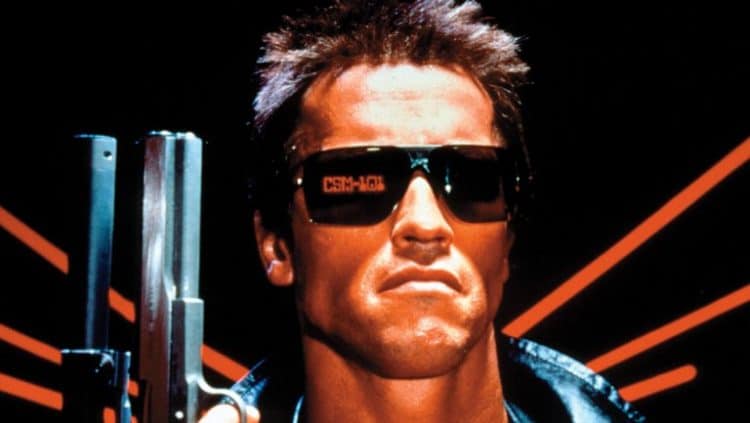 If you're watching this video and pulling a very stunned and slightly amused face don't worry too much, I did the same thing. But the laughter generally should start when you realize that the title isn't kidding and that you do get to learn the alphabet with Arnold Schwarzenegger, in a very messed-up fashion of course. When you think of how many movies this guy has made and how few we actually see in the clip you get the feeling that others could have stood in just as well. How W is for i Work alone, from Eraser? Or how about D for consider that a Divorce from Total Recall? It's amazing how much fun you can have with the alphabet in this manner since Arnold has enough movies on his resume that one could easily spout catchphrases over and over complete the alphabet a few times without missing a beat. Seriously, looking at all this guy's done on the big screen and even in the straight to video business it's amazing to think that there are any movies on the list that people haven't seen by now. The more obscure movies such as Stay Hungry, Hercules in New York, Maggie, and even Aftermath are kind of easy to imagine since a lot of people might not have heard of them.
But this is the guy that put the Terminator movies on the map, no matter that James Cameron can rightfully take credit for the idea. If not for Arnold and his completely deadpan delivery of several lines Cameron might not have had as much of an epic on his hands. Of course he wouldn't have had something to just about kill off with another movie that's been pretty much a flop, but that's kind of how hindsight works. It would seem that James Cameron was banking on the idea that by changing things up in Terminator: Dark Fate that the franchise would be renewed and people would have something else to enjoy as the franchise would possibly reboot itself. The fact that Arnold was relegated to such a minor role in a movie that he and Linda Hamilton helped to make so great was kind of a shock since it almost seems to state that he just wasn't needed as much and was put in his place until such time as he was required to make his presence known. That might sound kind of petulant but it's really what was felt in the movie.
The video does kind of flub its way through a couple of letters, possibly because they were hard letters to find any great catchphrase for, or perhaps because they simply thought it would be funny, which it was. But all in all it was pretty inventive and it'd be interesting to see if there are any other celebrities that could possibly be used for something like this. In fact, it might be fun to see if there are any other celebrities that could be used for other subjects as well like say, science, biology, geography, and so on and so forth. It might seem a little complicated and it might actually be kind of complicated to get all that down but it would be worth the effort since it's amusing and can make people laugh, and isn't that at least a part of what YouTube is for?
Using Arnold Schwarzenegger is pretty funny since the moment one sees the title it's kind of hard to figure out just what the whole thing is going to be about and how we could possibly learn the alphabet from a guy that's still a little hard to understand at times after all these years. There was a time when Arnold's accent was so thick that he had to be dubbed for a role as he couldn't be understood. But when he was given little real dialogue and was allowed to focus primarily on the action instead of speaking all the time things were great. Once his accent became more manageable and people could understand him a little more his dialogue began to increase and it was easier to see him as an all-around actor rather than the action star that said very little.
If you can list every movie that you see in the clip then you're likely a big Schwarzenegger fan, but it'd be interesting to see if Arnold could list every movie that is featured since believe it or not, some actors tend to forget at times just which scenes belong to which movies. It's hard to understand how this happens but when you think about it Arnold has done so much and been featured in so many movies that it's somewhat easy to think that he might forget a few moments here and there. As for learning the ABC's, well, maybe this could be used for non-native English students, as teaching young children some of the other choice words in the clip might be frowned upon.