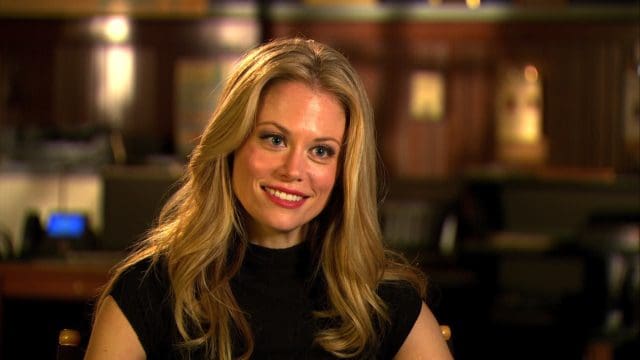 Born in San Francisco, California, on April 14, 1980, Claire Coffee began her career as an actress in 2002. She is best-known for her roles as Nadine Cowell in 'General Hospital', Cassie Tatum in 'The West Wing', Adalind Schade in 'Grimm', and Janie Ross in 'Franklin & Bash'. Although she is now well-known as an actress, there are probably still many things that you do not know about her. Here are ten fun and interesting facts about Claire Coffee.
1. Her Acting Career Was a Surprise to Her Family
Coffee showed acting talent from a young age and first performed at the age of five in a performance for the Mountain Play Theater Company in Marin County. As nobody in her family is involved in the entertainment industry, Coffee says that her family thought she would simply take part in a few plays and then get bored of acting. They were very surprised when she continued to act and decide to pursue a career as an actress.
2. She Almost Became a Journalist
Claire Coffee originally began to study for a degree in journalism at Northwestern as she wanted a backup plan in case her acting career didn't work out. However, she then decided to focus on her acting as she wanted to do something that she enjoyed regardless of whether she went on to become successful in that field or not.
3. She Is Married to Chris Thile and Has a Son
Claire Coffee dated Chris Thile for two years before the couple married on December 23, 2013. Their wedding took place at Blackberry Farm in Walland, Tennessee. Chris Thile is a musician and composer who is best-known for writing soundtracks for movies. He also plays in the progressive acoustic trio 'Nickel Creek'. The couple are now juggling their careers with parenthood as they became parents on May 11, 2015, when their son was born in Portland, Oregon. At the time of her son's birth, Coffee was 35. Their son is called Calvin Eugene Thile. His middle name is in honor of Coffee's late grandfather.
4. She is Scared of Aliens
Coffee has admitted that she is scared of many things that may seem strange other people. Snakes and spiders do not scare her because they are real. The things that do scare her are the things that she doesn't understand and might not even be real, such as ghosts and aliens.
5. She is Also a Screenwriter
Although she is best-known as an actress, she has also worked as a screenwriter on two occasions. She is the creator and writer of the 2014 television series 'Chelsey and Kelsey'. She was also the writer of the 2009 short film that inspired that television series 'Chelsey & Kelsey Are Really Good Roommates'.
6. She Has Directed a Short Film
In addition to writing 'Chelsey & Kelsey Are Really Good Roommates', she was also the director of this 2009 short film. This is the only occasion in which Claire Coffee has taken on a directorial role in her career.
https://www.instagram.com/p/BjDj_QcAVzU/?hl=en&taken-by=clairecoffee
7. She Got Involved in Power of the Purse
One of the charitable causes that Claire Coffee has got involved with is 'Power of the Purse' which supports Girls, Inc. She was asked by them to be their 'Purse-O-Nality' and they paired her with Loooptworks to design a purse that they could sell at auction. The bag they co-designed was called The Calvin and was made from waste materials.
8. She Loves Interior Design
When she moved to Portland, Oregon, with her husband and baby, their 100-year-old house needed completely renovating. This is something that they decided to do themselves and Coffee found that she developed a love for interior design. When her house was finished, she began looking for a new interior design project on which she could work so she could continue her new hobby.
9. She is a Foodie
Claire Coffee has described herself as a foodie and is so passionate about food and drink that she considers it a hobby. She and her husband like eating out in restaurants and trying new food.
10. She Enjoys Outdoor Pursuits
In her spare time, Claire Coffee enjoys outdoor pursuits. Her favorites are cycling and hiking. She says she is lucky because of the fantastic trails close to her home in Portland, Oregon.