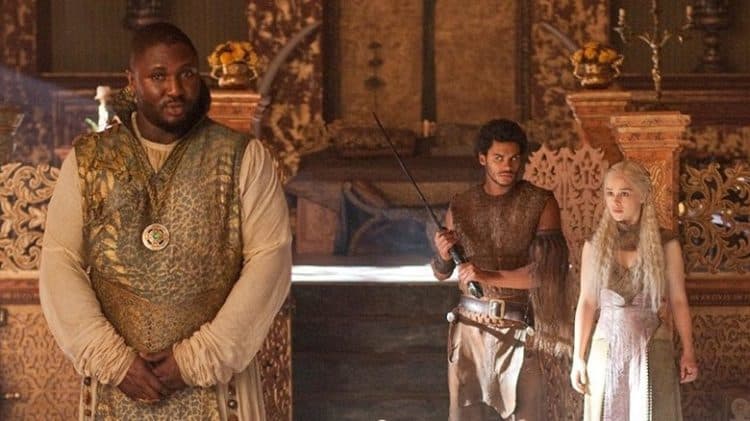 For the last 15 years, Nonso Anozie has been lighting up screens everywhere. The talented actor has become known all over the world for the work he's done in a wide variety of projects. Many people will recognize him best for his role in shows like Game of Thrones, Dracula, and Sweet Tooth. Despite his large stature, he refused to be typecast. Instead, he has proven that he is capable of playing all sorts of different characters. His commanding presence and endless talent have already opened up countless possibilities, and there's no doubt that there's going to be even more in the future. Keep reading to learn 10 things you didn't know about Nonso Anozie.
1. He's Nigerian
Nonso was born and raised in England, but his family is originally from Nigeria. Specifically, they are members of the Igbo ethnic group. Nonso feels very closely connected to both cultures and he appreciates the role that each of them has played in his life personally and professionally.
2. He Is A Formally Trained Actor
We weren't able to find any information on how Nonso got into acting, but we do know that he's put a lot of work into perfecting his craft. Nonso studied acting at Central School of Speech and Drama. He graduated in 2002. The school has a long list of noteworthy alumni including Carrie Fisher and Patrick Baladi.
3. He Likes To Travel
Nonso is the kind of person who wants to get out and see as much of the world as possible. He has been fortunate to be in a position that has allowed him to do just that. He has done lots of traveling and has visited places like New Zealand, Vietnam, the United States, and Cuba.
4. He Enjoys Being Out In Nature
The bright lights of the entertainment industry can be alluring, but most people who have worked in the business will tell you that it's nice to get away from all of that every once in a while. When Nonso isn't busy working, he enjoys getting out and exploring the beauty of nature.
5. He Is Been In A Video Game
Nonso's live-action roles are what has gotten him the most attention, but that isn't the only thing he has contributed to the acting world. Nonso has had some voice-acting opportunities throughout his career. He has been involved in several video games including The Golden Compass and Dirty Bomb. He was also the voice of Mighty Djinn in the 2020 animated film Dragon Rider.
6. He Has Worked With Rihanna
Nonso has gotten to work with some pretty impressive names throughout his career, but Rihanna is definitely one of the most exciting on the list. He worked opposite her and Donald Glover (Childish Gambino) in the 2019 Amazon Prime movie Guava Island. Since Rihanna doesn't do much acting, there aren't many people who can say they've worked with her in that capacity.
7. He Is A Proud Uncle
From what we can tell, Nonso is single and doesn't have any children. However, we also know that family is very important to him. He has an adorable little nephew Arinze who appears to be Nonso's pride and joy. Arinze makes frequent appearances on his uncle's Instagram. Outside of that, Nonso hasn't shared much information about his family.
8. He Likes Helping Others
Nonso has worked hard to get where he is in his career, and he hopes to be able to use his position in life to help those in need. In January of 2021, he promoted a GoFundMe campaign to help raise money for a friend of his who was diagnosed with a rare form of cancer. He has also shed light on causes that impact the people of Nigeria. It's unclear if Nonso has ever directly partnered with any charities.
9. He Loves Live Music
We don't have any information to suggest that Nonso has ever been a musician himself, but what we do know is that he's a huge fan of music. He loves listening to a variety of artists including Janet Jackson and Ginuwine. Like many diehard music fans, Nonso especially loves to watch his favorite artists perform live.
10. He Was The Youngest Person To Play King Lear
On top of TV, movie, and voice roles, Nonso has also done his thing on stage. In fact, he made history very early on in his theater career. In 2002, Nonso became the youngest person to play the role of King Lear at the professional level. These days, it appears that Nonso is more focused on on-screen opportunities.
Tell us what's wrong with this post? How could we improve it? :)
Let us improve this post!