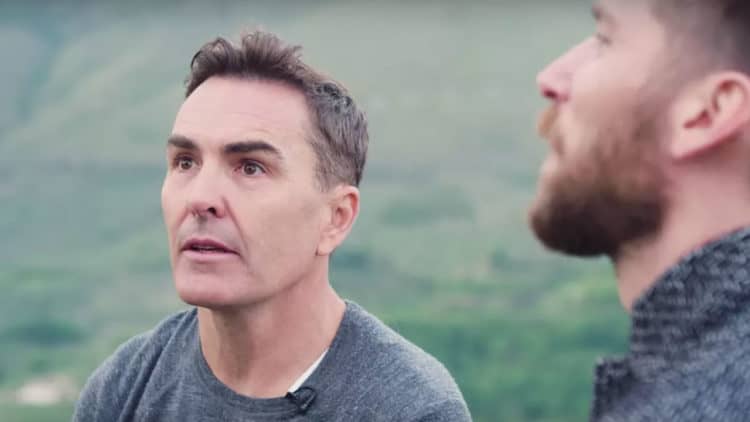 Nolan North's more than 25 year career has included lots of amazing roles, but he is best-known for the work he's done to bring comic book characters to life. Nolan is best-known for his voice work on shows like Ultimate Spider-Man and The Avengers: Earth's Mightiest Heroes. But voice work isn't the only thing Nolan North is good at and he definitely isn't afraid to switch things up when necessary. He's also had plenty of on screen appearances and his talent has shined through in each and every one of them. His most memorable on screen role was his portrayal of the recurring character, Peter Hastings, in the popular TV show Pretty Little Liars . Keep reading for 10 things you didn't know about Nolan North.
1. He Used To Be A Stand-Up Comedian
Nolan's path to acting wasn't exactly a straight shot. He made a few pit stops along the way. Everything he's done has helped contribute to him becoming the talented entertainer we all know and love. Prior to getting into voice acting, Nolan was performing as a stand-up comedian.
2. He Was A Talented Baseball Player
Nolan grew up playing sports and was a very talented baseball player. After a successful high school career, he attended the University of North Carolina at Chapel Hill where he earned a bachelor's degree in journalism. After college, Nolan's days as a competitive athlete ended and he went on to attend graduate school at Emerson College.
3. He Was A Journalist
There are lots of people who struggle to find a job in their field after they finish college. But Nolan was one of the lucky people who was able to find a job in his field right after school. He spent a year working as a journalist in the New York/New Jersey area before realizing that being a journalist was no longer his dream. He decided he would rather be doing what he really loved which was making people laugh and left journalism to focus on comedy, which eventually led to acting.
4. He Loves Video Games
Throughout his career, Nolan has done lots of voice work for video games and he has become very well-known in the industry. In fact, many consider him the most popular voice in video games. However, Nolan's interest in video games goes far beyond his work. He loves video games and real life and believes that gaming is an important part of the future.
5. He's A YouTuber
Over the last several years, YouTube has gone from a place to watch random cat videos to one of the most popular streaming platforms in the world and Nolan North has decided to get in on the action. He runs a YouTube channel called Retro Play which focuses on gaming and other topics. At the moment, the channel has 284,000 subscribers and more than 21 million total views.
6. He's Happily Married
Nolan has put a lot of time and energy into his career over the years, but he's also put just as much into his personal life. He has been happily married for more than 20 years. His wife, Jill Murray, is also an actress who is best-known for her role as Kelly in the TV series Spyder Games. The couple has two children together.
7. Fame Isn't Important To Him
Becoming famous has never been Nolan's motivation. He told Ask Men, "I didn't get into this to become famous, it's not something that's important to me. To make a living doing something you enjoy – I don't care if that's being an electrician or a barista – that's what it's all about. I know that sounds a little too sweet, but it's true."
8. He's From New England
New England has a reputation for being somewhat old and boring, but the region has produced lots of talented people and Nolan North is one of them. He was born in southern Connecticut but typically refers to Rhode Island as his home because that's where he was raised.
9. He Was A Chadwick Boseman Fan
People all over the world were incredibly saddened when news of Chadwick Boseman's passing suddenly hit the internet. Unbeknownst to the rest of the world, Boseman had been fighting a battle with colon cancer for four years. Although Nolan and Chadwick never got the chance to work together, Nolan was a big fan of Boseman's work. After Boseman's passing, Nolan shared a post on Instagram where he shared that he was a big fan.
10. He Loves To Spread Positivity
Nolan is truly living the team. He gets to wake up and do what he loves every day and he gets paid to do it. Not only does he hope to keep people entertained, but he also hopes to spread positivity. His days as a comedian may be over, but he still loves to put a smile on people's faces.