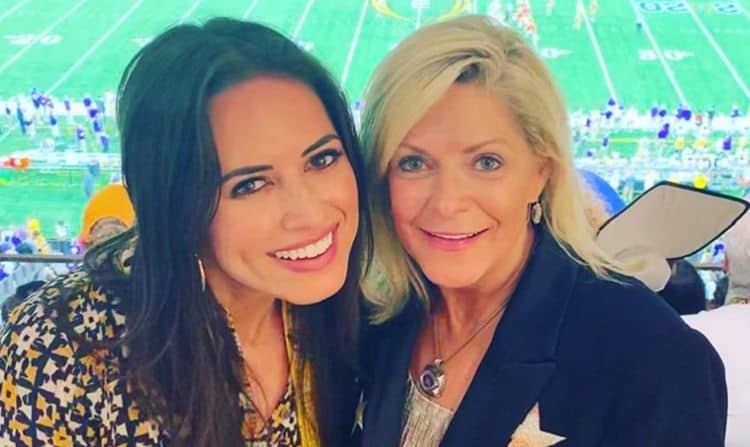 As a young girl, Kaylee Hartung knew journalism was meant for her, so she joined Washington and Lee University since the program there attracted her. After graduating in 2007, she began her climb to the top by interning at NBC. Since then, she has worked in leading networks, including ESPN and CNN, but currently, Kaylee is a reporter for ABC News. Get to learn more about Kaylee through the details below.
1. How she knew she wanted to be a journalist
Kaylee remembers her father as being the greatest dad in the entire universe, but death took him away from her when she was ten. When Joe Hartung was doing a show in Lafayette, there was a plane crash that resulted in his death, and it was all over the news. Young Kaylee saw the reporters on CNN inform the public of the breaking news, and her naïve mind wondered why her father's passing was being taken as an event. Despite the confusion, Kaylee knew that she wanted to spend the rest of her life telling stories, and in that instant, her career path was determined.
2. Her love life
Kaylee's love life remains a mystery; there was even a time she was suspected to be a lesbian. Later on, she was seen to be spending too much time with Tim Tebow, but she rubbished the rumors off, saying she saw Tom as a brother. That does not mean she has not declared her idea of an ideal partner. In 2013, Kaylee said she would only date a person who is interested in sports as much as she is. For her, looks matter a lot; therefore, a composed style of dressing will always win her over.
3. She believes she would have messed up if she worked towards getting a job at ESPN
Some people believe in vision boards, and they can swear it works; Katy Perry made hers at nine years old with magazine cuttings of Selena, who had won her Grammy. Katy went ahead to be a nominee of her first Grammy award when she was 24. Kaylee does not share this belief; therefore, even if she would have been told that one day she would be an anchor at ESPN, she would have laughed it off. As she told In Register, had Kaylee been dedicating her time towards getting a job at ESPN, she most probably would not have gotten it.
4. She takes her work seriously
Information is power, and Kaylee has taken this expression to heart and applied it in her work. Whenever she conducts an interview regardless of how short it is, she does in-depth research, and the amount of notes she takes would have someone thinking that she is wasting time. However, that is how much Kaylee enjoys her job; she is the kind of person to keep reminding her employer that she is open for any opportunity no matter the distance she has to travel.
5. She is well-traveled
As a sportscaster, Kaylee has the privilege of going to different places to report news from wherever it is happening, and to her, it has never been a problem. Since she was young, Kaylee enjoyed traveling to Europe to visit her relatives in the Netherlands. Since she is an adult with no husband, children, or pets, she can be on a plane at a moment's notice. The only people who get to suffer from her constant traveling are her friends, whom she has to cancel on whenever an assignment comes up.
6. She has a close relationship with her family
On Instagram, Kaylee does not hesitate to show how much she loves her family. Maybe the death of her father, when she was young, brought them together, but whatever the reason is, Kaylee always shares the tight bond in her family on the social media platform. She especially does not forget to wish her brother and mother a happy birthday, saying how proud she is of her younger brother for attaining his dreams of being a pilot. Kaylee also compliments her mother for aging gracefully and being a good role model.
7. Her father was a recipient of the Distinguished Flying Cross award
Kaylee's father was a pilot during World War II, and he used his skills to put on shows across the globe. His flying skills were applauded by the late President George H. W. Bush, who sent Mr. Hartung a letter saying how the pilot put on an exciting show with the vintage planes. On Instagram, Kaylee revealed that her father was more than just a naval officer who completed 58 combat missions, he also was given the Distinguished Flying Cross award.
8. How she ended up choosing Washington and Lee University
When the time came to pick colleges, Kaylee was torn between North Carolina and Virginia. She often visited Virginia since she had friends there and felt familiar with Charlottesville. However, before she could settle on one college, another friend invited her to Washington and Lee, which Kaylee explored. Since she knew she wanted to study journalism, the college ended up being the best. The fact that she spent the Fancy Dress weekend at the Washington and Lee University may have facilitated her decision making since that event made her enjoy her stay there.
9. She was a backup singer
Broadcasting Cable reveals that Kaylee was a backup singer for Bob Schieffer's country music band. She enjoyed singing so much that even on Twitter in 2016, she tweeted that she was waiting for the band to come in so she could sing back up.
10. She has met some of her favorite singers
Some people have been known to remain speechless and going as far as fainting upon meeting their favorite celebrities. When Kaylee met Jennifer Lopez, she also could not hide her excitement. She posted on Instagram that even though she had previously had respected the musician, Kaylee now had total admiration for Jennifer; she described Jennifer as absolute perfection. She also posted a picture of her and Ciara praising Ciara for her kindness and talent.
Tell us what's wrong with this post? How could we improve it? :)
Let us improve this post!