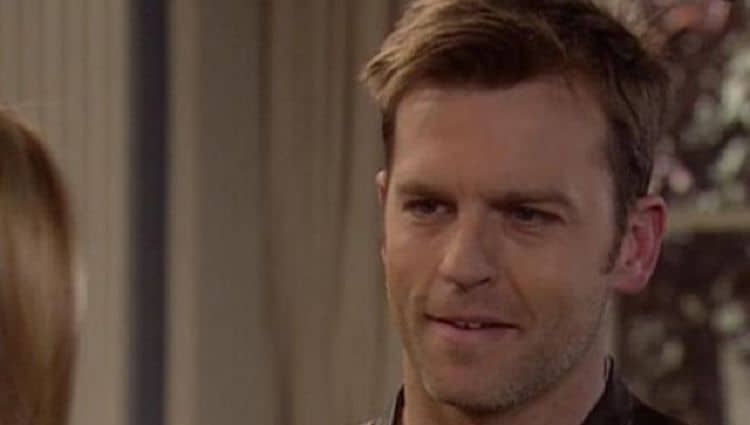 For most people who do not know Trevor St. John, they think he is British, but he is an American born in Spokane and raised in Orchard Prairie. Some also believe that "St. John" is a stage name, but it is his real name while his middle name is Marshall. He was known as a soap opera actor, but he now is making his way into drama through "Roswell, New Mexico." He also has several film credits, including "Bourne Ultimatum," as well as sitcom credits through comedies such as "Hope & Faith" and "Just Shoot Me." Learn more about the actor through these few facts.
1. His first gay character
Acting is all about make-believe, and if you want to make it in the industry, you have to be able to adapt to whatever role you get. Trevor thought playing a gay character would erase his fear of having to kiss another guy, so besides the beautifully written script, it was one of the reasons he took the job. Unlike Darren Criss, who vowed never to play a gay character again, Trevor told Michael Fairman TV that he does not mind taking on a gay role again.
2. His favorite acting experience
Most actors will not talk about their favorite roles, reasoning that it is like choosing among children, but Trevor did not shy away from speaking about the acting experience she loves most. Being Cody in "In the Family" enabled Trevor to try his hand in something he had never done before. He loved the experience of playing a father so much that when he watched the film later, he felt guilty that Cody did not make his son buckle up.
3. Why he quit "One Life to Live."
Most people would be glad to have a guaranteed paycheck, but then that is a comfort zone, and we have been warned that nothing ever grows there. Subsequently, Trevor had spent eight years playing the same role in the series, but he realized he wanted more. He clarified he did not leave because he was uncomfortable with the quality of the show. Instead, his personality conflicted with his role because he is a risk-taker, and being on the show did not offer him the chance to venture out more. He was not looking for greener pastures but rather something entirely different from what he had grown accustomed to for eight years.
4. He thinks waiting after an audition is the worst part
In his interview with Daily Actor, Trevor disclosed that going for auditions involves callbacks and call testing while that could be tedious and nerve-racking it is not the worst part; what is worse is having to wait to learn if you got the role or not. Trevor reasons that it is much worse to wait and find out that you booked the role than being told that you did not.
5. He loved athletics as a teenager
When Trevor was in West Valley High School, he enjoyed playing baseball and football but not because he was any good at it but to get a chance to be with his friends. His only interest was to make the players laugh, and he recalled that he once was scolded after running through a hole he was not supposed to, and it wound up being closed, but he thought he would improvise. With a determination to get better, he attended clinics, but it did not work to calm his nerves; he became so self-conscious that he could not throw a ball. When he looks back, he wonders if things would have turned out differently if someone had encouraged him.
6. How he got into acting
Trevor got into Whitworth College under a music scholarship where his interest in theater began. He did several auditions and got to be in "Benny & Joon." He made such a good impression in the film that the casting director, Rick, offered to help him find his footing if he ever was in Los Angeles. The actor moved to LA in 1993 and Rick got him an agent within one and a half years how helped him book a role in "Higher Learning" in 1995.
7. He once thought of becoming a physical therapist
You cannot afford to put all your eggs in one basket, and Trevor knew that if acting did not work out, then he would consider physical therapy. He has always loved science and sports medicine, and even of acting took off, he found a way to incorporate hos passion in his everyday life. Therefore as he told Soap Opera Digest, Trevor opened a fitness-education company to teach biomechanics to orthopedic surgeons, trainers and anyone else interested.
8. He brews his beer
In his Twitter page, Trevor describes himself as a beer brewer. He began brewing his beer in 2013 as a way to keep himself busy when not filming. He had always thought about it but maybe never had the chance, but once he found that Dan Gauthier also shared the passion, they teamed up. Although by March 2013, they were yet to know if they were making great tasting beer, they were still hopeful. Trevor joined the list of other celebrities like George Clooney and Brad Pitt, who have their own alcohol brands.
9. He and his wife kept it a secret that they were expecting a baby
Unlike some actors who cannot wait to announce they are pregnant, Trevor did not bother to share the good news with the world. He has been known to prefer a private personal life, so he and his wife waited until December 2006 during a Christmas party to announce they were expecting. The couple welcomed their son, Aidan Lee, in March 2007 and have not added another child to their family since then.
10. He is always thankful to those who have helped him along the way
Trevor acknowledges those who have played a part in his life in one way or another. When he was quitting "One Life to Live," he posted in his blog that he would be leaving but would always remain thankful to those who had been his fans for the eight years. Later in 2016, when John Singleton died, Trevor took to twitter to say that John was the first director to work with him on a film, and he felt privileged.
Tell us what's wrong with this post? How could we improve it? :)
Let us improve this post!