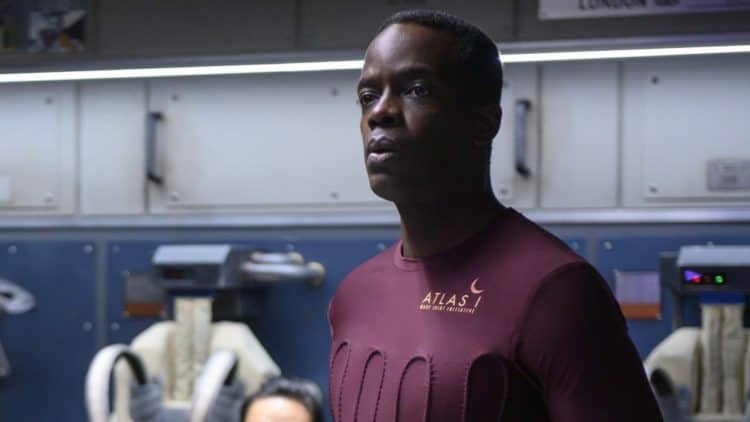 In the years since his debut, Ato Essandoh has shown time and time again that he has the ability to play all sorts of different kinds of characters. He may not always get the recognition he deserves, but that has never stopped him from showing up and doing his absolute best. From a minister, to a doctor, to an astronaut, Ato is the kind of actor who can do it all. Many people will recognize him from his role as Dr. Latham in the TV series, Chicago Med. His most recent role as Dr. Kwesi Weisberg-Abba in the Netflix series Away has given him another chance to show just how talented he is, and fans are loving it. Continue reading for 10 things you didn't know about Ato Essandoh.
1. He Studied Chemical Engineering
Becoming an actor was never part of Ato's plan. Instead, he was on track to become an engineer. He attended Cornell University where he majored in engineering. His goal was to eventually go on and become a professor and/or work for a bio tech company, but clearly life had other plans.
2. There Were Rumors That He Died While Filming D'Jango
Ato played D'Artagnan in the 2012 film D'Jango Unchained. His character's death in the movie was so real that it sparked rumors that Ato really died during filming. Some even suggested that he had purposely sacrificed his life to make the role more realistic. The rumors even made it to Snopes where they were obviously proven to be false.
3. He Has Ghanian Roots
Ato was born and raised in New York, but his parents are originally from Ghana. Ato lived in Schenectady during his early childhood before his family relocated to New Rochelle. The communities he grew up in had many Jewish residents which inadvertently helped prepare him for the Jewish roles he's had in his acting career.
4. Photography Is One Of His Hobbies
Ato is equally as comfortable being behind the camera as he is with being in front of it. He loves to snap photographs and has a keen eye for capturing life's most mundane moments and making them something beautiful. He often shares the photographs he takes with his followers on Instagram.
5. He Got Into Acting By Accident
Sometimes it takes just one small decision to change your entire life, and that's exactly what happened to Ato. During college, he was offered the opportunity to appear in a play, and his girlfriend at the time suggested he give it a shot. He did and his love for acting quickly began to grow.
6. He Plays The Guitar
In 2016, Ato had a main role in the TV series, Vinyl. Although his character was a musician, he didn't actually do any singing in the series. However, he did have some real life guitar experience. In an interview with Den of Geek Ato shared that he is an amateur guitar player who started playing around 2006.
7. He's A Playwright
Ato is truly a man of many talents and he's enjoyed getting the opportunity to be involved with other aspects of the entertainment industry. He is also a playwright and wrote a play called Black Thang. The play was performed in 2010 at the Tofu Chitlin Circuit and published in the 2003 anthology, Plays and Playwrights.
8. He Loves Vinyl Albums
For years there have been countless debates over whether vinyl is the superior format for listening to music. Ato is a huge vinyl fan and prefers listening to records over CDs. Over the years, he has been working to build up a large collection of his favorite vinyl albums.
9. He Co-Founded The Defiant Ones
Sharing his love for the arts is something that has been important to Ato during his entire career. In 2002, Ato co-founded a writing and performing group called The Defiant Ones. Unfortunately, we weren't able to track down much information about the organization, but according to his LinkedIn, the group is still active.
10. He Was In A Super Bowl Commercial
The Super Bowl features some of the most talked about commercials of the year. Needless to say, being featured in a commercial that airs during the Super Bowl is a pretty big deal. In 2016, Ato was featured in a Super Bowl commercial for Jason Bourne. He told Interview Magazine, "Being in the Super Bowl commercial is pretty exciting, too. When we were shooting months ago in London, we did that line from the commercial—"Oh my god, that's Jason Bourne"—and Paul Greengrass was joking, "It's going to be in the Super Bowl ad. It's a perfect Super Bowl ad line." That's exactly what he did."