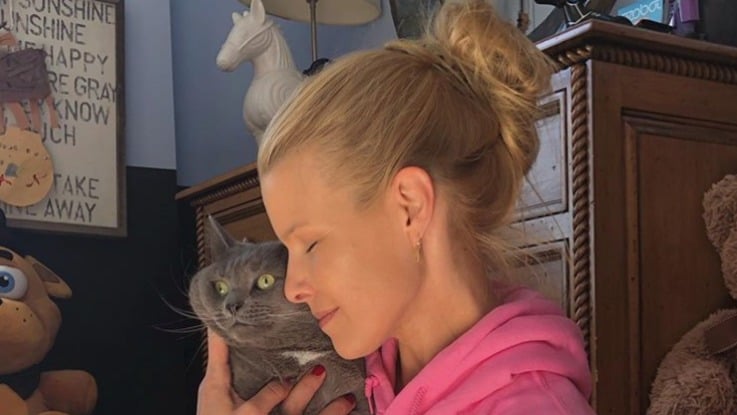 Every one of us possesses a characteristic, talent, or trait that makes us stand out from the crowd. Some can dance; others sing. Some can paint or draw like no one's business. But some of us have to actually draw on our life circumstances and claim one or more of them to garner the attention we feel we need but have never gotten. While beautiful to look at, Beth Ostrosky Stern is…well…one of those. She is one of the people who have to claim a circumstance that validates her, or brings her fame. What would that circumstance be, you ask?
She is married to hit radio shock jock, Howard Stern. Now, I'm not saying that Beth Stern is a no-account, no-talent wannabe. No, no, don't misunderstand. She has had roles in a variety of programs and the like, from ABC's 'All My Children' in 1970 to 'Flirting with Disaster' in 1996. Oh, then there was 'Whipped' in 2000. You all remember the last two, right? No. I didn't think so…neither do I. So it should be no wonder that when she married Howie in 2008 her existence took on a whole new meaning. Not to say that she isn't out there every day, doing what she does, killing it. I'm sure she is. It's just that, well, we're not seeing it. Just saying. The truth of the matter is that none of us really have any knowledge about Beth Stern at all. Except that her first name is Beth. And she's married to Howard Stern.
So, we decided we are going to remedy that, for our sake and yours. Below is a list of ten things you didn't know about Beth Stern (and neither did we, by the way). After you read this, you may just feel like you know the woman, and chances are that by reading it you'll be doing her a big favor. Like the next time she talks on his show, or appears on late night television, you'll be the one amongst all your friends who will be able to say, "Hey! That's Beth Stern…Howard's wife. I JUST read an article about her…" Then she'll have the opportunity for renown that she has been looking for.
1. Birthday and Zodiac Information
Beth was born on July 15, 1972, which makes her a very good-looking 47 years of age. It also makes her a Cancer. They are very in-touch with their own emotions, as well as those of others, which means they are empathetic. When you first meet them they may seem stuck-up and/or distant, but once you earn her trust the friendship of a lifetime is sure to follow.
2. Early Years & Education
Beth was born in Pittsburgh, PA to parents Robert and Judy Ostrosky. Her father, a dentist, and her mother, a homemaker and former model, were of Roman Catholic belief. Beth also has two brothers. After attending elementary school in Pittsburgh she attended Fox Chapel High School, and then attended the University of Pittsburgh through her sophomore year of college. That was when she decided to go to New York City and chase her dream of becoming a model.
3. Career Path/Professional Timeline
Having done some modeling in high school, Beth was starting things off with a little experience. Once in New York she signed with three different agencies in the 2000s. Subsequently, she landed parts on television and in the movies, including 'Flirting with Disaster' and co-starring with Amanda Peet in 'Whipped'. She had roles on television's 'Filter', a G4 production, and Spike TVs 'Casino Cinema, as well as 'All My Children'. She was also on the cover of FHM magazine and was featured on Askmen.com. Besides putting out her own calendar line, Beth is currently signed with Click Models. Her book 'Oh, My Dog!: How to Choose, Train, Groom, Nurture, Feed, and Care For Your New Best Friend' reached number five on the New York Times bestseller list. She also wrote a children's book entitled 'Yoda: The Story of a Cat and Her Kittens', which is about a Persian with a heart condition, as well as its sequel, 'Yoda Gets a Buddy.' It seems to me that Miss Beth didn't need Howard to get her recognition after all.
4. Meeting (and Marrying) Howard
The pair became engaged in 2007 after dating for seven years before. They tied the knot at New York's Le Cirque Restaurant in 2008. They have fostered countless cats in their home, 75 of which they successfully found homes for. They have been married for eleven years.
5. Her Passions
Besides working, Beth adores cats, and in her spare time she is a staunch animal rights activist. Undoubtedly, it is this love for cats that prompted her to write the two children's books about Yoda the cat. Otherwise, her other passion is family, which only consists of her blood relatives and, of course, Howard. The pair have no children, though she is stepmother to his girls Debra, Ashley, and Emily (with first wife, Alison).
6. Rocky Rumors
While rumors of her marriage to Howard being on the rocks floated around madly, the couple was living a happy peaceful life. The rumor has no truth, but started because of comments Stern made during a radio show (imagine that). Howard subsequently took to the radio to set people straight, letting them know that he and his wife are doing fine.
7. She's A Tall One…
In case we haven't noticed before now, or simply haven't gotten a good look at her, Beth is tall. She stands 5'10", which is above average for a woman. Fortunately, husband Howard is no shorty…he stands a competitive and lanky 6'5. No wonder they make a decent looking couple. Between the hair and the height they are the Barbie and Ken of shock radio!
8. Her Net Worth
Our sources tell us that Beth Stern has a current net value of $20 million. However, it is not clear whether or not this is a combined net worth due to her marriage to Howard, or if that is her net worth individually. It is likely that it is hers alone, taking into consideration that she has a best-selling book plus two children's books, and she has modeled for more than 20 years.
9. Is She On Social Media?
You bet! With around 550k followers, she can be found on Instagram at @BethStern. She is also on Twitter at the same address. Also, for anyone interested in fostering animals, she encourages emailing her at bethsternfosters@gmail.com.
10. The Bikini Files
All we can say is thank goodness they don't make bikinis in Howard's size! According to New York Daily News, Howard Stern photographed his model wife in different bikinis for Social Life Magazine. She looked great, and it's no wonder he wanted to do the shoot himself. To check out the pics, just click the link above. Okay, so maybe she isn't an Oscar-winning actress, but the gorgeous Beth Stern can certainly hold her own in most any department available. She smart, driven, and smoking hot, so she's batting a thousand.
Tell us what's wrong with this post? How could we improve it? :)
Let us improve this post!