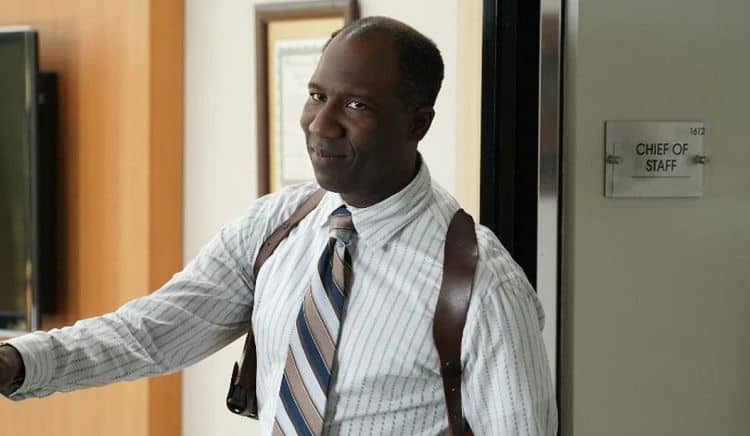 Russell G. Jones is one face that many of us may recognize but not be able to name. This accomplished actor has been on both screen and stage, and he's one of the most talented actors of his generation. Jones is currently in the news for his latest project, Edie Falco's Tommy, in which he plays the role of Donn Cooper. Jones continues to excel in the industry, and the industry also continues to recognize his contributions. There are many things about this actor that we ought to know about, and so here are 10 things about Russell G. Jones to get us started.
1. His age is unknown
Jones has been known to celebrate his birthday every May 1 of every year. However, he has yet to disclose the year of his birth. If we were to go by his looks alone, he really could be anywhere in his late 40s to maybe mid 50s. That's a big gap in age, and it's probably beneficial to Jones to not let everyone know his actual age. This means that he'll never be categorized just by his looks or age alone.
2. He's an Ohio native
It's interesting that Jones is currently working on the Tommy series with a fellow Ohio native, Michael Chernus. Jones, however, hails from the other side of Ohio at Shaker Heights. This was where Jones was born, and this was where he spent much of his childhood years before moving away for college. Jones claims that the time he spent in Ohio made a difference for him when it came to his dream of pursuing acting.
3. He's a multi-disciplinary actor
You can call him that or you can call him a triple threat. Either way, you can just say that he's a very talented man considering he's been successfully crossing stage, film, and television for many years now. Not many actors can stake a claim on that. Jones started his acting career through theater. He's been a member of the Labyrinth Theater Company since 1995. He's been in a total of 18 stage productions so far, and he's not stopping there just yet.
4. He wears many hats in the industry
We know that he's an actor in many ways, but Jones actually wears other hats too. As a member of the Labyrinth Theater Company, he's also worked as a director, producer, facilitator, writer, and moderator on and off productions. All of that is not only a testament to his talents but also an evidence of his passion and dedication to his craft. The industry itself is lucky to have someone like Jones, and people who encounter him are only likely to learn from his expertise.
5. He's a teacher and pioneer
Given his knowledge in the industry, it only makes sense that Jones also takes the time to teach. For more than two decades now, Jones has been sharing his knowledge on acting through various platforms. He has created programs, workshops, and curriculum for artists looking to pursue a career in the industry. Some of the programs he's contributed to include Artsgenesis, Developing Artist Theater Company, the National Black Theater, the ABC+ Program, Community Word Project, and many other regional theater programs.
6. He founded the Blind Spot Experience
As if what he's accomplished in theater is not enough, Jones is also the founder and Chief of Pedagogy at the Blind Spot Experience, an operation that seeks to heal and eradicate racial inequity through facilitator-led group discussions addressing inherent issues of oppression in our communities. This is one of Jones' more personal projects, and he's highly active in the promotion and execution of the Blind Spot Experience. For Jones, it's another way he could make a difference in his community. It's a way to engage people in the important discussion of race through simple and effective conversation.
7. He has an impressive screen-acting resume
Although you may never find Jones in a lead role on television or film, you'll find that his resume is quite impressive and extensive. His 39 acting credits on film and television are in addition to the stage performances he's had. Jones has guest starred in some of television's favorite shows including Law & Order, The Blacklist, Person of Interest, Godless, The Americans, and many more. Some of his film acting includes Traffic (2000), Choking Man (2006), The Ticket (2016), and a few others.
8. He is passionate about charity
We can all pretty much agree that Jones is a great human being. He strives to make a difference, and he does that all while pursuing what he loves. He contributes, in different degrees, to various charities including Doctors Without Borders, Mercy Ships, and Infinite Family. Jones is an example of the many thousands of people out there that make their contributions without major recognition. To him, it's not about that at all.
9. He married well
Jones is married to Elz Cuya Jones, and their marriage is evidence that good people attract good people. Elz Cuya Jones is currently Deputy Director at North Star Fund. North Star is a non-profit organization that focuses on creating a more socially just New York City. It's inspiring how both husband and wife are committed to creating a better community for everyone around them.
10. He's an award-winning actor
This list wouldn't be complete without mention of his achievements in acting. Jones is a tremendous actor both on stage and on screen, and his nominations and awards are testament to that. Jones has been nominated for several awards including the Lucille Lortel Award, Method Fest Breakout Award, LA Ovation Award, and a couple more. He has won an SAG Award for Outstanding Ensemble, and he has also won the San Diego Black Film Festival Best Lead Actor Award for his role on Turntable (2004).
Tell us what's wrong with this post? How could we improve it? :)
Let us improve this post!