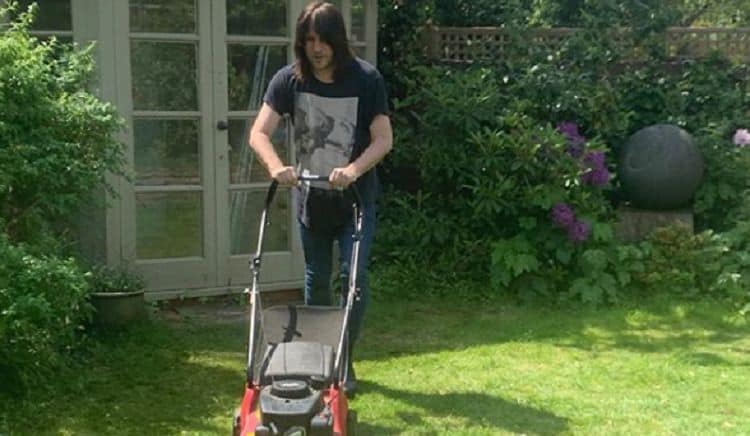 Fans of The Great British Bake Off tune in to see the bakers who compete. They also tune in to view the stunning food, but perhaps more than the competitors or the food they tune in to see the ever-wild Noel Fielding. He's been making fashion headlines for years, but now we can catch him all the time, and we love it. Noel has always been one of our favorite comedians, and we love his sense of fashion more than we can express in words. We'd watch anything he's in just to see what he's wearing, but there's more to Noel than cakes and costumes. We found ten intriguing facts about this crazy character to share with you.
1. Brothers in Comedy
Noel Fielding is always cracking jokes on GBBO, but before he joined the show, he was well known for his surreal and delightful sense of humor. Noel isn't the only comedian in his family. In fact, he worked with his brother Michael on The Mighty Boosh. The siblings make a great team, and we hope to see them work together again some time. The show centers around two characters, Vince Noir and Howard Moon, who work at a zoo. Their boss, Bob Fossil, is a lunatic, and the pair have numerous madcap adventures, or they did from 2003-2007 anyhow. As off the wall comedy TV goes, we always enjoyed this show. It reminds us of Red Dwarf in a way we can't quite put our finger on.
2. It All Began With Cake
It may seem like a fashion-forward comedian would be the last person who knows about baking, but that's not the case. Noel's first job was working for a bakery. Unfortunately, his love of cakes and pastry was not a good match for him as a professional. Noel was fired from that job in short order because they caught him laying on the floor eating the products.
3. Wild Style
Noel is known for his sense of humor, and clearly, it carries over into his fashion choices. Many viewers of GBBO tune in to see what he'll wear this week. Fielding's fantastic wardrobe is always a point of interest, but one piece, in particular, made the internet go wild. When Noel chose a Dinosaur Jr. sweater for Biscuit Week (that's cookies to American audiences) fans went crazy. The American rock band is well known in the music scene, and something about this particular piece of clothing really resounded with people.
4. He Loves The Monkees
This shouldn't be a big surprise, but the music-loving Noel Fielding is a fan of The Monkees. He posted about the show on his Instagram feed recently. More accurately, he re-posted an article about the iconic group/show that he so enjoyed. Anyone who grew up with The Monkees gets the nostalgic feels over seeing them again. It's always nice to see people still talking about great TV decades later. Thanks, Noel.
5. Adorable Accessory
Noel may be the wacky fashion king, but our favorite look for him will always be babywearing. It's fantastic to see enlightened modern dads getting out there with their infants strapped to their chests. Bonding time is so precious and vital to newborns. You can see the look of love and pride on his face as he checks on the bundle of joy he's wearing while on an outing with his lady love Lliana.
6. Huge Fan of Salvador Dali
Who could say no to a surrealist painter who walked his anteater in public? We sure cant, and nether can Noel and Lliana. Though everything from the gender of their child to the little one's name has been officially kept a secret, rumor has it that their baby is a boy named Dali.
7. Private Relationship
Are Noel and Lliana married? The question comes up often, and the simple answer is that we don't know. The couple is extremely private about their home life and relationship despite their public lifestyle. If you want the details, you'll have to ask them, but don't be too surprised if they don't tell you. Privacy is in short supply for celebrities, and they aren't giving anything away.
8. Amazing Partner
While we're on the subject of Noel's love life, his girlfriend, fiancee or wife Lliana Bird is impressive on her own. Not only does she share his quirky taste in bold fashion, but she is a force to be reckoned with. As a host on Radio X, you can hear her unique take on things, but that's not all she does. Lliana is an activist and an author as well. The north London couple is seen out often on dates or attending events together. It's hard to imagine how they find so much time to spend together in light of their busy careers, but clearly, they make it a priority.
9. Educated Oddball
Never underestimate a man because he dresses outlandishly. Times have changed a lot since the days when only circus performers were dressed in extravagant outfits. Noel Fielding may be unusually fashion-forward, but under that decadent exterior and whimsy lurks an educated mind. He attended Buckinghamshire Chilterns University College, known these days as Buckinghamshire New University. While there, Noel studied for a degree in Graphic Design and Advertising which he attained in 1995. It's no wonder his taste is so colorful since he knows how to sell a product with bold designs. A personal brand is no different from a company when it comes to being seen and remembered. That degree has paid off in the long run
10. Best Dressed
Not many people win awards for fashion without being designers or models. However, in 2015, Noel won a slot in GQs 50 Best Dressed British Men.
Final Thoughts
Noel Fielding is one of those rare individuals who aren't afraid to express himself in any way he sees fit. Furthermore, he managed to make a career of being delightfully and utterly unique. If you're looking for an idol who doesn't preach but has no fear of standing out in a crowd and being exactly who they are Noel is a great place to start. We always look forward to seeing him on the GBBO, and we're sure there will be many more colorful projects in his future.
Tell us what's wrong with this post? How could we improve it? :)
Let us improve this post!