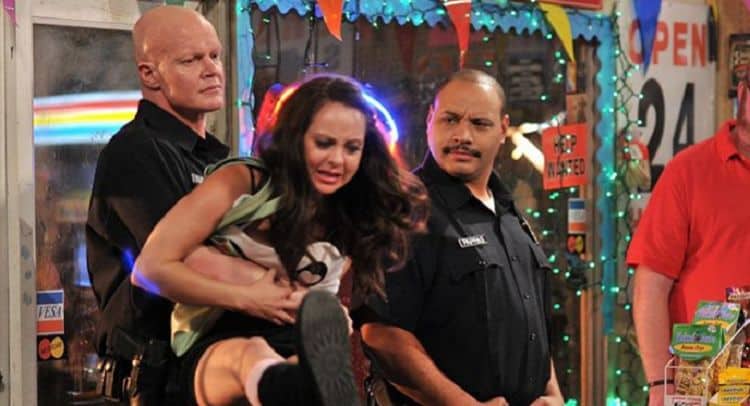 If Derek Mears' face doesn't look familiar to you, it's because the role he's most famous for is one in which you can't even see his face. Mears gained lots of notoriety in 2009 when he played Jason Voorhes in the Friday the 13th reboot. Derek's menacing on screen presence proved to be a perfect match for the legendary horror character. Currently, he's showing off his scary acting skills in The CW series, Swamp Thing. Derek isn't just good at playing roles where his face is hidden, though. Throughout his career he has played lots of different kinds of characters and knows exactly how to light up both the big screen and the small screen. Continue reading for 10 things you didn't know about Derek Mears.
1. He's A Big Horror Movie Fan
The horror genre has been really good to Derek as an actor, but it's also something that he enjoys as a fan. He grew up loving scary movies and he has always loved the Friday the 13th franchise. As you can imagine, getting a chance to star in one of the films was a huge dream come true.
2. He Grew Up Playing Dungeons And Dragons
Derek has what some people would consider a nerdy side, and he isn't afraid to show it. He grew up playing Dungeons and Dragons with his friends. At one point in time, his dream job was to simply sit around and play D&D with his friends all day, but he was unfortunately informed that that isn't a viable career option.
3. He Has Alopecia
Derek's baldness has become a signature part of his look, but it isn't just for aesthetics. He suffers from an autoimmune disorder called alopecia which has resulted in him being completely bald. According to WebMD, alopecia causes a person's immune system to attack their hair follicles.
4. He Got His Start Doing Improv
Horror isn't the only thing Derek can do, he's also a pretty funny guy. He actually got his start doing improv. He told Syfy.com, "I've been doing improv comedy professionally since I was 17, and I still do it now in my 40s here in Los Angeles. But improv opened so many doors for me. Not just career-wise, but life-wise…"
5. He's Also A Stuntman
Over the years, Derek has also become well-known for his skills as a stuntman. As a stuntman he has worked on several major projects in the entertainment industry. He told Icon vs. Icon that he loves acting and stunt work equally but he really appreciates the physicality that comes with doing stunts.
6. He's Divorced
Derek is a very private person and he doesn't like to share much information about his personal life. What we do know, however, is that he was married to actress Jennifer Flack from 2008 to 2012. Jennifer has appeared in several TV shows including Community and The Sarah Silverman Program.
7. He Loves Dogs
Dog and cat people will be pleased to know that Derek has love for both animals. Based on his Instagram though, he does seem to be more of a dog person. He regularly posts photos of his adorable dog Charlie Atari. Unfortunately for anyone who was wondering, Charlie Atari doesn't have his own Instagram account.
8. He Went To School With Korn
Derek is a native of Bakersfield, CA. He went to school with members of the Grammy Award winning rock band, Korn. The group rose to prominence during the late 90s and early 2000s and is well-known for singles such as "Freak on a Leash" and "Falling Away From Me".
9. He Knew He Wanted To Act From An Early Age
Once Derek found out that playing Dungeons and Dragons with his friends all day probably wasn't the best career path, he started to develop an interest in acting. He took acting classes in his local area and got involved in the improv scene. He eventually decided to move to Los Angeles to give himself access to most opportunities.
10. It Takes Two Hours To Do His Makeup For Swamp Thing
If you've ever seen the show Swamp Thing, you know that Derek's makeup is very intense. During an interview with CBR, he touched on the process of getting into character for the show. He said, "The face itself, just the facial makeup is like nine different pieces to have to be applied and colored and glued and blended and made right. Then I have a full suit that goes on…originally it was supposed to be four hours before anybody else starts filming, I come in and do that and it's about an hour and a half to take off. But, Kevin Kirkpatrick and Ozzy Alvarez, who are award-winning makeup artists, they actually got the application time down to two hours, which is just unheard of…"
Tell us what's wrong with this post? How could we improve it? :)
Let us improve this post!