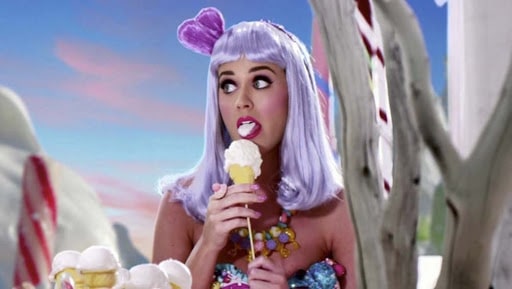 These days you might feel one way or another about Katy Perry since she's changed quite a bit since first coming on the scene. She's the same person she's been for a long time but it's obvious that she's found the strength and the courage to express herself a lot more than she might have when she was still largely unknown. As of now though she seems almost untouchable when it comes to anything that might be viewed as something that can be criticized about her, though many have still tried. Katy Perry is, to many, an inspiration and an example of what it means to keep on pushing and striding forward when life gives you very little to go on. From what could only be called humble beginnings to the career she has now Perry has been on a roll when it comes to her music and hasn't really seen a lot of down times when it comes to her fans and their adoration.
Here are a few things you might not have known about her.
10. She's earned a lot of different awards at this point.
It's not just for music that she's seen the accolades pile up as she's been recorded in the Guinness Book of World Records as well. Perry has become something of a star in more ways than one since she started becoming famous.
9. Her first attempt at stardom using her real name didn't go so well.
Her real name is Katy Hudson, and while the name isn't the only reason why she wasn't successful there is something about the name Katy Perry that seems to have a better ring to it. Plus, while the critics liked her the work she did wasn't a big commercial success. That's kind of crucial to really enjoy a long career.
8. Initially she sang gospel music in an attempt to get famous.
Some folks love gospel music but if you look at the charts you'll tend to see that it doesn't quite stack up to the rest of the genres a lot since people want to hear music that's not quite the same and that gets them moving in many different ways.
7. Her family struggled financially for a while.
Katy's family had to subsist on food stamps and whatever they could get from the local food bank at times, but they were comfortable enough that they were able to keep their family well and cared for which is what counts. There's nothing wrong with accepting a bit of aid when it's needed as this is why such places and programs exist.
6. There were certain foods that she and her siblings weren't allowed to eat.
They couldn't eat Lucky Charms since her mother thought the word 'luck' was too close to Lucifer. Also they had to call foods by certain names, meaning foods such as deviled eggs had to be called 'angeled eggs'. Now try that on for size and see how confusing it might be.
5. She had to sneak pop music CDs since her parents didn't want her listening to them.
Katy had a very religious upbringing and certain types of music just weren't allowed in their home. So in order to listen to them she had borrow the CDs from a friend and listen to them when her parents weren't around.
4. Katy finished up her GED requirements at the age of 15 and left school for a music career.
It would appear that she didn't want to wait to get her career on the road since she did her best to complete her requirements and get moving. Some might say that this was kind of a mistake since it didn't allow her to get the full experience but she's made it work ever since she did it.
3. She's a very big supporter of Hillary Clinton.
Everyone's got the right to follow and support the person they think can run the country, but unfortunately there were moments when Katy, a self-professed feminist, was a little too preachy when it came to telling people to vote for Hillary. This has been likened to why a lot of people either didn't vote or didn't vote for Hillary since too many celebrity endorsements started sounding more like demands and less like impassioned pleas to support their candidate.
2. Throughout her career she's been viewed as a sex symbol by many publications.
There's no denying the fact that her sexuality has helped to sell a lot of records and won her a good chunk of her popularity. She knows how to use it and how to rein it in when she needs to but otherwise it's free-flowing and out there for everyone to see.
1. There was a bit of controversy over her kissing a contestant on American Idol.
This story feels like it got blown way out of proportion since the contestant wasn't expecting it but wasn't all too displeased either when asked later on. Some people do point out however that if Perry had been a male judge doing this to a female contestant things might have been seen quite differently. That's a fair assumption.
She's had some controversy in her career but it's been either caused by her or blown out of proportion by those watching her.
Tell us what's wrong with this post? How could we improve it? :)
Let us improve this post!