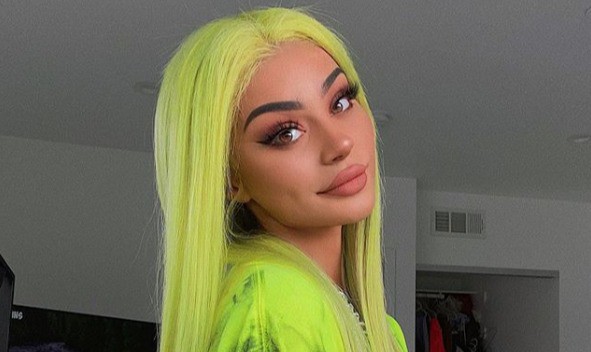 The rise of social media has created a new outlet for people to engage with each other. Kristen Hancher is a prime example of someone who has used social as a way to turn herself into somewhat of a modern day celebrity. Unlike many other well-known social media users, Kristen's primary platform is a music/video app called Musical.ly (now known as TikTok). Although she is most popular among teenage audiences, she is quickly making a name for herself among older social media users as well. Like many social media celebs, most people only know Kristen based on what she posts, but there is much more to her than that. Here are 10 things you didn't know about Kristen Hancher.
1. She Got Her Start On YouNow
These days, Kristen Hancher is most popular on social media sites like Instagram and TikTok. However, she actually got her start on YouNow which is a popular live video streaming platform. Once Kristen began to see success with her videos on TikTok, she ditched YouNow and began to focus all of her attention other social media options.
2. She Was Featured In A Music Video
Landing a role in a music video is a pretty exciting accomplishment. Kristen has become so popular on the Internet that she was asked to appear in a music video for the song "London's Calling" by PLVTINUM. In 2017, she tweeted to share the news and her fans were excited to see her getting a new opportunity.
3. She's Been Accused Of Animal Abuse
In 2019, Kristen Hencher accidentally put herself in the middle of some unwanted allegations when she posted a picture of herself riding a horse through deep water in Anguilla. Many fans were alarmed and felt the water was too high for the horse to be walking in. Almost instantly, people began to accuse Kristen of animal abuse and felt that she risked the horse's safety just to get a photo op for herself. One of her reps attempted to clear the air by saying that Hancher is an animal lover who owns two dogs, but some of her followers weren't convinced.
4. She's A Kylie Jenner Look-Alike
Aside from her videos, Kristen Hencher has also gotten a fair bit of attention for her resemblance to Kylie Jenner. Although Kristen may not look much like Kylie at first glance, she has mastered the art of doing her makeup in a way that gives off some serious Kylie vibes. In the summer of 2019, Kristen posted several photos/videos of herself recreating some of Kylie's most popular looks.
5. She's Canadian
In recent years, Canada has given the world some celebrities that the entertainment industry wouldn't be the same without. Now our neighbor to the north can add Kristen Hancher to its list. Kristen was born and raised in Ontario. Although Hancher isn't as famous as some other very popular Canadians (Drake and Justin Bieber), she is definitely making a name for herself.
6. She Was In A Serious Relationship
Kriten Hancher isn't even 21 yet, but she's already gotten pretty deep into the dating scene. In 2016, she started a relationship with fellow social media star, Andrew Gregory. The two found themselves in the middle of some controversy when an intimate moment between them was accidentally live streamed in 2017. Unfortunately, the couple went their separate ways in 2017 but they seem to have ended in good terms. Kristen posted the following message to her Instagram account when she shared news of the breakup with her followers: "I've learned so much from you and you've learned so much about me. But now it's time for a new chapter. I'll love you forever and always. You'll always have a special place in my heart"
7. She Had Severe Scoliosis During Her Childhood
Scoliosis is a condition that results in a curvature of the spin. Although it may not be a life threatening illness, but severe cases can really impact a person's quality of life. Kristen Hancher suffered from scoliosis during her childhood. Her scoliosis was so bad that she had to undergo major back surgery to straighten out her spine. After her procedure, her father shared an image of her back and explained what doctors had to do during the operation.
8. She's Been Bullied For Her Weight
When you hear about someone being bullied for their weight, you probably instantly imagine someone being criticized for being overweight. However, Kristen dealt with bullying for the opposite reason. In 2017, Hancher dealt with people criticizing her for being 'too skinny' after several photos she posted showed that she had lost some weight. Some people even suggested that she had undergone some sort of surgery.
9. Her Favorite Actor is Jim Carrey
Since Kristen is a proud Canadian, it should come as no surprise that her favor actor is fellow Canada native, Jim Carrey. Although most of Jim Carrey's classic were released before Kristen was born in 1999, she is a huge fan of Carrey's sense of humor and comedic timing.
10. She Is One Of The Most Popular People On TikTok
Kristen isn't just popular on TikTok, she's one of the most popular users on the app. With more than 23 million followers, she has the 7th most popular account on the entire app. While TikTok may not be as popular as some other social media apps, Kristen has done a great job of leveraging her popularity to her advantage. While the number may seem arbitrary to some, having a large number of highly engaged followers on social media can translate into some serious money.
Tell us what's wrong with this post? How could we improve it? :)
Let us improve this post!