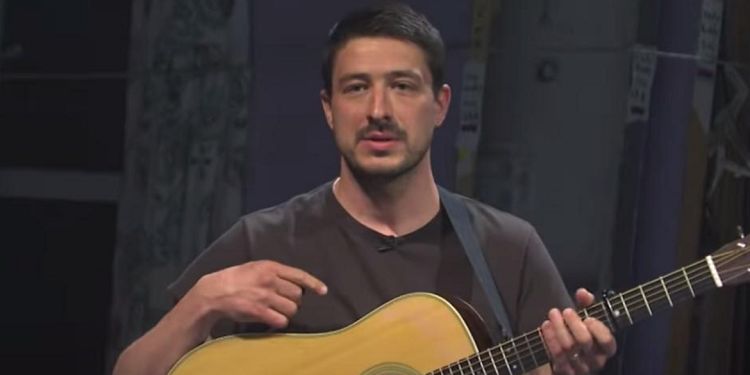 Best known for being the lead singer of the band Mumford and Sons, Marcus Mumford has been around music for most of his life. His passion for the craft of singing and songwriting has allowed him to reach countless people all over the world. Recently, however, it isn't music that has his name in the headlines. Instead, it was an adorable moment between him and his wife, Carey Mulligan while she performed the opening monologue on Saturday Night Live. The couple had a sweet (and hilarious) back and forth after Marcus 'surprised' Carey by popping up from the audience after she mentioned he wasn't able to make it. The moment allowed fans to see a different side of Marcus and the internet officially loves him even more. Keep reading for 10 things you didn't know about Marcus Mumford.
1. He Started His Career As A Drummer
At this point in his career, Marcus is best known for singing and playing the guitar, but that wasn't the case in the early days. When he started his career, he was a drummer for Laura Marling. While he's grateful for the experience he got, he knew that he didn't want to stay a drummer for the long haul.
2. He And His Wife Were Childhood Pen Pals
Everybody loves a good love story, and Marcus and Carey certainly have one. The couple actually met when they were kids, and they kept in touch for quite some time as pen pals. Although they lost touch over the years, they reconnected after working together on the movie Inside Llewyn Davis. They now have two children together.
3. He Is A Huge Soccer Fan
We weren't able to find any information to suggest that Marcus has ever been an athlete himself, but that has never stopped him from loving sports. As someone who was born and raised in the UK, soccer (football) has an extra special place in his heart. Marcus is a diehard fan of the professional football club, AFC Wimbledon.
4. He's A Private Person
Despite having been in the industry for more than a decade, Marcus has never bought into the stereotypes of celebrity culture. Instead of being in front of the camera every chance he gets, Marcus has always preferred a more low-key approach. Over the years, he has done a great job of keeping his private life out of the public eye.
5. He Likes To Surf
Even though he's a pretty laid-back guy, Marcus still enjoys a good adrenaline rush from time to time and he's the type of person who isn't afraid to step outside of his comfort zone. In a photo on his Instagram profile from November 2020, Marcus shared that he just got his first surfboard.
6. He Witnessed The Grenfell Tower Fire
In 2017, Marcus was at home in his apartment in London when he witnessed The Greenfell Tower burning in the distance. Marcus told The Guardian that he "thought 9/11 had happened. I saw the tower burning – I was, like: fucking hell. [I] turned on the news, and it felt like all the houses emptied, and everyone was on the street." The incident heavily influenced the music on Mumford and Sons' 2018 album, Delta.
7. He Has American Citizenship
Although Marcus was born and raised in England, he also has citizenship in the United States due to his parents' careers with Vineyard Churches UK and Ireland. In October of 2018, he shared a photo on Instagram showing that he voted in the United States, and the post received several negative comments.
8. He's Not Really Into Social Media
If you're a fan of Marcus Mumford's, you've probably noticed that he isn't the most active social media user. Some have probably assumed that his disinterest in social media comes from the fact that he's a private person, but that's entirely true. When discussing social media during an interview with Rolling Stone, Marcus said, "I think it can dupe us into feeling like we're present and connected, when in fact it can lead to a real isolation. We're in danger of being more disconnected when we're using this placebo drug that makes us think we're more connected … it just eats away at your head, man."
9. A Solo Album From Him Isn't Off The Table
No matter how successful a group or band is, people can't help but wonder if a time will ever come when the members want to work on solo projects. Naturally, this is a question that has been asked of Mumford and Sons, and more specifically, Marcus. He doesn't have any plans to release a solo album at the moment, but it's definitely a possibility.
10. He's Always Willing To Listen To Others
In 2018, Marcus found himself in the middle of a little controversy when a photo of him, his bandmates, and Jordan Peterson began to circulate around the internet. For those who aren't familiar with Peterson, he has gotten a lot of backlash for his views on topics such as white privilege and feminism. Many people questioned the band's politics. While Marcus has since said that he doesn't agree with Jordan's views, he added that he feels it's important to always listen to others even if you don't agree with what they're saying.