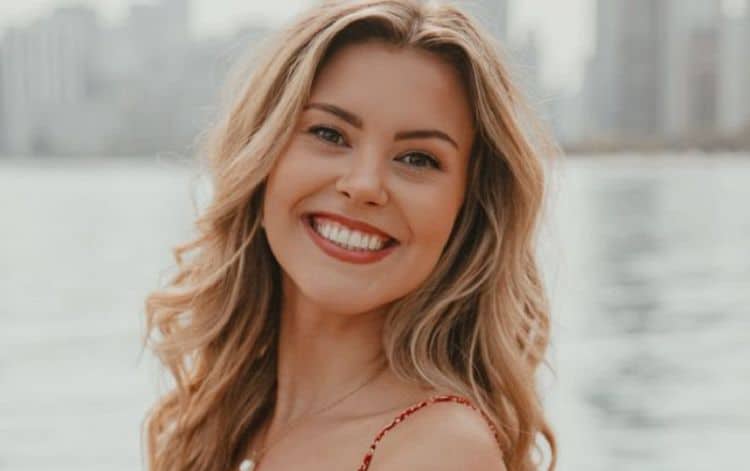 Anna Redman is full of confidence and she knows exactly what she wants. So when she stepped up to Matt James for the first time on season premiere of The Bachelor, she was ready to turn on the charm with the hopes of being the woman to go home with a fiance. During the episode, Anna proved to be up against some very stiff competition, but she didn't let that get in the way of her determination. At the end of the episode, Anna was able to breathe a sight of relief when she received the highly sought after rose. If things continue to go the way have so far, Anna could have a serious chance. Keep reading for 10 things you didn't know about Anna Redman.
1. She Is Originally From Minnesota
Anna is a proud midwestern girl. She was born and raised in a small town in Minnesota, but she's always know that the city is where she truly belonged. These days, Anna is living in Chicago and working as a copywriter. If she ends up winning Matt's heart, she'll likely have to relocate to New York City.
2. She Is Looking Forward To Having Kids
Anna doesn't have any children of her own just yet, but having some in the future is something she definitely wants. Obviously she needs to be with a partner who is on the same page as her in terms of wanting to grow their family. Hopefully she and Matt will be able to find common ground in this area.
3. She Loves Trying New Things
Some people are perfectly content with staying in their comfort zone for their entire life, but that isn't how Anna likes to get down. She's always looking to have new and exciting experiences and she never backs down from an opportunity to do something fun. Whether it be traveling or trying new food, she wants to make the most of every moment.
4. She Is Really Into Fashion
Anna may not be a professional model like some of the other girl son the show, but she definitely knows a thing or two about fashion. She has a great sense of style and she enjoys putting outfits together. Anna has a very bright personality and she loves to show that through her clothing.
5. She Has A Significant Social Media Following
Being on The Bachelor is a great opportunity for more than one reason. Not only is it a chance at finding love, but being on the show also opens lots of other doors for many of the contestants. For example, many former Bachelor contestants are now social media influencers and it looks like Anna is well on her way. She already has more than more than 17,500 followers on Instagram.
6. She Worked With Some Major Brands
When most people hear that someone has worked with big brands, they usually assume the person is model or an actor. Anna doesn't work in either of those fields but she's still collaborated with some major companies. As a copywriter, she has done projects for brands like Coca Cola and Smart Water.
7. She Loves Cheese
If you're the kind of person who feels like cheese makes everything better, you and Anna have something in common. According to her official bio for The Bachelor, Anna is "obsessed" with cheese. She didn't go into specifics about the type of cheese she likes, so there's a chance they're all fair game.
8. She Likes To Do Puzzles
Just because Anna is very adventurous doesn't mean that she doesn't know how to relax and take it slow sometimes. When she's hanging out at home, she loves doing puzzles. She would love to be with someone who enjoys putting puzzles together with her, so hopefully Matt's jigsaw game is on point.
9. She Is Scared Of Fish
Do you have a fear that seems completely bizarre to other people? If so, you aren't alone. Anna's Bachelor bio says that she is "terrified" of fish. There's no explanation as to why so it's unclear whether or not she means living fish or any foods that include fish. For her sake, let's hope that they don't serve any fish on this season of The Bachelor.
10. She Is A Loyola Alum
On top of all of the other things Anna has going for her, she is also well educated. She attended Loyola University Chicago where she earned a bachelor's degree in creative advertising. Since graduating in 2018 she has been putting her education to good use in the marketing world.