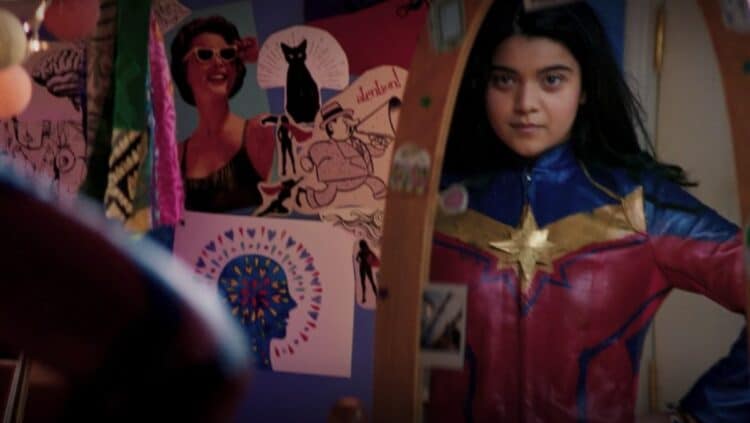 The hype that's been given to Ms. Marvel thus far hasn't been so over the top that it feels overwhelming, but with so much call for diversity under the Disney umbrella, it's not unfair to hope that the same level of excellence is being observed when it comes to making certain that the coming shows ill be every bit as good as those that have come before. Some might want to point out that a few of the shows that have come to the MCU aren't as top-tier as some might want to believe, but the truth is that people have continued to watch said shows, which means that they're still interesting enough to gain the type of attention that ends up making them noteworthy. The story of Ms. Marvel has already been pushed in the comics for a while, and she's become the favorite of many for several reasons. The Pakistani-American youth, Kamala Khan, has become an inspiration for comic book fans over the years, even before the announcement that she would be getting her own show, and would be appearing in the next Captain Marvel movie.
No pressure, right? Some fans might not think that anything is going to happen since the MCU has been doing what it can to diversity over the years, and while there are still fans that don't think that the MCU is diverse enough, the truth is that the MCU has been becoming far more diverse for a while now. Things have been changing in terms of who gets the spotlight, and they're going to keep changing no doubt as the years move on. But there is one thing that needs to be remembered if those pushing for diversification are going to continue the success of the MCU that they're inheriting. The story is more important than the character quite often. Diversification is important, as it can enrich the story in a great way, but as the world is expanded, and more characters are added in, one has to remember that to make the characters stand out, the story has to be given the proper attention as well.
Too much lazy writing that doesn't do much for diversification has been pushed over the years, but from the trailer and the overall understanding of what's going on in this story thus far, it would appear that Kamala is being integrated into the MCU in a way that will feel somewhat natural and see her join the ranks without any real problem. Of course, that remains to be seen, but with the trend that's been seen lately with adding new heroes into the MCU, it's bound to happen that Ms. Marvel will end up finding herself having to earn her stripes to speak, and yet at the same time it might be that she'll have a bit of a struggle when it comes to being accepted into the ranks of the heroes, mostly because she's still a kid. It might sound like a double standard thanks to other heroes being accepted at a young age, but if one is thinking of Spider-Man, they need to remember that even Spidey had to find his way into the good graces of the established and experienced heroes.
This does feel as though it might be the biggest roadblock that a lot of new heroes need to deal with since the idea that people might not want to see them emerge into live-action is more than a little ridiculous since people have enjoyed these characters for a while now and have been excited to see them develop in the MCU. If there's any reason why heroes such as Ms. Marvel might find a bit of resistance, it would likely be due to a plot and character development that ends up alienating the fanbase somehow. There are a lot of ways that the show could end up being divisive, as it's not above the Mouse House to think up ways that will make certain that certain iniquities will be brought up in the show. But if that happens, it's bound to be a mistake since focusing on building the character up is an important way to make certain that Kamala becomes another well-liked character, but focusing too much on elements that might remind people of the hardships that can be faced might be enough to swing public opinion the other way.
It's better to wait and reserve judgment until the series has started, but one can imagine that before, during, and after the series that many people will talk about racial undertones, societal norms, and many other issues that Kamala might have to face and overcome. Personally, her story looks like it might be interesting, so it feels wiser to focus on this and how she can fit into the MCU. Her show doesn't have to be better than any other show, but it does need to become impressive in its own right, otherwise, it might be just another show. the