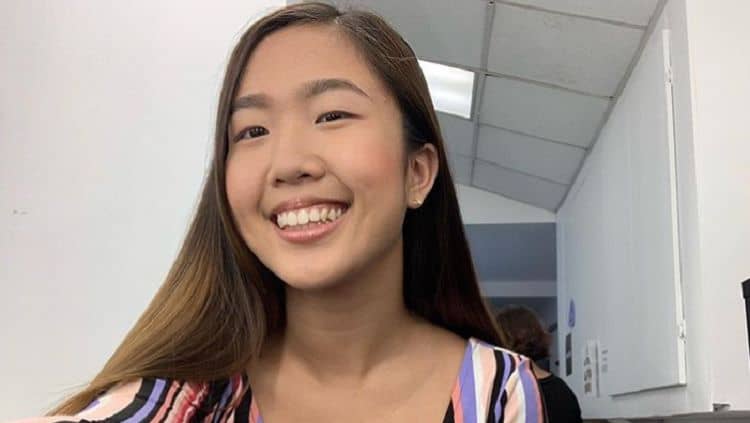 Nina Lu was born in Los Angeles, California, on September 18th, 2003, and despite having lived in the United States all her life, she still is proud of her Chinese heritage hence is fluent in the language. She is quite secretive about her personal life; therefore, details of her family background, as well as her romantic life, are still under wraps. All the same, we have unearthed a few facts that will enlighten you about the actress.
1. She hopes to be a scriptwriter
Diversity in any industry ensures you can survive even when the odds are not in your favor. Most actors have not only graced our screens but are also sought-after scriptwriters; for instance, Emma Thompson was asked to change the script for the "Bridget Jones" third film since the original was not meeting expectations. Similarly, Nina, as young as she is, hopes that besides being known for her acting skills, she will become a great scriptwriter someday. Therefore she wants to join a reputable college where she can study psychology and literature.
2. She almost became a figure skater
There is no denying that Nina is built for figure skating and sometimes even dresses the part in most of her photos. However, that remains a far fetched dream for the actress who has now set her sights on becoming a scriptwriter. When she was younger, Nina aspired to become a figure skater hence started working on her ice skating skills. She became so close to being a figure skater but did not reveal what cut short her dream. Still, Nina enjoys being on the ice from time to time with her friends.
3. She learned the basics of playing the violin for her "Bunk'd" character
Once you land the part which you felt connected to, then you will do anything to portray it in the best way possible. That happened to Nina Lu, who was not only excited about auditioning for "Bunk'd" but getting the callback for her audition. She booked the role of Tiffany, who plays the violin; hence Nina had to learn a few basics.
4. She likes to sing
Nina confessed in her interview with Relate Magazine that she enjoys singing. However at the time she was not so much into music as to think of recording any. Instead all she did was participate in the school choir and learn how to play the ukulele. That was in 2017; by the end of 2018, Nina was already working on something that would be produced by The Kidd. There is not much about any of her music, but she uploaded an "LA DI DA" cover on her YouTube channel.
5. She attended Barbizon Modeling and Acting School
To be the best in the industry, you must have a competitive edge, and that usually means equipping yourself with topnotch skills. Consequently, Nina Lu and her sister attended Barbizon Modeling and Acting School, whose notable alumni include Condoleezza Rice. The former Secretary of State praised the institution for teaching her how to walk gracefully. However, the school has not always been in the media for the best reasons. In 2017 Deadline reported that the institution had been sued for pressuring parents to pay extra tuition fees to promote their children's talents in leading management companies. It was accused of selling a scripted dream to encourage parents to fork out more money.
6. How she became an actress
Some actors will tell you of how they always dreamed of making it big in Hollywood hence even had to be homeschooled as they attended prestigious schools of drama. Nina Lu is not among them; matter of fact is she never in her wildest dreams thought about becoming an actress. The idea was thrust upon her by a woman at the mall who approached Nina and her sister. The woman asked Nina if she would like to be an actress, thus piqued the young girl's interest. Nina, therefore, began taking acting classes before getting herself a manager and agent.
7. She has always wanted to learn how to play the ukulele
Nina was a cunning child and knew how to convince her parents to get her what she wanted. On her Instagram, the teenager disclosed that she once wrote an essay trying to make her case for why she needed a ukulele instead of learning to play the violin. She argued that ukulele is just as good as the violin, and it seems like she won because, in 2017, Nina began her ukulele lessons.
8. In her role as Ivy Ling, she had a stunt double portray her gymnastics moves
Nina Lu is not afraid to admit that she is not great at gymnastics. Although she did gymnastics when she was much younger, by the time she got the part of Ivy Ling, she had forgotten what she learned. Therefore she had a stunt double, Jade, do her moves. Still, to ensure that when such a chance arises again, she is prepared, Nina took the time between takes to learn from Jade how to mount a balance beam.
9. Her social media activity
If you are looking to attract Nina's attention on social media, you better not use Twitter. She has a substantial following of 7k people, but the last time she posted anything was in April 2017. However, on Instagram, she is very active; hence she has 877k followers whom she keeps updated with everything about her life on both professional and personal levels. She is also active on her Facebook account, where she has 14k followers.
10. She was homeschooled during the shooting of "Bunk'd"
Nina saw herself in Ivy Ling due to some of the things they shared. For instance, Ivy wanted to ensure that her parents were proud of her and she remained close with her friends. In the same way, Nina had to forego being with her friends as she tried to make her television debut. Therefore as "Bunk'd" was filmed, she chose to be homeschooled so that the filming schedule would not be interrupted as per BSCKids.