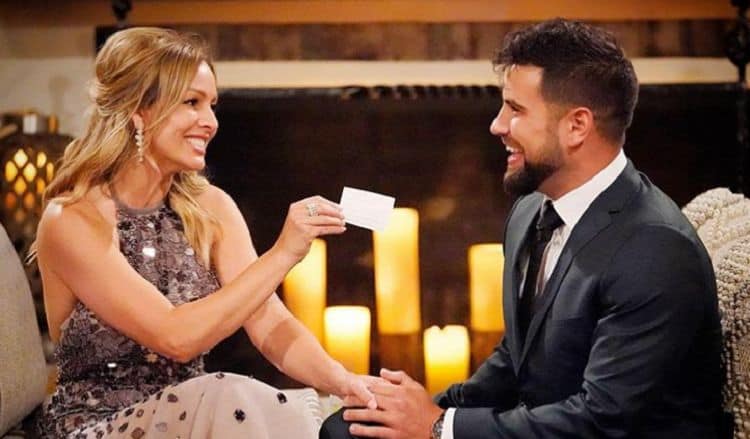 To lots of people, the idea of going on a reality TV show with the hope of finding love seems a little ridiculous. To others, however, it seems like a perfectly legitimate option. Blake Moynes is a proud member of the second group. As a cast member on season 16 of The Bachelorette, Blake hopes to find love with Clare Crawley and he's willing to compete with a bunch of other guys in order to do it. He's off to a good start so far, and his sweet demeanor is definitely giving him some cool points. If things don't work out for him and Clare, there are lots of fans who would love to give him a shot. Keep reading for 10 things you didn't know about Blake Moynes.
1. He Is Canadian
Blake is lucky to have people in two countries rooting for him on the show. He was born and raised in Ontario, Canada and it looks like he still lives there today. Blake is the only contestant on this season of The Bachelorette who isn't from the United States.
2. He Is 10 Years Younger Than Clare
At 39-years-old, Clare is the oldest Bachelorette in the history of the show. Many of the contestants, including Blake who is 29, are much younger. While some people believe that age is only a number, others have raised their eyebrows at the age of some of the contestants. Many believe that there is no way Clare would choose to be with a man who is much younger.
3. He Plays Hockey
Blake has always been the type of person who likes to stay active and as a true Canadian, one of his favorite ways to do that is by playing hockey. He loves to spend time out on the ice and is a very competitive player. Hopefully, this competitive side will come in handy for him as he works to win Clare's heart.
4. He Loves Doing Volunteer Work
Blake loves animals and works as a wildlife manager, but his passion for animals doesn't just stop with his job. In his free time, he also likes doing volunteer work and according to his bio on the ABC website, he volunteers with a different endangered species ever year.
5. He Is A Big Ninja Turtles Fan
The Ninja Turtles may not technically be animals, but Blake still loves them. He is a huge fan of the characters and has been for many years. This could be something that Clare finds interesting and cute, or it could be a painful reminder that he's much younger than her.
6. Lots Of Fans Think He Looks Like A Cartoon Character
Since Blake Moynes made his first appearance on the show, viewers couldn't help but get the feeling that he looks like someone they've seen before. It didn't take long for people to start comparing him to various animated characters including the human version of Shrek.
7. He Broke A Big Bachelorette Rule
One of the biggest rules of The Bachelorette is that contestants should not be reach out to The Bachelorette in any way before filming. Blake broke this rule when he DMd Clare on Instagram after he saw that she was struggling with missing her mother during quarantine. During the first episode, Clare thanked him for comforting her and it looks like the move definitely got him in her good graces.
8. He Is A Hopeless Romantic
Blake has had three serious relationships in the past and even though he has nothing bad to say about them, they clearly didn't work out. Despite that, he continues to be a hopeless romantic and says that he's always wanted a relationship like the one depicted in The Notebook. That's exactly what he's hoping to find with Clare.
9. He Is A Private Person
Blake is officially a reality TV star at the moment, but he doesn't seem to have any interest in playing into the attention hungry stereotype that is often associated with people on reality TV. Instead, he seems to be a low key kind of guy who doesn't have too much interest in being in the spotlight. He has a social media account, but his posts don't really provide much insight into his personal life.
10. He Is Always Down For An Adventure
Spending time outdoors is one of Blake's favorite things to do. When the weather is nice you can usually find him outside exploring and having a good time. Some of the activities he enjoys the most include hanging out with his dog, fishing, swimming, and hiking.
Tell us what's wrong with this post? How could we improve it? :)
Let us improve this post!