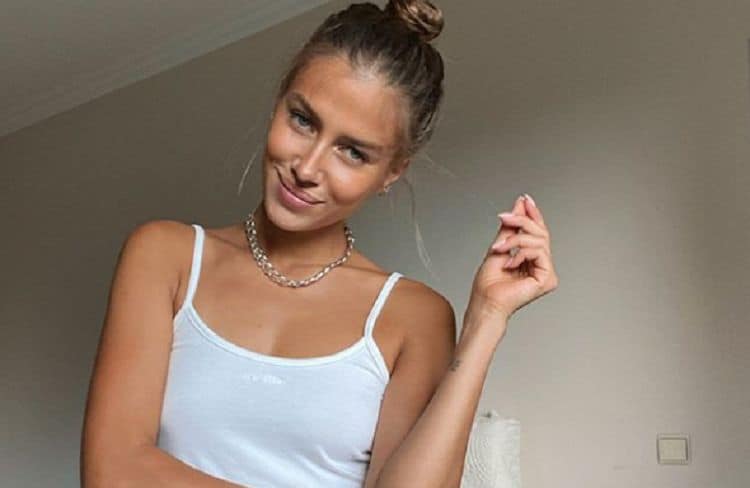 Dating a celebrity is something that usually comes with lots of media attention, but dating a celebrity like Brad Pitt takes that attention to a whole new level. Nicole Poturalski is experiencing this first hand now that her relationship with the well-known actor has been made public. As the first person Brad has been linked to since his divorce from Angelina Jolie, all eyes are on the couple, but especially on Nicole and people can't wait to learn more about her. At the same time, though, it's clear that both and she and Brad are intent on maintaining as much privacy as they possibly can. Keep reading for 10 things you didn't know about Nicole Poturalski.
1. She And Brad Met Through Friends
Any time a celebrity is seen with a new person, one of the first things people want to know is how they met. A source close to the couple told ET, "Brad and Nicole were introduced through friends, and when they first started seeing each other, they told no one about it. Even some of their inner circle of friends are only finding out now,"
2. She's Almost 30 Years Younger Than Brad
Although it might be hard for some of Brad's fans to believe, he is 56-years-old. Nicole on the other hand is just 27. This makes her just eight years older than Brad's oldest child, Maddox, who is 19. This age gap is definitely raising some eyebrows, but the reality is that a lot of people saw it coming.
3. She's A Model
Don't get it twisted though, just because Nicole is much younger than Brad doesn't mean that she's using him for a come up. She has already built a successful modeling career and has appeared on some of the most well-known magazines in the world including Elle.
4. She Has A Son
Nicole is the proud mother of a young son named Emil. She has shared photos of him on social media in the past but it looks like she's taken them down amid the news of her and Brad's relationship. This is probably a smart move seeing as how there will likely be millions of new people checking out her social media accounts and she may not be ready to share her son's identity with the world.
5. She Speaks 5 Languages
It's easy to look at Nicole and assume that she doesn't have anything to offer besides her youth and beauty, but that doesn't seem to be the case at all. On top of having a successful career, Nicole also has a knack for learning languages. According to the Daily Mail she speaks five languages although the publication didn't specific what they were. However, we do know that one of the languages if English.
6. She's From Germany
Nicole was born and raised in Germany which is also where she started her modeling career. She also has Polish ancestry. However, it appears that she now divides her time between Los Angeles and Germany for professional (and now probably personal) reasons. Given her background, I think it's safe to say that German is one of the other languages she speaks.
7. She's Passionate About Social Justice
Nicole definitely seems to have a good head on her shoulders and she isn't the type of person who is afraid to speak up for the things she believes in. She has used her platform on social media to speak out in support of Black Lives Matter as well as gun control and the protection of children.
8. She Likes To Read
Despite having a busy schedule, Nicole still likes to make time for some good old fashioned self care. When she gets the chance to rest and relax, you can usually catch her at home curled up with a good book. In an Instagram post from March she said that she enjoys spending Saturdays reading and relaxing and with her better half.
9. She Models Under A Different Name
If Nicole's face looks familiar to you but her name doesn't it's because she doesn't use the name Nicole Poturalski in her career. Instead, she goes by the name Nico Mary. While it's obvious that Nico is simply a shortened version if Nicole, it's unclear where the Mary comes from.
10. She Was Initially Spotted With Brad In 2019
News of Brad and Nicole is just now starting to really take off, but the rumors about them being together aren't new. They were first spotted together in the fall of 2019 at one of Kanye West's Sunday services. The couple has still yet to come out and confirm whether or not they're actually together.