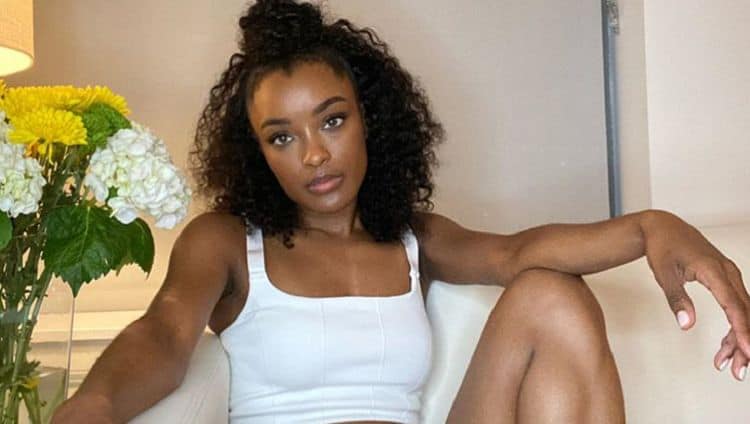 If you aren't familiar with LaToya Tonodeo, it's time to get to know her better. She's an exceptionally talented actress who has been bringing her A-game to everything she's been doing, and we adore watching her do it. She's known for her role in the "The Fosters," but more so for her powerful performance in "Power Book II: Ghost," in which she plays Diana. She's a powerhouse, and she gets to star with a few other amazing cast members, and that's a situation that we will get into. For now, though, we want to know her better.
1. Her Faith is Important to Her
One thing that is important to her each day is her faith. She's God's Child, and she's proud of that. She loves her faith, she lives in it, and she looks to do what's right and good in His eyes. She is a strong and powerful woman, and we have no doubt that her faith plays a large role in that.
2. She's A Fan of Her Work
We think it's important that you love what you do. The saying about loving what you do and never working a day in your life is absolutely true, and we adore that. This is a woman who is a huge fan of what she does, and we imagine that she wakes up appreciative and thankful for that every single day.
3. She Believes in Self Love
And everyone else should, too. Self-love is the most important. If you don't love yourself, who will love you fully in return? There is nothing okay about not loving yourself, even if you don't like where you are. There's a lot going on in life at all times, and it's okay to not like a few things at a time, but you should always love yourself enough to know when it's time to make some changes and fix that dislike.
4. She's A Taken Woman
Sorry, gentlemen. She's not available, and we hate to be the ones who crush your future dreams of being Mr. LaToya Tonodeo. She's gorgeous, she's strong, she has a great personality, and she's with someone she cares for a lot. Perhaps you've heard of him. He's actor Arlen Escarpeta, and he's not going to share. Sorry, but they are so cute together. They've been together since 2014.
5. She's Mindful
She is a woman who takes great care to be mindful. It's a way of life, and it's a good one to live. When you take time to become mindful of your thoughts and your habits and your abilities, you take the time to learn to live better and to be better. She works hard to practice mindfulness, and we think it shows in her smile.
6. She's a Huge Fan of Her Onscreen Mom
Okay, but who wouldn't be? Her on-screen mother is none other than the legendary Mary J. Blige. We listened to her growing up (she reminds me of my 8th-grade year more than anything else), and she's always been such a class act. Truly a beautiful person, and getting to play her daughter on television has to be something spectacular.
7. She's A Dog Lover
She has the cutest little pup, and we are all in love with this sweet dog. It's tiny, sweet, and she clearly loves this pup more than anything. You know how we feel about dog lovers, so let's just take a moment to revel in the fact that she's amazing.
8. She's A Happy Woman
She is a woman who radiates happiness, and we love that about her. She's got so much to offer and so much to give, and she's a woman who makes it her point in life to be able to choose happiness over anything else. She shares her happiness online, and we think more people should follow along.
9. Her Relationship is Sweet
She and the love of her life have the sweetest relationship. They say the kindest and most loving things to one another in the captions of their photos, and they both seem so proud of one another when they achieve things. They are not only beautiful together, they are darling with one another.
10. She's a Role Model
If we can tell you one thing about this woman, it's that we are certain she is a role model. She's got so much love to give, so much of a good time to share, and she's someone we think more people should look up to and learn from.
Tell us what's wrong with this post? How could we improve it? :)
Let us improve this post!