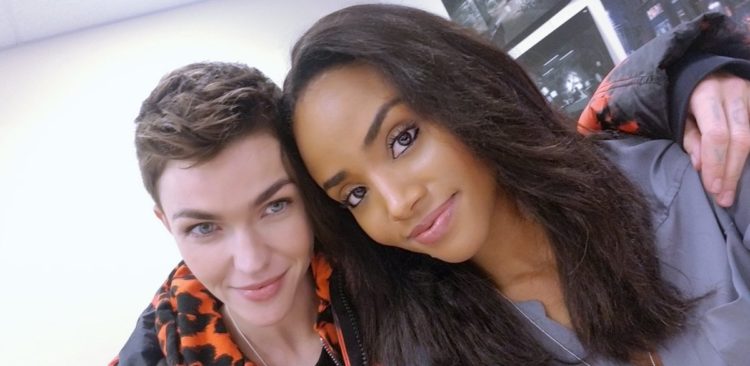 The American born model and actress, Meagan Yvonne Tandy, was born on May 3, 1985 in Fremont, California. She has made a name for herself in the acting and modeling world. Tandy has had a wide range of jobs in both businesses, including roles on a number of popular television shows, reality TV series, she's participated in runway shows, and commercial campaigns. Meagan Tandy knows what it's like to participate in one of the biggest modeling pageants there is, Miss USA, and get very near to walking away with the crown. The girl is both beautiful and talented, and you may have already been following her in one of her shows or on social media, but even if you are, here are 10 things you din't know about Meagan Tandy.
1. She's the former Miss California
Tandy was into modeling and actually got as far as any young girl who dreams of being a model, could go. Most young models strive for the ultimate modeling status, to win the title of Ms. America. Tandy's modeling took her pretty far and she's proud of what she's accomplished. She was chosen as Miss California USA in 2007, which she happened to also be the first student in her school, Chaffey College, to ever get the title. Tandy went on to represent Miss California in the Miss USA pageant that year and ended with the title of third runner up. Still an impressive title to end with. And according to Frost Now, another award she's earned is the Best Swimsuit Award in 2001.
2. She got involved in film projects while in college
While attending college and learning all the basic college courses, Tandy got to get a little involved with the film industry even back then. According to Celeb Body Size, some of what she learned to do was to create, produce and edit a variety of different advertisements, and worked on a number of short film projects as well. So before even getting her first role, she was already a little step ahead on how the whole process works.
3. She participated in a runway show for bridal fashion
Tandy stayed active in both modeling and acting, and after a run of acting roles, she dipped back into the modeling side of her career by accepting the invitation to participate in a number of runway shows, representing designer Kirstie Kelly's Disney's Couture Bridal line. She also went on to participate in a number of high-end fashion shows that took place in Las Vegas, Atlanta, Chicago, and New York City. Tandy is currently signed with a well-known agency in Hollywood that represents her for printed modeling jobs, which means she's keeping up with, and remaining busy with both of her favorite industries.
4. She's currently part of the Batwoman cast
Tandy has had experience with The CW channel, having had a recurring role on Teen Wolf, and now she's back on the channel, this time playing the role of Sophie, a girl who had a relationship with the main character, Kate Kane, who is Batwoman. Tandy has commented on her love of The CW channel's action scenes, describing how they pride themselves in the action and are very involved with getting their actors prepared for them. She even has a favorite stunt she performs, and that is, her flipping a guy over shoulders.
5. She's appeared in a number of commercials
If you don't watch The CW channel or any of the shows Tandy has held roles on, maybe you've caught her in a commercial or two since she has been cast for a few big national commercial campaigns, like Wendy's, Boost Mobile, and one of her biggest, a Pepsi commercial for the Super Bowl. And any Shrek fan out there may remember seeing her the movie promotions for Shrek the Third that was released back in 2007.
6. Her first film role was a Hooter's girl
Moving into the big screen, Tandy took her first role in a movie called, Unstoppable, released in 2010. Tandy's role was a Hooter's girl for the restaurant, her appearance was brief, but her role was the main character's daughter. It may not have been a role that put her name in lights, but it was a start and since then, she's basically been, 'unstoppable' in her career.
7. She's represented several fashion brands
Like the commercials Tandy has appeared in, many of the commercials being big brands or campaigns, she's also represented several fashion brands with big names, according to All Star Bio. She's participated in a variety of fashion shows for big named brands as well as she's been a part of 3 separate campaigns for the shoe brand, Sketcher's.
8. She's a member of the Screen Actors Guild
The Screen Actors Guild is a labor union that represents over 100,000 television, film and even background actors' from all over the world, and has just received a new presided, Courtney B. Vance, as of November 2019. . In order to be a part of the Guild, there are requirements that you must meet and Tandy has met all three. As well as being represented by the largest organization meant for actors, she can also earn some money by being a member.
9. She has a substantial net worth
A few different sites give an estimation of Tandy's net worth and some have listed an average salary. With the roles, modeling jobs and commercials she's participated in, some sites say she is has an estimated worth of approximately $2 million, while others claim it to be up to $5M. Obviously she does very well and her net worth is probably destined to grow as long as she keeps getting the kind of roles she's be fortunate to get so far.
10. She's single and it seems she wants to be
It doesn't appear that Tandy is tied to any one guy right now. She is currently not known to be dating anyone, and she's definitely not married. There's been speculation that she just wants to focus on her career and have no guy in her life. As a matter-of-fact, she's even tweeted a funny tweet a few times regarding ditching her boyfriend, so anyone out there thinking she might be looking, it doesn't appear she is at the present.