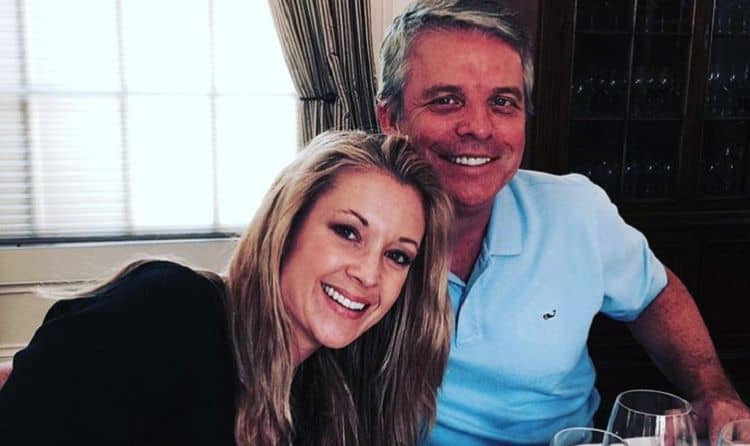 Nicole Briscoe works for ESPN as a sportscaster. She typically covers anything that has to do with racing cars, and that has been her primary role within the company for some time now. She's good at what she does. She has a lot of fans, and she's also a SportsCenter anchor who got the job in 2015. What she does for a living is a dream job for many, but it's her everyday life. She knows she's got it good in terms of getting to go to work every single day and do what she loves, but we don't get to see a lot of her personal side on the television when we watch her broadcast. Let's get to know a bit more about her, shall we?
1. She's Married to A Driver
She not only does a lot of work with race car drivers by watching their sport, covering it, talking about it, and getting to know as much about it as she can, she's also a woman who has a lot more interest in the sport than just covering it. She also a married a man who drives a car. She married Ryan Briscoe in 2009. He's a race car driver who drives for the IndySeries. They were married in a beautiful ceremony in Hawaii in front of their friends and family.
2. She's from Illinois
She spent a lot of time in her home state and the surrounding states, too. She grew up in Roscoe, Illinois. She went to school here, and she even went to university in the same state. She went to Northern Illinois University, where she also worked herself up to the ranks of general assignment reporter for a local news station. It sounds to us like she knew what she wanted to do and when she wanted to do it for a long time.
3. She's Got a Funny History with Racing
She's a sports reporter who focuses on racing. She's a sports reporter who focuses on racing and married a race car driver. She was also a cheerleader in high school….wait for it….with a race car driver. That's right. In 1996 when she was a high school cheerleader in Illinois, she and future race car driver Danica Patrick were on the same cheerleading squad. If that's not a sign she was meant to be in the racing industry in some way, we just don't know what else it could be.
4. She's A Beauty Queen
She does drive race cars, but she's also someone who had some interests of her own growing up. She was a beauty queen growing up. She was Miss Illinois Teen USA in 1998. She went from there to compete in the miss Teen USA pageant, but she did not win. She was one of the top 10, and she ended up with several wins in different categories. Third place for evening gown, seventh for swim, and 10th in interview. She took home the 8th place title as a result. Two years after that pageant, she was part of the Miss Illinois USA pageant, and she was the runner-up.
5. She's A Mom
Not only is she a wife and a sports reporter, she's also a mom. She and her husband have two little girls they are raising in addition to everything else they do in their lives. We would be willing to bet that their kids get to have a lot of fun with parents who have jobs like theirs.
6. The Biggest Negative is the Alarm Clock
Her least favorite thing about being on the early ESPN time slot is the alarm clock. She has to wake up every morning for work at 3 am, which is not always conducive to living a well-balanced life, but she's making it work the best way she can. She does it, she tries to get sleep when she can, and she loves what she does, which does make a big difference.
7. She's Got A Pet Peeve
She's not a fan of people who call race car drivers anything but athletes, but it is a common mindset among those who don't know better. She knows that they are athletes and that they work hard, they train hard, and they have a craft that they work to improve and perfect. She becomes annoyed when people tell her that they're not real athletes, so make sure you know before you speak.
8. She'd Like to Run A Marathon
She loves to run, and it was her plan to run the Chicago marathon. Unfortunately, due to a stress fracture, she was unable to do so. She calls that run her 'unfinished' business, but she is also planning to run the NYC marathon this year, in 2020, since it is the 50th anniversary of the race and she's not going to miss out on something that uniquely special and exciting.
9. She Loves Australia
In case you did not know this, her husband is from Australia. Her in-laws live there, and she got engaged there. She's been able to visit many times in the past few years of her life because of her extended family, and she and her husband even take their kids there for visits with their in-laws. It's a lot of travel, a lot of work, and it's not always the most enjoyable flight even without small kids to worry about, but we bet she has some serious tips. We also believe that she really has a love for the country. She's said it before, and she seems a little dreamy about it, too. We like that.
10. One Thing Makes Her Happiest
If all else goes wrong in her day and in her life, she's still happy if her kids are happy. We love that mentality, because we do know that many things go wrong every single day no matter how hard you plan, execute, and prevent. She's got the right idea, and we are on board for that all day long. We're implementing it right now in our household.