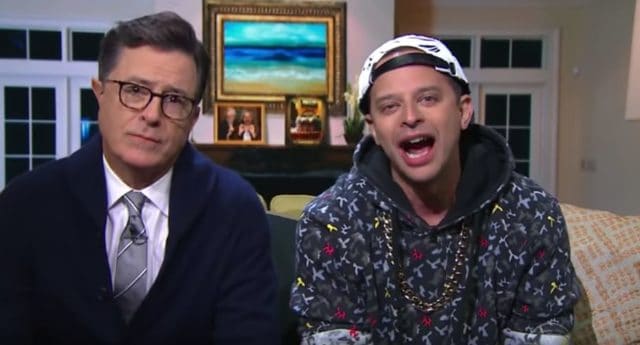 It's not often that you get to see someone on a talk show thrown of their game so repeatedly, but it's funny as it can possibly be when it does happen. Stephen Colbert is usually on point and the model of restraint when he's on camera, but when Nick Kroll, the creator of Big Mouth, comes onto the show to have a sit down with "Uncle Steve", things get a little hilarious very quickly. Why you ask?
Oh, just a little thing called puberty.
That's a big part of what Big Mouth is all about anyway, so it's pretty natural that Colbert would get to talking about the dreaded P word. It's one of the most destructive and emotionally draining forces in the world and it simply can't be stopped. Parents tend to dread this point in their children's lives and look for any way to get out of talking about the birds and the bees and the flowers and the trees and of course that little thing called love. For so many years it's a subject that you find that you don't want to broach with your kids until that day finally comes and they begin to ask you questions pertaining to what happens when their body is doing this or that or another person says this or does that to get their attention.
If you're a parent then you know that time is coming, or you've already been through it and you can easily remember just what it was like. Some parents don't have to worry about it quite as much, since the transition isn't as hard on some people as it on others. But some parents fight it kicking and screaming as they attempt to just push through it and get it over with as quickly and as painlessly as possible.
I'd say a small percentage find it as amusing as Kroll and Colbert, but few might actually find it just as hard to talk about it when they're trying their hardest not to bust up laughing. Kroll seriously makes it that hard for Colbert to keep a straight face as he cracks one joke after another no matter how crude or crass they get. It seems the cruder the jokes get the more Colbert has to stop himself from laughing, which is easy to understand because Kroll doesn't hold back with the humor.
And the fist bump, let's talk about the fist bump just for a moment. The older generation seems to always be trying to connect with the younger, and the fist bump is not a new thing really, but a lot of people still don't do it. Maybe Colbert shouldn't do it unless he's facing the person, because I get the feeling that he's not that good at it. Of course missing on purpose is a lot funnier for the skit and tends to draw in the laughs a lot more so miss away guys.
The chance to see Colbert have to actually stop and compose himself so that he won't crack up is just priceless.
Tell us what's wrong with this post? How could we improve it? :)
Let us improve this post!