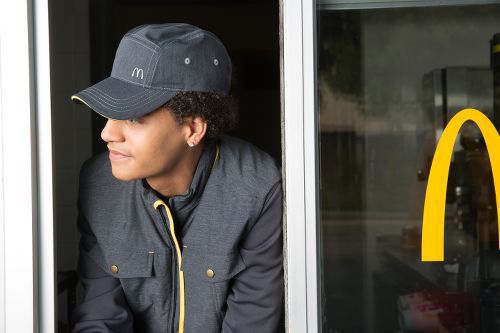 While "I'm lovin' it" might be the phrase catered towards customers, McDonald's is reportedly starting to think a little more about its employees. But in what kind of way? Turns out a vastly new uniform is going to making its debut this month. According to a press release, McDonald's is collaborating with designers Waraire Boswell and Bindu Rivas to develop the new collections, which are set to appear behind counters in the U.S. in April.
The new, more modern uniforms are grey and black and were reportedly created based on feedback from employees and customers. "Our new collections focus on comfort, fit, functionality and contemporary professionalism, delivering a uniform that crew and managers will feel comfortable to work in and proud to wear," McDonald's Senior Director of HR, Jez Langhorn, said in the release.
"As a former McDonald's crew member myself, I understand the design and functionality needs of the next generation of McDonald's uniforms, and I was personally inspired to design a look and feel that gives restaurant employees a greater level of confidence," Boswell said.
More like "Death Star" and "Soul Sucking." People have taken to Twitter and so far the responses to these new uniforms have been grim. It appears that McDonald's has decided to prepare for the apocalypse and this is what our post-war world is going to look like. Kind of reminds me of Demolition Man and everything turning to Taco Bell.