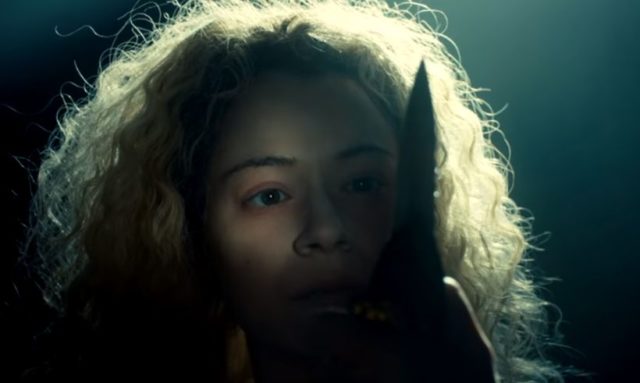 Just last week I mentioned how I had never seen the show Orphan Black and that it's one of the shows on my list to catch up on. Consider me just about caught up and now I finally realize what the hype is all about. Tatiana Maslany is brilliant and the directions my emotions have been pulled are "every which way." Now that season 5's trailer has come out it's time to get psyched for another season which premieres on June 10th on BBC.
Late yesterday in addition to the trailer that was released last week, the show posted a telling clip from season 5 that introduces a new clone into the mix. In this clip we find Helena inadvertently killing one of her own sestras, showing that the final season will be toying with viewers' emotions from start to finish.
Here is the synopsis for the premiere, titled "The Few Who Dare"
Sarah is deeply wounded and struggling to stay alive on the Island. Driven deep into its forest by Neolutionists and worse, she strives to make it far enough to rescue Cosima. Meanwhile, a recovering Cosima reunites with Delphine, but there's way more going on this Island than Cosima imagined and Delphine can't give her all the answers she needs. What is clear is that Rachel is now in firmly in charge at the right-hand of the 170-year-old founder of Neolution, PT Westmorland. Back home, Neolution puts the screws to Alison and Donnie in their hunt for Helena. The sestras couldn't be further apart when they need most to be together.
Check out the clip below: