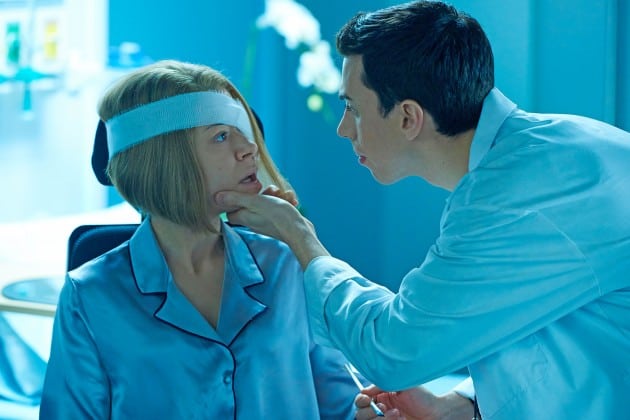 Orphan Black manages a fine line between being twisted and going too far. I have always been proud of how Orphan Black presents women with agency and vigor, but the plotline introduced in this week's episode makes me uneasy for the future of the show. In total, two different things came up this week that made me nervous for the show's integrity.
The first concerns Sarah, who has a series of dreams about Kira, Beth, and Rudy. I will say that the dream sequences were shot wonderfully, and the transitions were so flawless. Sarah sees Rudy giving her a blood transfusion, and she wakes up terrified, touching the spot where the needle was. Paul, who I really dislike as a character in general, starts a plan to get Sarah out of the army base because he believes the Castor clones are illegally testing civilians and recording their findings. Unfortunately, Paul puts his trust in the wrong person, and they betray him.
However, the big discovery of this episode lies with Cosima and the recently returned Delphine. After scolding them for possessing a Castor brain, she reveals that Gracie and the Castor brain have the same misfolded protein in their blood, which means that the Castor disease is sexually transmitted. After Paul makes this discovery on his own time, he promptly arrests Virginia, or the Castor mother, for sterilizing women.
That's right folks, the STD sterilizes women, including Gracie and all of the other women the Castor clones have been with. Paul accuses Virginia of wanting to use the disease for larger purposes, including 'ending wars.' Virginia replies, saying that they could end wars just through erasing an entire generation. However, the disease does not affect Sarah at all. This entire scenario made me so uncomfortable because the concept of biological weapons is appealing to war-like fictional stories, but this concept in particular made my skin crawl. It is certainly because of how it would sterilize and perhaps kill women in other countries to win wars, and I hope that the Orphan Black writers can leave this plot as an idea and not go further with it. In the end, I'd like for the Clone Club to stop this disease before it can even leave the Army lab.
The second part of the episode that bothered me was the shift we saw in Felix. Obviously, he should be shaken because Sarah has been missing for a week and they have no word that she is even still alive. He channels this anger through torturing Rachel, who is permanently disabled. This is the second direct abuse toward Rachel we've seen this season, and I'd really appreciate it if it did not continue. Rachel was an evil character last season, and she committed some horrible crimes, but now she is vulnerable and mentally disadvantaged because of what Sarah did, and I think that's enough revenge. Rachel sits secluded, painting and doing brain exercises with her doctor; she is not scheming to take down the Clone Club. Felix is also a dynamic character, and while I could appreciate his anger and distress, this was the worst way the writers could show it.
While Paul arrests Virginia, Sarah goes through another substantial dream sequence. The scene with Beth is the redeeming part of "Certain Agony of the Battlefield." Sarah finds Beth making tea at the end of her dream-tunnel. Beth accuses Sarah of stealing her life, stealing Paul, and getting their sisters into trouble. Sarah tells Beth that she misses her, and Beth says "No Sarah, you don't get to miss me," which was so good to hear because we never really knew Beth. Beth tells Sarah that she killed herself because she didn't understand the disease, and that Sarah should go on because she is close to understanding it. Just before Beth jumps in front of the train yet again, she tells Sarah that they do terrible things for the ones they love, before instructing her to "Stop asking why, and start asking who." So amazing! Sarah wakes up with a new confidence and strength to take down the entire base.
Paul learns that Rudy knows the plan to overthrow the base, and he attempts to take out the Castor clones first. He successfully kills Sal, but not without getting stabbed a few times first. Paul, knowing he's defeated, shows Sarah a way out of the base through an underground tunnel, and returns to the sick bay to confront Rudy and Virginia. Virginia shoots Paul several times and then he reveals a grenade. The explosion hits Sarah as she runs through the tunnel, and Helena drops down to save her! Helena says "Come sestra, people miss us," and it couldn't be more true. I can't wait for the return of Helena and Sarah to the normal world!
This episode was so shaky, and I cannot excuse the implications of a biological weapon created from the Castor disease simply because I think this show can do better than that. Do you think I was too harsh on this episode? What stood out to you?
Some unrelated notes:
– Despite seeing Shea and Cosima together we didn't learn who took pictures of their date in the last episode.
– The scene with Alison and Donnie dancing in their underwear and making it rain was hilarious!
[Photo via BBC America]