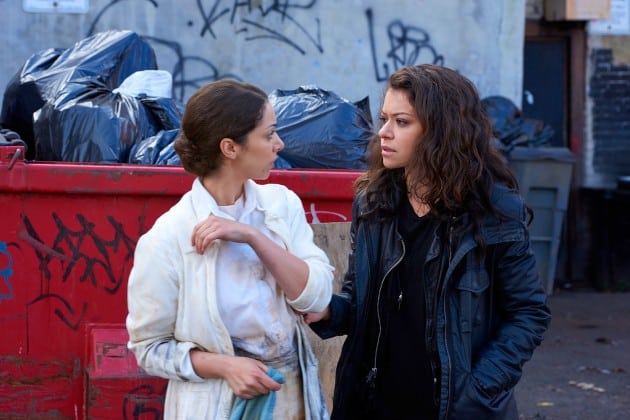 Alright everyone, it took a few episodes, but Orphan Black has my attention once again. Third times the charm is what they say, right? "Formalized, Complex, and Costly" felt very balanced, and we got to see a bit of everyone, even if it was just for a funny line.
The main focus of this episode was Gracie and Mark, and then Sarah and Art. Gracie and Mark make a twisted couple. Gracie is so sweet, and I really want Helena and her to be reunited, because Helena needs all the friends she can get. Mark reveals that he never left the Army and is acting as an agent for the Army, reporting about Gracie's father. Gracie feels betrayed, and it's only the first thing she learns about Mark that makes her lose trust in him. As she should! Obviously, I like Gracie a lot,, and I just want to protect her; the actor does a wonderful job of evoking that feeling.
Gracie confronts Millard Finch, the man Mark believes has the original Castor clone's samples. I was so afraid this scene would go very sour, but Gracie holds her own and threatens Finch very quickly to get what she wants. "Shall I disrupt my mother's grave to tell her that you're holding out for 30 pieces of silver." What a creepy line, Gracie!
After the box Gracie retrieves contains nothing of value, Mark returns to the farm to torture the information out of Finch. Before he can get that information, Sarah finds Gracie praying in a diner. In classic Sarah fashion, she gives Gracie a massive wake-up call when she shows her Mark's brothers, revealing that he is also an "abomination." Gracie rushes back to the hotel room to gather her things and leave, when her mother shows up.
This woman knows how to take revenge. She finds out what Mark is and promptly hunts him down like an animal, just short of Sarah telling him that he and she are brother and sister. Poor Mark; he found out he's related to Helena and then he died. What a way to go.
On the other side of, this plotline is Sarah and Art. Art slips in and out of the series, and he's such a down-to-earth character that I often forget he is involved at all. Art, the regular cop, who happens to know about seven clones! He walks in on Felix and Sarah trying to figure out what to do with Seth's body. He meets Scott and Cosima via video chat, where they all decide that the best thing to do with Seth is to take his brain out to examine it. What is this show?
Cosima mentions how she misses Beth, the first clone we ever saw on Orphan Black, who was also Art's partner before she killed herself. Beth came up in this episode more than I expected. Later in the episode, Art reveals that he was in love with Beth and that he couldn't help her because he didn't know what was going on in her life. Now that Sarah is around, he seems to feel the same sense of needing to help her, maybe to make it up to Beth in some small way.
Cosima and Scott roughly take out Seth's brain and learn that that the Castor clones' DNA have so many base pairs in common with the Leda clones that it can only mean the original donors were siblings. Sarah uses this information to scare Mark, where he meets his untimely death in a corn field, thanks to Gracei's mom, as mentioned above.
We also got a nice balance of Alison and Donnie organizing their new prescription drug business. The entire operation is very clever because they're hiding the drugs under soap, and who doesn't like soap? Alison's opposition, Marci, attempts to sell them a house in another school district to wipe out her competition. Obviously, it doesn't work because Alison really doesn't know when to give up.
We see very little of Helena, but from what we do see (and hear), we know that the Leda clones do not have the same defect the Castor clones have. I wonder what they plan to do with Helena (or her child) if they determine that she can help stop the defect in the male clones. But being imprisoned hasn't taken away any of Helena's sass, as the first she says to Rudy when they meet is "You are the ugliest Mark yet," which only made me jump for joy. I need more of sassy Helena!
The smallest, but maybe the most interesting, part of this episode was Rachel Duncan. She is in recovery, naming the pictures on cards her doctor shows her. She learns that she cannot go outside because she technically died in a plane crash to the outside world. Her doctor shows her a picture and she says "horses" and then we see that it is the Castor symbol that all of those clones have tattooed on their bodies. I bet he showed her that symbol hoping she would say Castor instead of horses. I cannot wait to see Rachel gain her memory back and what she chooses to hide and what she may reveal accidentally.
Overall, this episode of Orphan Black was very strong, and pretty funny considering the content of the episode. I hope the writers can keep this balance of funny, yet thrilling episodes going all season. If that's the case, they won't be losing me as a viewer any time soon.
Some of my favorite moments:
– "No he's like barely a Trekkie, he only went to Comic-Con once." – Cosima about Scott (because they were calling him Scotty).
– The entirety of Cosmia and Scott removing Seth's brain was hilarious.
– "Art shouldn't you be getting back to your real job?" – Sarah to Art
– Felix saying, "Go easy on him Cosima, he's not a hardened criminal like you and I."
– And who could forget, "A good lab partner should be metaphysically sympathetic." Felix speaks the truth!
[Photo via BBC America]