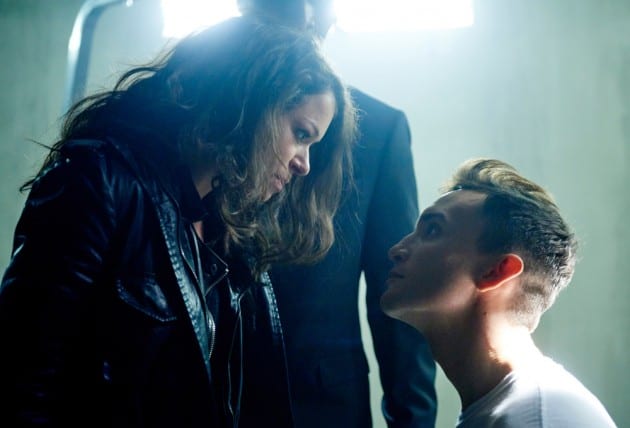 Although Orphan Black would technically be defined as a sci-fi/mystery show, those elements are probably the least interesting aspects of the series. With twist after twist, the central conspiracy story of Orphan Black can quickly become convoluted (and did become just that during parts of Season 2); it's hard to keep up with who has double-crossed whom, or which shady organization is actually responsible for what project. Sometimes, the series can become a little too lost in its plot, and to be quite honest, anything having to do with Dyad or Project Leda or Castor is what I find least appealing and enjoyable about Orphan Black, as it all becomes too muddled together in one big ball of confusion.
However, instead of focusing on the details of the show's many conspiracy plots, I instead simply look at Orphan Black's sci-fi elements as great avenues for character work and terrific opportunities to showcase the series' many great performances, none better than the several given by Tatiana Maslany every week. Last night's Season 3 premiere allowed for Maslany to do even more fantastic work by having Sarah pretend to be Rachel and Alison do her best Sarah impersonation.
But these moments weren't there simply to provide Maslany a chance to illustrate her amazing acting chops again or to service the show's devoted fans, who love watching the clones pretending to be each other. No, instead, these were organic developments within the episode that showcased the strong bond that has grown between Orphan Black's main characters. The sole reason why Sarah and Alison participate in these charades is for the protection and safety of their sisters; Sarah jumps into Rachel's shoes in exchange for Delphine helping her track down and rescue Helena, while Alison becomes Sarah in order to keep her sister's cover intact, ensuring that the deal with Delphine will go through.
And it's those developing relationships between the clones that have made Orphan Black such a joy to watch throughout its first two seasons. Even when the plot gets overly complicated, the series grounds itself in the intimate moments shared between the sisters; one only needs to look at the many phone calls Sarah, Alison, and Cosima have during the episode, as they work together to plan out their next move, or at Helena's dream sequence that begins the hour, so bright and hopeful and happy–the perfect life that she pictures for her and fellow clones, as they throw her a baby shower and talk and laugh in the backyard of a very white picket fence-like house.
It's the clones' hope for something better that keeps them motivated to keep going, even though they face new obstacles pretty much every day, from Leekie's plans for them to Rachel's attempt to wipe them all out to now a whole new batch of militarized male clones, who only appear to be united through their ruthlessness and bloodlust. With more and more challenges surely coming their way, the "sestras" will need to hold tightly to that belief of a better tomorrow and, even more importantly, not the let the bond between them break (something that could happen if Sarah or Alison discovers that Cosima is hiding Duncan's book from them). The clones are stronger when they're together–and that sense togetherness also makes Orphan Black a stronger, better show.
Other thoughts:
– Welcome back to Orphan Black reviews at TVOvermind! I'm just filling in this week, because our regular reviewer, Dara Driscoll, is sick. She'll take over next week for Episode 2, but I was happy to have the chance to write about one of my favorite shows on TV.
– I also apologize for the lateness of this review. I had to fill in on short notice and didn't get the chance to sit down and write until tonight.
– Although there's not as many noticeable difference between the Castor clones just yet (except for scars and facial hair), I thought Ari Millen did some pretty solid acting in this premiere. I'm excited to see what he does when given more of an opportunity in future episodes.
– The look of all the clones in Helena's dream was great, but I found Cosima's appearance to be the best. It was so fun to get insight into how Helena views each of her sestras.
– Always good to see James Frain pop up on anything. He did solid work as Ferdinand.
– Orphan Black continues to have some of the strongest, most complex, and, overall, simply best female characters on TV today, even though most of them are played by the same actress–which kinda just makes them all even more awesome.
– Team Hendrix remains my favorite part of the show, and I will keep holding out hope for an Alison/Donny spin-off whenever Orphan Black comes to an end.
– Also, I cannot wait to see what happens in this election storyline with Alison and how Donny will help her campaign.
What did everyone else think about Orphan Black's season premiere?
[Photo via BBC America]