Orphan Black 5×09 is the second-to-last episode of the series, ever. After the death of Siobhan Sadler (Mrs. S., played by Maria Doyle Kennedy) in the previous episode, viewers might have been expecting a chance to breathe before saying goodbye to the clones forever. But Orphan Black is not that type of series and never has been. Instead, Orphan Black 5×09 became that time we almost lost Helena. Luckily, though, "One Fettered Slave" had at least the chance for a happy ending that its predecessor did not.
Goodbye, Mum.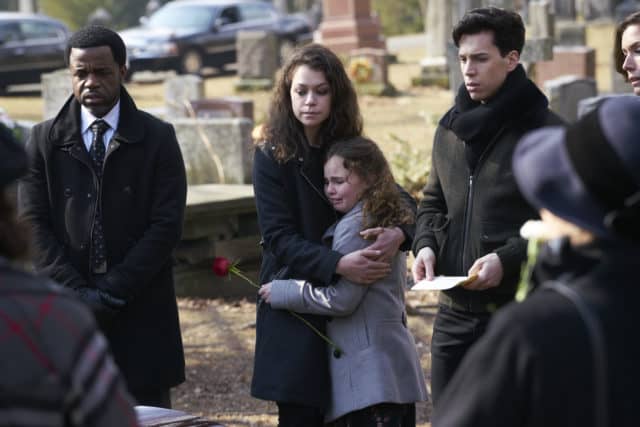 As important as Helena's story was in Orphan Black 5×09, let's all just take a pause to say our final goodbyes to Mrs. S.
"Some of you know what we've been through more than others. But you all knew S. didn't go anywhere without a fight. And that fight was for all of us. Her people, her network, her family.
The episode's opening was exactly the type of quiet moment and pause for reflection, however brief, that the series needed. And even though Siobhan slipped out of Felix's art opening without saying a true goodbye to either of her children, she did — somehow — manage to write them a letter before her death.
Just remember, my loves, death is nothing at all. I have only slipped into the next room. You can call me, by my oath, many a name. But no sorrow in your time. I promise we will laugh at this difficult passing when we meet again. All my love, S.
As Felix read Siobhan's letter, breaking down in tears after the "my loves," viewers might have thought that this was the height of heartbreak in Orphan Black 5×09. Jordan Gavaris' performance here was as tear-jerking and gut-wrenching as any, after all. Of course, as we'd learn later, we thought wrong because there was nothing but emotional turmoil ahead.
Perhaps the most devastating response to Mrs. S.'s death came later, when Sarah finally had a moment to herself. She silently fingered the marks on the wall, made as she and Felix had grown up, then inhaled her mum's scent from a jacket left hanging on the bedroom door. As is a theme on Orphan Black as a series — and particularly in Orphan Black 5×09 — Tatiana Maslany's performance here was second-to-none.
Anyone who has lost a parent or grandparent, or really a loved one at all, could identify with Sarah in that moment. Perhaps, despite not being subject to the same extreme circumstances, we could all empathize with the way the world moved too fast for her to have time to grieve, too.
The main focus in Orphan Black 5×09 was Helena: her past, her present, and her nearly lost future.
Before even making it to Siobhan Sadler's funeral, Orphan Black 5×09 served viewers a glimpse into Helena's past. Hiding out so she could binge eat (as Helena does), the little girl discovered a nun doing something she shouldn't. And Helena was brutally punished for it, her head shoved into a bucket of bleach as even her beloved Sister Irina looked on and did nothing.
So, now we know where those epic "hairs" originated. Tragic, just like the rest of this young woman's history.
"One Fettered Slave" brought Helena's story full circle, as flashbacks showed her upbringing by the recently deceased Tomas, who had actually saved her from the convent and her isolated confinement there. We saw her first time killing a clone, her outright shock that the "filthy copies" looked like her, and her first time creating one of those characteristic scratches on her back after Tomas assured her that she was the original and the light.
Viewers, of course, know that Helena is not the original. But she'll always be at least this Clone Club member's light…
In the present, Helena was giving birth.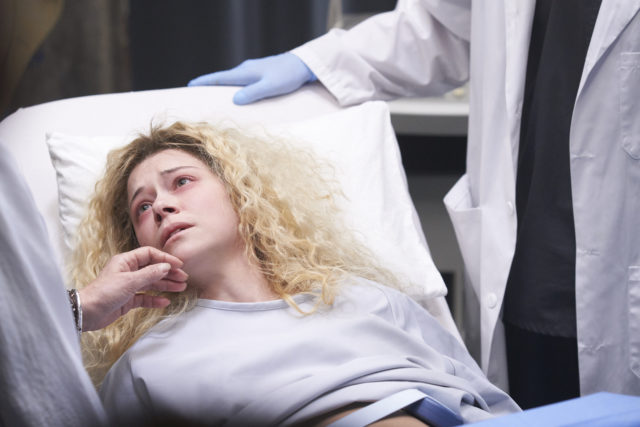 After her kidnapping by the Neolutionists in the previous episode, Orphan Black 5×09 saw present-day Helena forced to give birth in the supposedly destroyed old wing of Dyad. With Dr. Coady by her side, working on behalf of the guy formerly parading around as P.T. Westmorland, Helena and her babies were in danger. As the rest of the team tried to find and save her, Helena tried to reason with her captors — but to no avail.
Dr. Coady, world's worst mother, was too busy murdering her last living Castor (Mark) to have anything remotely resembling compassion for human life, after all.
Helena tried to plead with Dr. Coady:
I am not special. I'm a copy like my sestras. You let him take your babies. Please not – not mine. They need their mother.
…but the other woman was just as heartless as ever.
You killed your own sisters. You stink like an animal. What kind of mother could you possibly be?
And this was where Orphan Black 5×09 delivered one of the series' most shocking moments yet: Just as Helena was about to do what we expected and free herself by any murderous means necessary, she chose another path.
When everyone underestimated her by leaving the room, Helena got her hands on a pair of scissors and began to cut off her bonds. But then…BUT THEN:
My babies. You deserve better than me. You will not be an experiment too. I set you free…My babies.
How Helena thought killing herself was going to keep those babies from being an experiment, I'll never know. But that's where Orphan Black 5×09 went: An attempted suicide.
Luckily for Helena (and all of us), Sarah happened to be on her way into the facility, disguised as Rachel, to free her twin. Not a moment too soon, the very person who could give blood back to Helena and bring her back to life showed up. And before she saved her sister, she did Helena proud, whipping out a knife of her own and slashing the Neolution leader's throat.
As Sarah sat by Helena's bed, begging for "Meathead" to "come on," Orphan Black 5×09 set up the very real possibility that we'd lost Helena forever. Thankfully, though, Sarah's blood was enough. Our avenging sestra finally woke up, uttering the three most painful words to ever come out of her mouth:
I'm sorry, sestra.
As the episode closed, Helena did what we'd hoped and expected for her to do all along — distract Coady long enough to make a bloody mess of her — all to that theme that used to mean doom for clones but now means their rightful vengeance.
Additional thoughts on Orphan Black 5×09.
"You are shit mother." The exact and final word on Virigina Coady. Honestly, after losing a real mother — Siobhan, who died to protect her children and whose dying move was grabbing a photo of her "chickens" to look at — in the last episode, seeing the way Coady treated Mark and Helena in Orphan Black 5×09 was that much worse. What a difference.
"I know how you touch yourself in the shower, where you think it's clean…" So, in addition to being a fraud with no respect for human life, "P.T. Westmorland" is a pervert. Awesome.
"The future is female! Haven't you heard?" Yes…but not in the sarcastic way you said it, sir.
"She was in charge of alternative facts: whitewashing the eugenic agenda." Orphan Black went there. Amazing.
Felix and Art came to play. It was nice to see them taking down the few remaining Board members while Sarah was at home with Kira when the little girl needed her mother most. Oh…and um…don't test Art Bell, folks. Not ever.
That's it for Orphan Black 5×09, and that's almost the end of Orphan Black. Will Helena get to have her babies safely, now that she's eliminated Dr. Coady? Will the clones ever truly gain their freedom?
Tune in to the Orphan Black series finale on Saturday, August 12 at 10/9c on BBC America to find out how it all ends.
Save
Tell us what's wrong with this post? How could we improve it? :)
Let us improve this post!