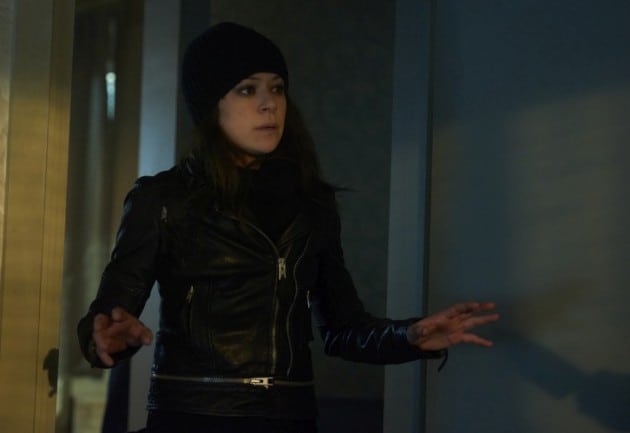 Despite a few very violent scenes, "Insolvent Phantom of Tomorrow" was a decent setup episode. This penultimate episode of Orphan Black Season 3 revealed the original Castor clone and presented Sarah with a difficult situation to handle next week.
The biggest plot involved Sarah, Felix, and S, and I will save it for last as it will most likely hold the most weight in the finale.
Donnie and Helena team up in this episode to settle the deal with the Portuguese drug dealers. At first, Donnie hands over the drugs and politely asks for Helena's tank in return, and also refund for the drugs, if possible. We all know Donnie has never been very convincing; it isn't until Helena comes in, posing as Alison that the drug dealers turn over the tank of frozen eggs. The dealers threaten Donnie and his family, including his children, and Helena lets loose on them. She exits the warehouse covered in blood and holding a bag of money. It was nice to see Donnie defend Helena and vice versa. I think they're two characters who are black sheep in this strange world, and that combination is very charming.
Gracie hugs Helena goodbye early on in the episode, and we learn exactly why much later. Cosima begins to suspect Shea of spying on her when she finds out that she was in the army. She makes a trip to visit Scott, and he only encourages her suspicion. Cosima turns to Delphine to solve the issue, and Delphine has never been more terrifying. Delphine shows up at Shea's apartment with two Dyad agents. Essentially, Delphine threatens to murder Shea and make it look like a suicide if she does not confess to everything. The characterization of Delphine this season feels off. We have not learned anything about Delphine's past that suggests she is a woman who can do what is necessary in any situation. It all feels very out of character.
Gracie calls Cosima to say goodbye and to apologize for giving the Clone Club up to Castor. Gracie traded that information to be with Mark once again, and I'm nervous to see what consequences she will face for her actions. Cosima immediately calls Delphine to call off the murder/suicide plan. Shortly after returning to her office, Delphine receives a call from Ferdinand, scolding her for not telling him about Sarah Manning's arrival in London.
Felix, Sarah, and S travel to London to find the Castor original and kill him. They meet up with S's friend Terry. After S sings a song from her old band days, and Ferdinand finds and tortures Terry, they find him barely alive, but he soon dies, only after whispering some information into S's ear. She then states that the three of them will return home immediately because it's too dangerous of a mission.
Sarah steals Terry's phone and decides she and Felix will find the Castor original without S. The number in Duncan's poem is one for a prison inmate named Kendall Malone. They get Terry's source, a taxi driver, to drive them to Kendall Malone's house, and Sarah finds an old woman brandishing a knife, threatening to kill her. At first I thought what everyone thought: she must be Malone's wife and he is dead. S walks in and reveals that this woman is Kendall Malone, and she is S's mother. I guess this was a twist…but it was not very exciting. S swore to kill the original Castor clone when they found him, so of course, S turns to her mother with the gun aimed at her head. Sarah pleads with S, saying that if Malone is the original Castor DNA then she is also the original Lieda DNA, and the Clone Club needs her just as much as Castor needs her.
This episode of Orphan Black had so much murder in it, and it is hard to believe that S will not kill her mother to stick with the theme of the episode. For a penultimate episode, it did not make me excited for the finale; in fact, I had to check to make sure next week is the last episode. I hope the final episode brings Season 3 to a fantastic and solid ending.
[Photo via BBC America]