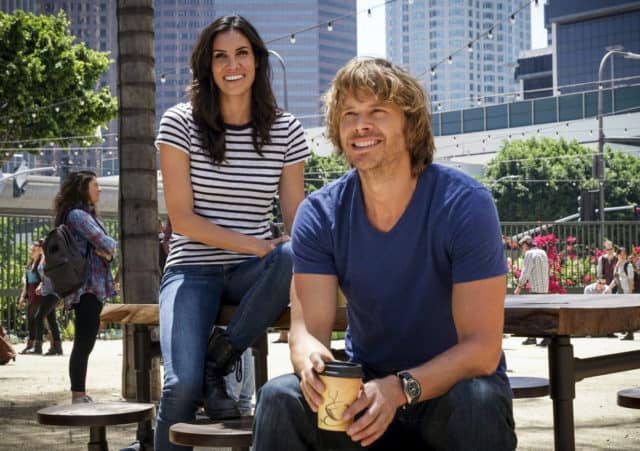 There are very few people who have the power to make such fearless, high security people such as those on NCIS: Los Angeles bend to their will. For Deeks, a pesky Internal Affairs detective who knows too much about his past is one of those people. She calls it an arrangement, but their relationship is more like friendly blackmail. Deeks comes whenever she calls for help on a case, in exchange for her keeping her mouth shut about Deeks killing his first partner. It doesn't matter how good a cop he is. This is one sin Deeks might never be able to get away from. Just because this follows him around, doesn't mean he's going to let the same thing happen to another good cop.
Detective Whiting said she would come to collect, and come she has. What's worse, she wants to use Deeks against Lieutenant Bates. Deeks works in a field where he has to keep his wits about him. Even he, with all of his experience with dirty cops, has trouble believing that Bates is dirty. It does look bad from Whiting's perspective. Bates hasn't filled anyone in on his operation to smoke out dirty cops and operations in his department, not even IA. So when a bioengineer approaches LAPD trying to bring down the corrupt CEO of an agriculture company before he can sell a virus to the highest bidder, Bates doesn't know who he can trust. Even Whiting knows the only person Bates will trust is Deeks.
Whiting's trust of Deeks is delicate, and only Kensi knows the whole reason why. Deeks tow the line very well. He helps Bates crack the case when all of LAPD is accusing him. It's a good thing that Whiting asked Deeks to step in, since the case took a non-domestic turn. When the virus you are tracking turns out to be part of a deal with North Korean intelligence, it's better to have a few federal agents on standby. As much as Deeks appreciates the help, she can't let him out of their arrangement. It isn't because she doesn't like Deeks, or because she thinks he doesn't regret his actions. It's because there will be more instances where she'll need his help, and she can't take the chance of him saying no voluntarily.
After weeks of unnecessary suspense, we get to the nitty gritty of the reason Hetty is still in Vietnam. Keene, the American prisoner who has spent the last few decades in a Vietnam, was involved in Operation Sunrise. This was the same shady operation that Hetty, Granger, Chegwidden and the others were apart of, which involved using stolen gold to ransom back captured American prisoners. Since Keene's brothers didn't know he was alive, they didn't know to look for him. He fought for awhile, remained in the country and started a family. Once they died, Keene tried to make his way to Thailand. Rescuing Keene isn't why Hetty was brought to Vietnam. He was just bait.
How long will it take NCIS to realize that Hetty is seriously compromised?