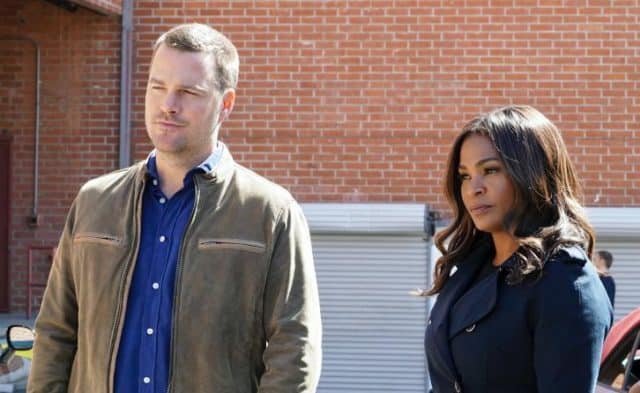 Going into the end of its ninth year, NCIS: Los Angeles could do with a change. The season started out that way with the introduction of ADA Mosley and Agent Hidoko. Now that Hetty has returned, the whole office is in a very good place. Things are actually better than they've been in a long time. The only thing that could make it better is a surprise from Deeks. Unlike most of his crazy ideas, this one was not only well-thought out, it tied directly into the case of the week and his love for Kensi Blye.
I like seeing everyone's morning routine. It reminds us that the agents have lives outside of being agents. More specifically, they have dreams beyond NCIS. The case of the week was a nice lead-in to one specific dream, which I'll get to in a minute. First things first. FBI Agent Zoe Morris (aka the agency's Millennial Tinkerbell) comes to NCIS for help identifying the remains of a dead Marine. But by the time they get to the morgue, the body is gone. Let's just say, Morris is lucky Sam and Callen are so mellow. A more serious agent would make her cry just to get her to stop talking. To be fair, they really, really want to ream Morris when they find out the case is not sanctioned by the FBI. She's very lucky that the case actually has merit. If the body hadn't had traces of a strong synthetic opioid, she probably would have been fired for her deception. As it is, she gets to work the case with NCIS. But let's be very clear, she won't take lead on any case she works with them, or any other case again, if the FBI has anything to say about it.
Morris's unique brand of fake scary and perky aside, it is important for them to get justice for the Marine. All he did was try to shut down a drug ring. He had no idea that he was in possession of such a powerful synthetic. The drug slowly killed him before he could warn anyone what he had stumbled onto. And Morris did do her very best to try to push the case forward before something like this happened. It's because of her stubbornness that a forgotten Marine was able to receive a proper burial. No one should be forgotten like that, especially not a veteran.
This is something that Deeks has realized working for NCIS. He has watched the tragedy, and he has been looking around at the happiness he and his friends have. "Neric" and "Densi" are going strong, Callen still doesn't like change, and Hetty's still got that freaky, spot-on intuition. But Deeks wants more for his crew, and he wants to do more for the people he serves on the job. He has a vision. He doesn't just want to open a bar. He wants to open a bar for veterans, and men and women currently in law enforcement. People who have seen alot, done alot, where they can find other people who can really sympathize. Kensi couldn't be more proud.
This means a whole new set for NCIS: Los Angeles to play on. Is this the best idea for the show going forward, or should it stick with the current formula?