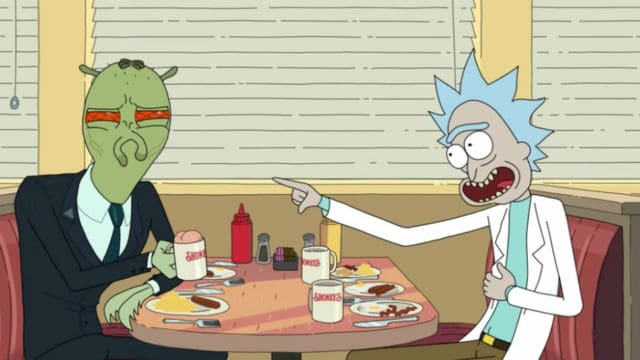 One of the best episodes of the animated series "Rick and Morty" featured Nathan Fillion, playing the role of Cornvelious Daniel. He appeared in as the voice in the Premiere episode of season 3. There are few that can outdo Fillion when it comes to delivering a believable creepy Gromflomite Galactic Federation Agent. He's out to infiltrate Rick's brain in order to get his hands on the brain link formula for inter-dimensional travel.
A dumb-a** bug
Fillion is hilarious as he describes himself as being "just a dumb ass bug." While it's true that in "Rick and Morty" he does play the role of a bug, but he's no dumb ass for certain. He's on a mission to retrieve the formula from Rick's brain, but it isn't an easy task.
Why Nathan Fillion is the best guest actor
He's quite possibly the highest profile actor to appear on Rick and Morty. Fillion is known for his delivery of the lead role in "Castle," which ran for an astounding 173 episodes. He also supplied the voice for the android Cayde-6 in the Destiny video game series. He's a talented voice actor. It takes a special skill to create a believable and entertaining character when you're just the voice behind the animation.
The challenge of voice acting
Voice actors have a special challenge ahead of them. In person acting allows for the use of facial expression, body language and other things. When you're a voice actor, such as Fillion, you can't use facial expressions or body language to get your point across. Instead, you have an animation to work with and making the character believable takes extra skills that not everyone has. He's a master at creating a character with voice alone.
"The Rickshank Redemption"
In this episode, Nathan shows his stuff as he voices over for the rather ugly looking Gromflomite Galactic Federation Agent. The smooth talking bug goes off on a tangent that discloses how "Gromflomites experience arousal." It's hilarious to hear Fillion talk about how his "flappy doodles twich."
Really getting into Rick's head
Daniel shows that he does have a measure of talent for his chosen vocation. As an agent, he can get quite a few things figured out. For instance, he successfully accessed Rick's memories. While he was there, he had the good fortune of sampling the Mulan Szechuan Sauce that Rick had tried for himself. He plays the role of an invasive character to a Tee. You can call him a dirty bug if you want, we happen to think that Cornvelious Daniel is one of the most humorous characters to appear on the show. Part of our admiration for Fillion playing Daniel may be because hiss voice is so highly recognizable to gamers. Regardless, he does a stellar job of portraying the agent bug.
See Nathan Fillion in action as Cornvelious Daniel. If you missed seeing Fillion in his guest appearance on "Rick and Morty," then you're in luck. You can catch the scene here.