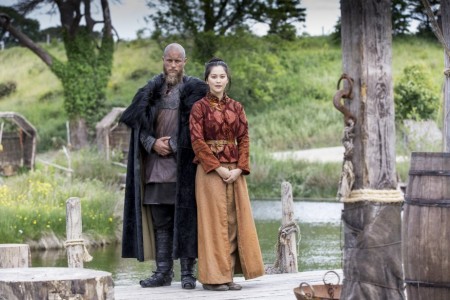 Enter: King Ecbert. He falls to his knees in front of the figure of Christ.
"Lord, you know me for a sinner, and I think you have already decided to cast me out into the darkness–like a fallen angel, to suffer in Purgatory or the fires of Hell for all eternity. Think you, Lord, that I could look upon such scenes with equanimity? That I do not dream in the dead of night of returning to your light and the promises of Heaven? Am I not a man, like other men?"
He stretches his arms out as if nailed to the cross.
"And yet…I would sup with the Devil if he would show me how to achieve my earthly goals. Your kingdom, Lord, as you have said, is not of this world. But my kingdom is."
He places his hand above a candle, let it hover as the flame burns his flesh, before snuffing it out with his palm.
This is not Ecbert just from Vikings; this is Edmund from King Lear or Iago from Othello. Ecbert, as was the case during his vision of Athelstan earlier this season, has no one to perform to in this scene, making it all the more powerful for how deeply honest it is–how truly it expresses his villainous character, twisting words and ideas to suit his selfish desires. This is the closest Vikings has come to attempting something Shakespearian, and not only do I think Michael Hirst, Helen Shaver and Linus Roache knock it out of the park entirely, but this is a good case for Vikings moving more in this direction (at least on the English side of things). It almost goes against everything that kept the series together thus far, since Vikings has such a strangely well-defined tone that is unique among current TV narratives, which embrace melodrama and traditional plot structures. But when a scene like this lands so well, it's hard not to want to see more classic influences imposed on Vikings.
Admittedly, there has more been more of that this season than in any other, and the conclusion to "Promised" is another instance that will surely strike up the Game of Thrones comparisons with a lot of viewers. It's not exactly the Red Wedding, but we're trained enough to know that something is supposed to happen other than Lagertha and Kalf marrying on good terms. And since it would be an utter travesty to lose the series' best character in Lagertha, it's a relief to see that Hirst is less brutal when it comes to making cuts than Weiss and Benioff. But apart from that, it also just makes sense how the murder of Kalf unfolds, since there would be little of interest going on in Hedeby without Lagertha. This scene, too, makes good on a better understanding of classic dramatic plot twists and character developments, and although Lagertha is doing the thing that the audience wants to see her do, she also opens herself up to greater conflict even as she establishes local dominance. Erlendur is, after all, still around and loyal to a worldview that wants the Lothbroks and everyone associated with them out of power. So, instead of this being a conclusion to one story, it's more of an impetus to even an ever bigger tragedy that is bound to unfold, revenge stoked and sides established.
These two scenes, which are huge triumphs on the more macro level of what Vikings is doing visually and thematically, kind of take away from the power of what I think are the best and most interesting scenes in the episode, though: those involving Ragnar and Yidu. This season has been pushing the tension between them to its breaking point, and "Promised" satisfies that, but in unexpected ways. The connection between these two characters is wholly unique among the rest of the cast, which shouldn't be too surprising, given Ragnar's history as a man of the world, open to ideas and personalities that are foreign to him. There was no reason for him to love Athelstan as much as he did, and there's no reason for him to be infatuated with Yidu from the perspective of his people, but this is what makes Ragnar so powerful in the series, even as he laments his loss of passion: He is so much more than just a Viking. The intimacy of the bath scene is testament to that, with Ragnar exerting physical control in favor of psychological dominance. The climax is the cutting of hair, followed by a kiss, and although there's more typically intimate things going on slightly before that, the fact that the scene builds up to a kiss shows how quickly Ragnar has begun to care about this woman. He respects her in ways that no one else in Kattegat is worthy to him, which is also a relief, because losing Athelstan had nearly destroyed him from the inside. Now, he has someone to share the burdens of his inner thoughts, which is what we get with that rooftop scene, and Yidu recognizes that and opens up to him as well. It's as unconventional a love story as you might expect from Vikings, but it demands more attention than, for instance, Ecbert and Judith (who are basically the Macbeths at this point) or Rollo and Gisla.
This is all just to say that Vikings has taken a noticeable leap forward this year, when the expectation was something more lateral. I thought I knew what the series was doing, and those elements are still a major part of it: fascination with the strange, beautiful production and willingness to linger instead of hurried plots that are written just for the sake of major event payoffs. But the series has found a new level with characterization that makes so many of these people look and sound more real. Whereas these used to be characters you could have fun spending time with, they are not characters whose emotional stakes stick with you. That's about all a series can hope to achieve.
Runes Carved from My Memory:
Viking-related tune of the week: Amon Amarth – "Hermod's Ride to Hel – Locke's Treachery" (this is my favorite Amon Amarth track in honor of such a strong episode).
Bjorn is surprisingly upfront and confrontational with the new king, Harold. We like seeing a confident Bjorn.
We don't, though, like seeing Ivar kill a kid. What a terribly uncomfortable scene.
Lagertha is carrying Kalf's baby, so what does that mean for the future of Hedeby?
When Bjorn makes a comment about Ragnar leaving him as a child, Ragnar quickly rebukes him, saying he left Ragnar. It's Fimmel's best line delivery in an episode full of great ones.
Emperor Charles is apparently insane, which is the most characterization he's been given this season. I have a very "meh" reaction to this, since Rollo, Gisla and Odo are really the only interesting characters in France.
Tell us what's wrong with this post? How could we improve it? :)
Let us improve this post!