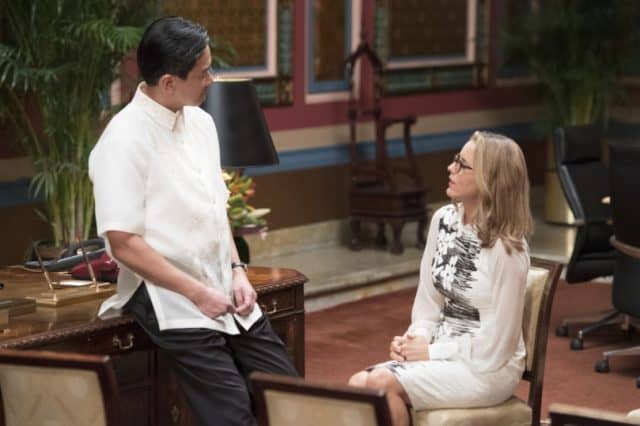 Sexual assault is something that many women find themselves facing. In tonight's episode of Madam Secretary, Elizabeth finds herself in an emotional turmoil. The Secretary of State became a victim of sexual assault when President Datu Andrada groped her. As a woman, Andrada's behavior disgusts me. How can a leader of a country do that to another country's official? I applauded Elizabeth for breaking his nose.
After the international incident, Elizabeth wanted to keep quiet about it. She doesn't want to jeopardize the Singapore Interchange. I commend her for wanting to go with the greater good concept, but Nadine is right. If Elizabeth comes forward with what happened to her, then other women who have been through the same situation can have the courage to come forward themselves.
Meanwhile, Ian's cover in the new Covenant of John is close to being blown. The undercover operative uncovered a secret that the religious cult is keeping. They have somehow acquired a large military drone large enough to carry a bomb. The minute Ian stepped into the shed amidst the chaos of the fire outside, I knew that something bad is about to happen. Good thing he knows how to defend himself, but that ended in tragedy when Ian killed the cult member that discovered him. Guess he was right. It's all bad news.
Speaking of bad news, Elizabeth asked Jay to look into Kevin Park/Joseph Garcia before leaving for Manila. It turns out that the former CIA agent found out that there's a weapon smuggling thing going on between the United States and Somalia. There might be a possible love interest for Jay. I mean, after watching him interact with his friend, I figured that there is a spark. Though the man is still hopeful that he and Abby can work things out. In either case, all the luck to him.
Coming back to the issue at hand, a lady came to see Elizabeth under the guise that she is a victim of Andrada's lecherous advances. She then told the Secretary that though Andrada didn't sexually attack her, she was still paid to keep quiet about something else. As for what that something else is, the rest of the episode didn't shed light on the matter. Why bother bringing something like this up and not tell the viewers what it is?! I am very annoyed. On the other hand, it might just be a subplot that the writers threw in for good measure to move the overall narrative along.
I loved the ending scene where Elizabeth gave Andrada what for. It's one of the reasons I like Téa Leoni's character. Strong, confident and can kick butt when she needs to. The world needs strong women to steer it in the right direction. Am I right, ladies?
Photo via CBS