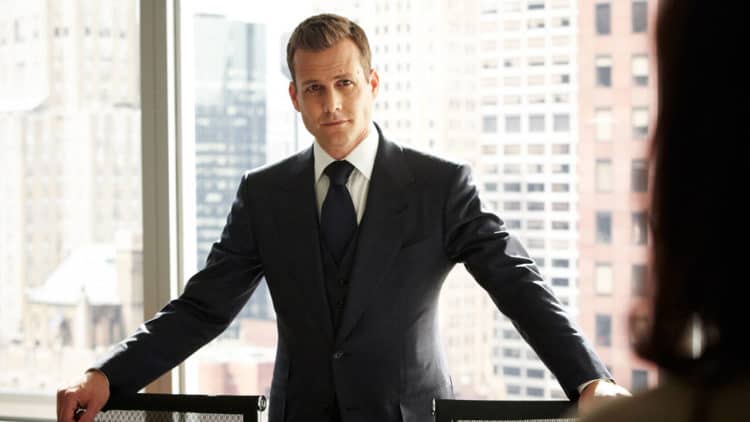 It's not often that the right person lands on your doorstep. In the rare case that something like that happens, there's a 90% chance that it's the result of a screenwriter's imagination. In the case of Aaron Korsh, Mike Ross (Patrick J. Adams), an academically gifted dropout, finds himself at an interview that he has no intention of attending in the first place, landing himself a job as an associate of Harvey Specter (Gabriel Macht), whose protégé he becomes. What follows is a nine-season run that keeps fans glued to the screens. Suits, and Harvey Specter, in particular, has a ton of life lessons. Here are some of them:
1. Everyone Starts From Somewhere
While we grew to love Harvey Specter for his expensive suits and taste for fine things in life, it wasn't always corporate law all through. In the beginning, Specter worked in the mailroom. An encounter with Jessica Pearson (Gina Torres) eventually led to him becoming the Mike to her Harvey after Jessica paid for his law school education. The takeout here is that no one finds themselves at the top just like that. Some help has to be offered along the way. A humble beginning is therefore nothing to be ashamed of.
2. To Make Partner, Dominate
Harvey managed to maneuver his way into becoming partner, not through taking shortcuts, but by domination. Specter, while speaking to Ross, said, " Doing good work isn't the whole job. Part of getting it is that things like the dinner actually matter, even when you don't think they do. But you are giving me s**** this morning because I come and go when I want to. You know why I can do that? Because when I got here, I dominated. They thought I worked a hundred hours a day. Now, no matter what times I get in, nobody questions my ability to get the job done."
3. Climb The Ladder
Despite his humble mailroom beginnings, Specter did not use where he was as an excuse to not elevate himself. If he wasn't a lawyer, there is a chance that Harvey would have made it any other legitimate way. This was seen through a conversation with Mike, where he said, " You couldn't make money any other way? Bull**** Life is this [uses his palm to show a low level], I like this[ uses the same palm to show a higher level]."
4. We're Human, After All
One of Harvey's famous quotes about caring is that it makes one weak. That when people know you care, they walk all over you. In some instances, that is true, but there's no humanity without caring about something, or someone. For starters, Harvey cared about Mike, enough to save him so many times and keep him at work. And when Donna (Sarah Rafferty) broke the news that Harvey's father had had a heart attack, we got to see the emotional side of Harvey.
5. Loyalty Is Proven Through Action
Many a time, there is a difference between what we say and what we do. While everyone is allowed to change their mind, the laws of loyalty haven't changed. It's through action that we get to see who's loyal and who isn't. Harvey for instance, stuck by Jessica after she'd paid for his studies. And Donna made it clear to Ross that he was replaceable, and the only reason Harvey valued him was that he was loyal.
6. Stick To Your Values
As shrewd as most people thought Harvey was, he had his own set of values. This was evident when it was discovered that Jessica's partner, Hardman (David Costabile), was embezzling funds from the firm, and jointly, Harvey and Jessica gave Hardman a non-scandalous exit. Another show of the principled side of Harvey was when he stood up to his former mentor Cameron Dennis (Gary Cole). Harvey had walked away from the DA's office when he realized that the man he'd held in high esteem wasn't so honorable after all.
7. Be A Closer
In one of the very first scenes of Suits, we were introduced to Harvey Specter in his true element: closing. The reason Jessica trusted Harvey so much, enough to place his name on the door, was because Harvey was so good at what he did. It didn't matter whether he was showing a client a false document throw them off-guard on the spot or unveiling their blackmail past to get them to cave in. Perhaps he stooped a little too low when used Hardman's dying wife to get him to opt-out of the firm, but, in true Harvey fashion, he got the job done.
8. Be A Master At Confidence
All of us are marketing ourselves in every stage of life, and confidence is the currency we use to get the job, the girl, or the discount. The thing that stood out about Harvey was that he was confident in his skills and ability that, even on days when he wasn't at his best (there were hardly any), the people around him still believed he was in his element and treated him as such. Confidence, therefore, is an inner muscle that gets us through the door. How we stay on the other side is entirely dependent on character.
9. There's Always An Option
What happens when someone puts a gun to your head? According to Ross, you have to do what they say, otherwise, there's a strong chance that you will be headed to the graveyard. Harvey's thinking, however, doesn't allow for defeat. In the book of Harvey, there were a couple of things one could do when faced with such a predicament: pull out a bigger gun, call the other person's bluff, or do any one of 146 other things. The bottom line is, when faced with a difficult situation, any situation, even a gun being pointed at your head, never think you are out of options.
10. Corporate's A Cocktail Of Lessons
Some fans of the show were kind enough to give reviews. One such fan, Rajeshree Soni, writes of the show: " I have been watching Suits since May 2020. About this series, what can I say? The first word that comes to mind is 'Amazing'. I have learned countless things from these series such as corporate culture, decision-making, patience, conflict management, and etiquette. Soni's favorite character is Harvey, and she agrees that, though Harvey had a lot to offer as a character, such an epic show couldn't be possible without the rest of the cast, each of who contributed to Harvey's Corporate prowess.