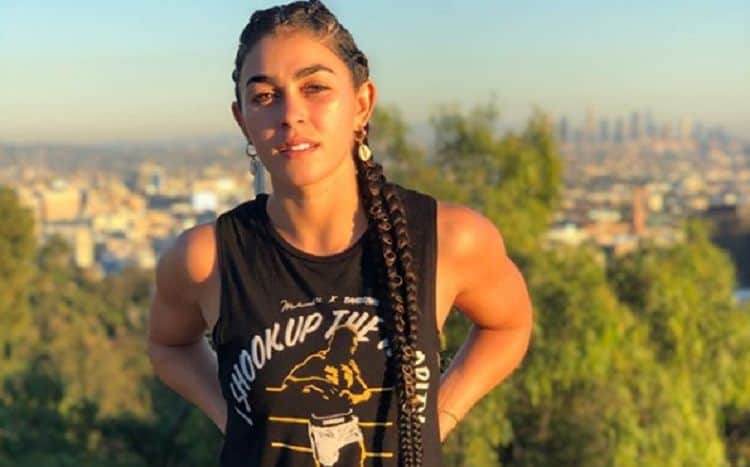 Hollywood undeniably has a lot of unforgettable faces. But once in a while, we all come across a face that reminds us of so many people we know. That's the face of Natacha Karam. The British actress may be new to the scene, but she's climbing the ranks–and she's doing it quickly. Karam has the natural talent for acting, and she's strategically taken jobs throughout her young career in order to get as much exposure as possible. While she may be considered new to the industry, Karam is someone that you should definitely keep an eye out on. If you didn't know anything about her yet, here are 10 things about Natacha Karam to get you started.
1. She was born in the United Kingdom
A ton of our favorite actors and actresses hail from the UK, and Karam is one of them. She holds a British nationality, and she has an incredibly diverse look. Truth be told, Karam could really be of any nationality. In fact, it's been said that she comes from French, Lebanese, and Irish ancestry. She works primarily out of London, but she really could be a star anywhere.
2. She is single
As surprising as it may sound, Karam hasn't been romantically linked to anyone in the industry or anyone for that matter. It seems the actress is determined to put all her time and energy towards making a name for herself in the world of television and film. We can't blame her, especially since romance in Hollywood almost always ends up in some kind of drama or controversy. We might see it in the future, but for now, Karam is just focused on her work.
3. She's quite athletic
Karam is into anything active and sporty. If you happen to follow her on her social media pages, you'll notice that she spends much of her free time doing something that gets her blood pumping. Whether it's boxing or swimming or whatever else, Karam is down to work out and get moving. It also explains how she keeps a fit physique and a healthy overall glow.
4. She's always wanted to act
At a very young age, Karam already knew that acting was going to be her lifetime path. Some of us are just lucky that way, but acting isn't always an easy thing to get into. The competition is always fierce, and you really have to know your skills if you want to be successful in the industry. In 2014, Karam ended up getting her degree in acting from City Lit College, after getting her A level certificate from Dubai College in 2012. Her education gave her the help she needed to take her acting a step further.
5. She loves to travel
If she isn't doing anything sporty or active, Karam is jumping on a plane to the next beach destination. The actress gets her tan naturally that way, and she enjoys spending her free time lying out in the sun. Karam makes sure she sets aside time to take care of herself–something that Hollywood doesn't necessarily afford you to do at times. She works hard, and then she plays hard. It's the kind of work-life balance that is the envy of many successful people in various industries.
6. Her best friend is her dog
Much like most dog lovers, Karam's best friend is her pet dog, Cleopatra. Cleopatra is a mix breed of half pug and half King Charles spaniel. Her dog is her number one companion in life, and she rarely goes places with it. Karam also takes a ton of photos of Cleopatra, which is again evident in her social media posts. We can't blame her. Cleopatra is absolutely adorable.
7. She is multilingual
It may not count for much since she's from the UK, but Karam actually speaks a few languages. Apart from being fluent in English, Karam is also fluent in French and Lebanese. She also has basic Arabic knowledge and speaking capability. That's more than any of us could ever say. This is again a testament of how rare an actress Karam is and how useful she could be in playing specific roles in Hollywood.
8. She got her break in Homeland
Karam had been acting in various projects before she got her big break on American television. Her first television gig was the show Silent Witnesses that featured actors such as Tom Ward, Amanda Burton, and William Gaminara. But it was really her appearance in Homeland that got other people to start asking who she was. Karam starred against big Hollywood names such as Claire Danes, Damian Lewis, and Morena Baccarin. She thrived in that environment, and she had other offers as soon as she left that show. She followed that gig with another action one–military drama, The Brave.The Brave featured Mike Vogel and Anne Heche as some of its main cast. Karam portrayed the role of Jasmine Khan in the show.
9. She also did stage acting
Many people argue that stage acting is much more difficult to pursue and do in comparison to television or film acting. Whether that's true or not, stage acting is certainly an accomplishment. Karam happens to have a few stage performances under her belt already including Public Inconveniences, The Revenger's Tragedy, and a few others. That's not all. She's also appeared in movies. It shows how dedicated she truly is to her craft and how willing she is to do any medium necessary in order to excel in what she does.
10. She's got a modest net worth
According to some sources, Karam is supposed to be holding on to roughly $500,000 in net worth. While that may be a ton of money for us average folks, it's certainly not up there when it comes to Hollywood standards. We can imagine that this number might increase threefold within the next year or so, as she takes on bigger and heavier roles. We'll just have to wait and see what Karam actually does in order to achieve that.