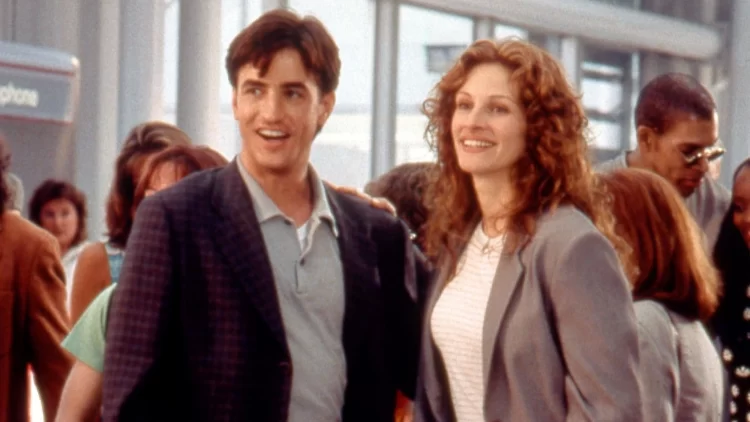 It has already been 25 years since My Best Friend's Wedding hit theaters. Released on June 20, 1997, the romantic comedy was an instant hit with audiences and critics alike. Starring Julia Roberts and Cameron Diaz, the film tells the story of two friends who fall in love with the same man. It was nominated for four Golden Globe Awards, including Best Motion Picture – Musical or Comedy. In 2022, it will be celebrating its 25th anniversary, and we think it is time for a re-watch.
But first, a refresher for rom-com fans who may have forgotten about the plot of this iconic movie: My Best Friend's Wedding tells the story of childhood friends Julianne Potter (Roberts) and Michael O'Neal (Dermot Mulroney). They reconnect when Michael is about to get married to another woman, Kimmy Wallace (Diaz). Julianne realizes that she is in love with Michael and sets out to sabotage the wedding so that she can have him for herself. Along the way, she learns some important lessons about love, friendship, and what it means to be truly happy.
Reviews were solid
A review from Variety (via Rotten Tomatoes) wrote of the movie: "Anchored by skilled comedienne Julia Roberts, this skewered variation on jealousy and the wrong woman doing battle in the aisles is a winning balance of the familiar and the novel." Another one from DVDJournal wrote: "A fun, funny romantic comedy that, despite a few weaknesses (some trite patches in the script, Mulroney's somewhat dull Michael), is entertaining from start to finish." There are many reasons why this movie is still relevant today, 25 years after its release. Here are a few reasons why My Best Friend's Wedding should be rewatched on its 25th anniversary in 2022:
It's Julia Roberts at her finest
Julia Roberts is one of the most iconic actresses of our generation, and she delivers a masterful performance in My Best Friend's Wedding. She brings both humor and heart to the role of Julianne, a woman who is struggling to come to terms with her own feelings for her best friend. Roberts' performance in the movie highlights her ability to convey both the pain and the joy that comes with being in love.
It has an amazing cast
My Best Friend's Wedding really won the jackpot with their perfectly assembled ensemble of cast members. Starring Julia Roberts in her prime as the main character Julianne, the film also features an impressive supporting cast. Cameron Diaz plays Kimmy Wallace, Michael's fiancée. Dermot Mulroney plays Michael O'Neal, the man who is caught in the middle of this love triangle. And then there are the scene-stealing supporting roles played by Rupert Everett, who Julianne recruits to be her "fake" fiancé, and Philip Bosco as Kimmy's father, who delivers some of the most memorable lines in the movie. The chemistry between all of these actors is undeniable, and it's one of the reasons why the movie is so entertaining to watch.
The chemistry between Roberts and Mulroney is electric
The on-screen chemistry between Roberts and Mulroney is one of the highlights of the film. They have a natural rapport that makes their scenes together some of the most memorable in the movie. What makes their chemistry so special is that it feels both effortless and genuine. In an interview with US, Mulroney described the movie as "magical," saying: "It just matured on the shelf. It's incredible how it gained meaning and value over time."
"It's a magical movie," Mulroney told Us. "[Julia and I have] worked together a number of times since. On Homecoming, not that long ago, for Amazon Prime. And August: Osage County before that. That movie — is it really 25 years ago? — still means as much to me as it did the day I got that part." Roberts, on the other hand, says that she and Mulroney have remained close friends even after the movie, with the latter even expressing interest in a possible sequel to My Best Friend's Wedding, according to E!, via PEOPLE. "Dermot and I are still really great friends — we talk all the time," she told E!. "
And I think that that is a testament to the beautiful time that we all had making this film together." "I've been clear from the beginning," Mulroney said to CBS' The Talk. "I've been clear from 1997 that I'm ready for a sequel. So, I'm on record!"
The film has a timeless message about love
My Best Friend's Wedding is a classic romantic comedy, but it also has a lot to say about the nature of love. The film explores the idea that true love is not always easy, but it is worth fighting for. This message is just as relevant today as it was 25 years ago.
It's a classic rom-com
My Best Friend's Wedding is the perfect example of a classic romantic comedy. It has all of the necessary ingredients: a love triangle, comedic misunderstandings, and a happy ending. But what sets this movie apart from other rom-coms is its sharp wit and clever writing. The dialogue is snappy, the characters well-developed, and the plot is engaging. It's no wonder that the movie has stood the test of time and is still loved by audiences today.
It's a feel-good movie
Despite its somewhat cynical view of love and marriage, My Best Friend's Wedding is ultimately a feel-good movie. Julianne is trying to sabotage her best friend's wedding, but she learns that true happiness comes from selfless love. And in the end, everyone gets their happy ending. It's a feel-good movie that will leave you feeling all warm and fuzzy inside.
Watch it for "I Say A Little Prayer"
One of the highlights of My Best Friend's Wedding is the performance of "I Say A Little Prayer" by Diana King. It's a moving cover of the 1967 song by Dionne Warwick, and it perfectly captures the film's themes of love and friendship. The scene where Julianne and Michael sing and dance to the song is one of the most memorable in the movie, and it's sure to bring a smile to your face.