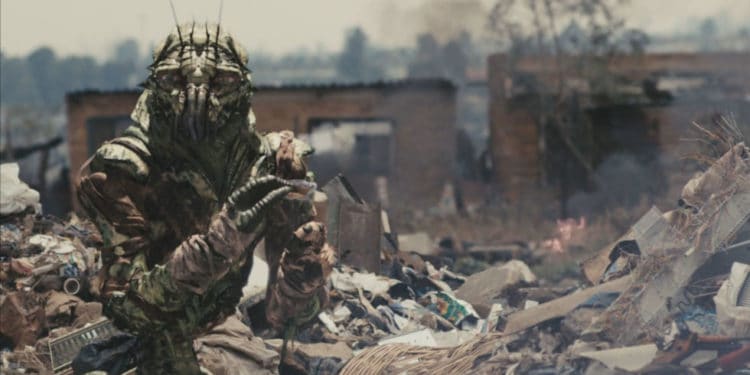 In this list of Movies Set in the Slums and on Streets: Heartbreaking Glimpses of a Tough Life, we aim to bring to you films that don't just give you glimpses of how tough life can be in the slums and on the streets but also leave you with plenty of life lessons that will help you appreciate all the blessings you often overlook in your own lives. From hunger and poverty to even danger to one's life, these movies have it all. Not all of them may depict the poor in a positive light but they do show us enough to know why some of them do the things they do. While most of these movies may break your heart, we sure hope you see them for what they also could be — lessons we can use to transform our own lives and the lives of others.
Capernaum
When a movie receives a 15-minute standing ovation from the audience, and at Cannes nonetheless, you know it's got to be a good one, and that's what Capernaum is, a story that touches your heart in so many ways that although you're left wanting more, you also know that you are already taking back so much more. A Lebanese drama film that breaks the boundaries of language and nationality, the movie brings to life the struggles of various characters who play their own different parts in the film, somehow coming together in myriad ways, and not without their own shares of heartbreak and turmoil. The many turns the storyline takes only add to the emotional drama and at the end of it all, it's not just the poverty and the practical implications that arise from it that hit you, it is also the apathy of certain characters in the film that break your heart and even make your blood boil. When you speak of hard-hitting films, Capernaum is right up there on the list, and despite the many lows that are heartwrenching to watch, it does leave you with hope and strength, probably the only two things that keep people going when they are up against the most difficult struggles of their lives.
Feeling Through
Sometimes, even the simplest of works make an impact that leaves you reeling under the many overwhelming sensations it brings you, and Feeling Through is a perfect example of such a work. Beautifully depicting the struggles of a homeless teenager who is at odds with himself over how far he can go in seeking help, denying it, or giving it, everything that goes down in this film goes down in a matter of only a couple of hours or so. And that's how extraordinary this short film is, taking you through the motions of a young man himself in need of help helping someone, feeling emotions through it, showing a little dishonesty not out of habit but because of his own struggles, and then going back full circle to being a good human being again, despite his own worries. Feeling Through shows you just how amazing even a few moments of a raw connection can be, a touch can be, a hug can be, and as an audience, you are left feeling every bit of it all. With wins at several film festivals around the world, the short film also won an Academy Award nomination in the Best Live Action Short Film category.
Where the Day Takes You
Where the Day Takes You may not have been a commercial success (you know how some films inexplicably do well at the box office and others just don't), but one look at the film gives you a pretty good idea of how tough life can be on the streets of Los Angeles. Offering a stark contrast to the romanticism that is usually associated with runaway life, the film looks at all things street differently, offering a realistic view of how things tend to go down, offering little in terms of romance or even goodwill. Taking audiences through the dog-eat-dog world that is closer to the truth than otherwise depicted in movies, Where the Day Takes You jolts you back to reality several times. And while the movie has been hailed by critics for its raw depiction of life in LA and the acting prowess of a talented cast, it was indeed surprising to see the movie falter the way it did. Nevertheless, 105 minutes of runtime is more than enough to shoot down any misconceptions one may have about making it big in a city where only successes make headlines while the thousands of heartbreaking stories are washed away into oblivion.
Tsotsi
Poverty and crime are often infamous partners and while that's how it goes in the film Tsotsi, it is indeed heartbreaking to know that this is how it is in most parts of the world too. For where there's poverty, there's desperation, and where there's desperation, there's an easy road to crime. This reality is perfectly depicted in the storyline of this film that is set against the backdrop of the Alexandra slum in Johannesburg and has as its lead a young street criminal named David aka Tsotsie, with the latter literally meaning "criminal". A film that touches your hearts despite its blatant show of violence and bloodshed, what eventually gets to you is the fact that even in the chaos of poverty and crime that is shown throughout the movie, there still exists an underlying layer of pure love and unadulterated care that keeps the main protagonist human despite all that he does. And not just for its hard-hitting storyline, Tsotsi also made history by being the first South African and African non-French film to make it to the Academy Awards and Golden Globe Awards.
District 9
It's one thing to find yourself leading a life in the slums of one of the most economically challenged places in the world, and another to find yourself living a life of poverty and struggle on a completely different planet! A film that is quite refreshing, and heartbreaking, in the way it deals with a storyline that has aliens in it, District 9 is one of those films that makes you take a long, hard look at yourself as part of the human race. It also makes you wonder when we talk about aliens who are dangerous and unfriendly if it really isn't the human race that we are referring to! A great film that has the greedy and opportunistic traits of the human race turning against a bunch of aliens who are seeking refuge among us, this one doesn't just take us through the extremities of the situation — which has been realistically portrayed in the best possible manner — but also shows you the many struggles that one has to go through when living in the slums. But what's even more disturbing is the way in which District 9 shows just how some members of the human race treat the unfortunate guests on our planet as nothing more than commodities, with no disregard for their lives or dignity.
The Queen of Katwe
"In chess, the small one can become the big one," is probably the one line from the film that completely defines the spirit behind it, and that's what makes The Queen of Katwe a film that wins your hearts from the very beginning. And of course, long after the movie has ended, its lessons stay with you for a long time too. Revolving around the life of a young girl named Phiona who sells corn on the streets of rural Uganda, but who has dreams to make it big despite the lack of opportunities as far as her eye can see, the film is all heart, and in more ways than one. Directed by Mira Nair and starring the supremely talented trio of David Oyelowo, Lupita Nyong'o, and Madina Nalwanga in the lead roles, the film takes you through a journey that goes far beyond the peek it initially offers of a life of poverty in the slums of Uganda. After showing you the reality that one has to face, it helps you soar through the dreams that everyone has the right to see and also keeps it real by bringing to you the struggles in between. A bold film that shows how even setbacks in pursuing your dreams can offer you enough to go on, The Queen of Katwe is as royal as a film can get, not just bringing to life beautiful characters, but also teaching you how to play the chess of life the right way!
The Pursuit of Happyness
The Pursuit of Happyness may be the story of a millionaire in the works but the raw peek it gives you into the tough lives that some people have to lead is indeed heartbreaking. And real. When you have a young boy to take care of and no money in your pockets, not even to afford rent or a motel for the night, and when the shelters that would have saved you from the streets for a night turn out to be full, you really have no option but to live it out on the cold streets. And boy, is it painful to watch the agony that Will Smith portrays as Chris Gardner. In one scene after another, Gabriele Muccino brings to the audience the true struggles of someone who is left homeless without a dime in his pockets, often without enough to give his son a decent meal, let alone a treat. A tearjerker and also a movie that shows you how rough life can get at times, this one's also a story filled with hope. And that's probably the saving grace that makes audiences cry tears of joy and leave them experiencing true happiness at the end of The Pursuit of Happyness!
City of God
When a movie takes you through the highs and lows of life from the eyes of its protagonists and leaves you thinking at the end of it, you know it's a good one indeed. And that's what City of God proves to be. An epic crime film from Brazil, the film revolves around the many layers of struggles that exist in a poverty-stricken community that is also the perfect setting for crimes of the most heinous nature and goes on to show how it usually ends badly for all those in the line of fire. Rated by critics and audiences alike as one of the most no-holds-barred takes on life in the favelas of Brazil and an especially honest look at the criminal activities that take place as a result of its war with poverty, the film follows several stories simultaneously and weaves a storyline that leaves you shocked at several junctures. And while the words shocking, disturbing, blood-stained, furious, courageous, passionate, and numbing, are some that have been used to describe the film, we think the word realistic is more than enough to let you know that yes, there indeed exists a world like the one shown in City of God.
Parasite
Parasite is one of those movies that hits you smack in the face, and hits you hard. Easily one of the most disturbing yet impactful movies of our generation, this one may not have come from Hollywood, but it sure has enough shock value in its storyline to wake up audiences from around the world. Bringing to the screen more than just the disparity that exists between the lives of the ultra-rich and the ultra-poor, the movie shows just how frustrating it can be to lead a life of extreme poverty and at the same time, to witness what it is to have more than you could ever think of wishing for. And how this feeling of inadequacy can make even the timidest of human beings into greedy vultures who will stop at nothing to grab what they think should be theirs by right too. A masterpiece that goes beyond boundaries of every kind and speaks to audiences without them even needing to know the language, this beautiful and heartwrenching story from Bong Joon-ho has more lessons that the world needs to set things right. The peek it offers into living a life that is lived not even on the streets but below street level is only too real, and equally real is the stark contrast it offers in terms of the rich living their own spoilt lives. As a movie, Parasite deserved all the attention and every award it received, but what it deserves more is audiences taking away lessons from it.
Slumdog Millionaire
The many slums located in the heart of Mumbai, India, are among the largest and equally infamous habitats in the world, and ones with stories of poverty that would disturb you to no end. To think that these slums gave rise to one of the most successful Hollywood films of all time is an irony indeed! And when you come to think of it, Slumdog Millionaire is indeed a film filled with a long list of ironies. Telling the story of Jamal Malik, a young boy whose extraordinary life experiences enable him to answer every question on the Indian version of Who Wants To Be A Millionaire?, the film proved to be one of the best and most celebrated works from Danny Boyle. The movie wasn't just a hit at the box office — it raked in a record-breaking $378.1 million against the $15 million it took to make it — but also shone brightly at every award show that year, among which particularly notable was the film's performance at the Academy Awards. While every aspect of the film has a high emotional quotient and touches your heart in more ways than one, what's particularly notable is its depiction of life in the slums and on the streets. From jumping into a pit of human excrement while clamoring for the autograph of a favorite movie star to witnessing friends being blinded so that they may beg on the streets, the film has some hilarious yet real and some heartbreaking and cruel scenes indeed. And unfortunately, most of them are true too. If one wants a closer look at life in the slums and streets of Mumbai, India, Slumdog Millionaire gives you some raw insights indeed.
And We Thought We Were the Ones Living Tough Lives!
We all have our share of difficulties, and one can't really say that one life is more difficult than the other, but when it comes to challenges that truly break us in more ways than one, living a poverty-stricken life does prove to be rather dreadful. And it's not even the hunger that proves to be the heaviest load to bear, it is the indignity that one has to suffer as well as the lack of hope of ever being able to get out of this way of life. In the movies above, some of the protagonists may have been lucky enough to get out of the dreary lives they lived, some of them not so much. But what each of these movies does teach us is that if we were all willing to pull our necks out of our own lives and saw that there were so many more who have it a lot worse than us, we would not just be able to lend help to them but would also be able to respect what we are blessed with a little more than we do today. All in all, we sure hope this list of Movies Set in the Slums and on Streets: Heartbreaking Glimpses of a Tough Life doesn't just leave you thinking but also leaves you with the urge to take action!