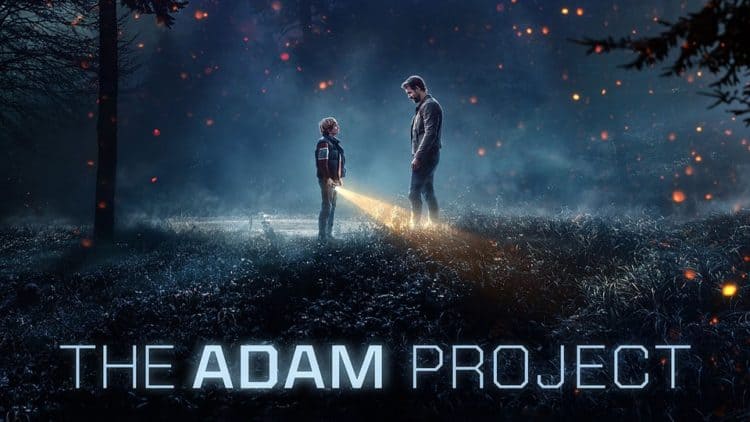 It's not often that a movie like this, with Ryan Reynolds, comes around, right? A lot of people have seen Reynolds as the bad boy thanks to movies like Van Wilder and Deadpool, and they're not wrong, since he hasn't been the biggest presence in family movies apart from a couple of voice roles that have been enjoyable and appreciated. The Adam Project feels like a step above a family movie, but not a big one since the level of violence is still a bit cartoonish, even though the choreography during the fight scenes is easy to get into since the weapons that are used are kind of fun. The whole idea is one that a lot of people might debate when it comes to time travel considering that ever since Avengers: Endgame came along, a lot of people have been wondering if everything they've seen since Back to the Future is realistic or not, or if the idea of time travel in the movies is simply a lot of hooey that is purely fiction without ANY real-life implications. Yes, it's still a debate that people are willing to argue about.
When being introduced to Adam Reed it would appear that he's in a spot of trouble since he's bleeding and his ship is coming apart around him as he's being chased through space. The strange cannon that emerges from beneath the craft opens a wormhole and Adam flies through it, which indicates that he's going back in time, as the trailer and story had already advertised. But the movie is set up in a manner that makes it kind of funny since the younger Adam Reed comes off as nearly a carbon copy of Reynolds from the start since his rapid-fire wit is on display even as he's getting his butt kicked. It's established that he and his mother are struggling a bit on their own, especially since Adam doesn't know when to give his mouth a rest.
This makes it tough on his mother, who lost her husband and Adam's father a while back, meaning that both of them have been forced to adjust, and still haven't. When young Adam discovers a strange ring of burned treetops in the woods, he doesn't quite know what to think. But when he discovers a stranger in his father's garage, bleeding and in need of help, he has no idea what to think. When the stranger, older Adam, makes it clear that he knows everything about his life, his home, and who he is because they're the same person. The unfortunate part is that older Adam meant to visit 2018, not 2022 since he was looking for his wife, Laura, as she went missing after a jump back in time. What happens instead however is that older Adam is followed by Sorian, the individual that worked with his father to create time travel, and is now willing to do anything to keep the program running the way it is. As old Adam tells it, the time he comes from, 2050, isn't the nicest place in the world, and it needs to be prevented.
The twist is that Laura is alive and has been waiting for Adam to find her, and when young and old Adam are pinned down by Sorian's forces, Laura comes to the rescue and fills them in on what's been going on for the past few years. When Sorian finds them again, however, Laura sends both Adams away, staging a showdown with Sorian's forces, during which she's finally killed, while the Adams are on a mission to find their father and make their case as to why the program needs to be ended. Upon finding their father, however, things become a little less simple as they have to work through their issues that were never resolved before they can agree with what to do. Eventually, it comes down to the Adams and their father against Sorian and her forces as they work to destroy the means of time travel, coming dangerously close to destroying everything within a 100-mile radius of the facility. But in the end, everything is worked out, including the issues between future Adam and his father.
As action movies go this was a fun feature in the sense that it had plenty of feeling and plenty of great scenes that were well-balanced and offered up opportunities for Reynolds and his fellow actors to add to the moment with a quip or two that set the tone. To be fair, the actor brought in to play the younger Adam was great since he was able to match Reynolds' energy in a manner that was fun since it's not something that the audience gets to see that often. Overall, this movie was enjoyable but definitely took a step down from the usual that we've seen from Reynolds. Of course, it's not a bad thing, since it continues to show the growth Reynolds has experienced as an actor.