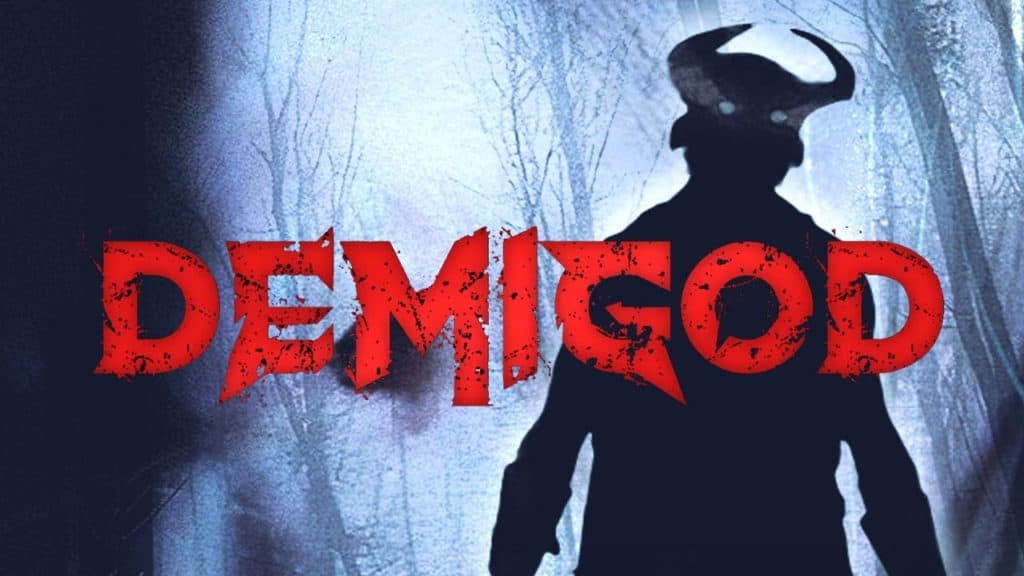 Welcome to the B reel with this one but in a sort of interesting way since while Demigod wasn't a great movie it did have a decent buildup to something that might have been easy to accept back in the 80s and 90s. So let's call it a throwback to simpler times and say that it was a good idea that might not have been able to scrape up a big enough budget to be much else. The whole story revolves around the return of a woman to her birthplace in the Black Forest of Germany, far out in the woods away from civilization. Her grandfather was what many people would have called a loon since he believed in the old ways and in the lord of the hunt, who ruled over the woods and demanded a blood sacrifice every so often. In Demigod, the main character and her husband return to her now-deceased grandfather's home to see what's there and what can be done with it, and end up finding themselves embroiled in a pact that was made between her grandfather and the forest guardian.
Cernunnos, the Lord of the Hunt and guardian of the forest, is a particularly vicious creature that is humanoid in form but has the head and horns of a bull, and curiously enough uses a rather modern-looking crossbow to hunt with. I might be making a little bit of a jest with this since the production quality of this movie is actually just above what someone could accomplish with a camera phone and in some parts of the movie is a bit dodgy when it comes to overall camera movement and placement. The acting is a little overblown in some areas but not absolutely horrible since the story manages to push forward despite being a little, well, overly dramatic. The whole idea of the movie is something that could actually work and could be said to be a decent to good idea. A few tweaks here and there might have been a good plan, but obviously, the budget for the movie might not have allowed such a thing.
This is the kind of movie that one can honestly look at and imagine as something greater if it were allowed to have the kind of special effects that would turn it into the horror that it was meant to be. But for B-movie lovers, it's likely great since it deals with a very simple plot that has a couple of twists here and there that are practical in nature but steeped in what might be seen as an adherence to the laws of nature and the expectations of what is to happen in the domain of the Lord of the Hunt. In other words, the Black Forest is Cernunnos' domain in this movie, and he is a being that, as it's admitted, has been born into several forms over the course of his long life, or so we're told. From his glowing eyes and hybrid appearance, it's fair to say that there's something going on with Cernunnos that might back up the claim since he's not what anyone would think of as a normal creature that humanity would think of as commonplace.
But the discussion that goes on between the sisters that serve him is reaching in a big way since they speak of the world as it changes and whether they'll still have a place in it, or if Cernunnos will. Of course, it could be that the world they speak of is the Black Forest and their place in it since the overall idea is the Cernunnos is bound to the forest, as it's his domain, his territory, and the place that he protects and draws from. One of the truly interesting things about Cernunnos is that he is a deity that hails from the Celts where he was worshipped in roughly the same form as is seen in the movie. Being a figure of myth and legend it's fair to think that he could be used just about anywhere, but history states that Cernunnos was worshipped by the Celts, not the Germans, but in the interest of the movie, that's easy to overlook, especially since there's no telling how widespread his influence went.
Heck, Christians looked upon him as the Antichrist and even used his image as such apparently, which isn't hard to see happening since just about anything with horns appears to be connected to demons and devils according to many people. But from the modern hand crossbow to the rubber mask that was Cernunnos' face, it's fair to state that this movie fell into the B category with a purpose. There's nothing wrong with it, but if it was meant to be anything else, it needed a few more stars and a huge upgrade in special effects. The story was fun though.