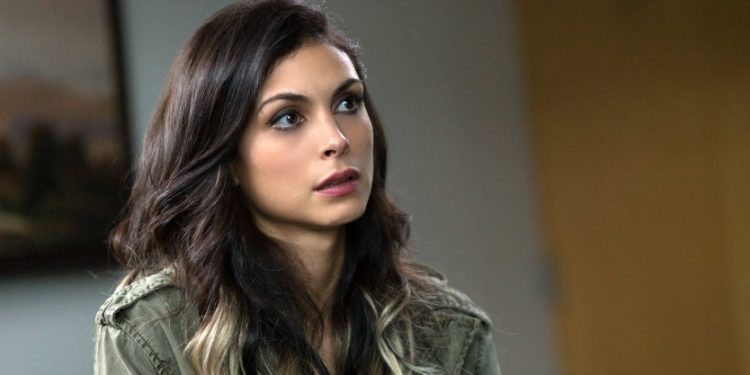 Morena Baccarin is a woman you've probably seen once or twice when turning on the TV or in the movies and might not realize it until you see her again. She's not so all over the place that it might seem like she's trying to saturate Hollywood with her presence, but she's made an impact all the same since she's been featured in some of the most popular shows and movies to hit the screens, both big and small, throughout the last decade or so. In that time she's made quite the career for herself by taking on roles that have earned her a great deal of notice, such as her role as Vanessa in the Deadpool movies. While she's not always the most important character on the set she's still usually a pivotal one that has something to do with the plot and helps to drive the show or the movie in a way that people can take note of.
Here are a few things you might not have known about Morena.
1. She's had the goal of being a Bond girl.
It's safe to say that some women would actually like to be known as Bond girls at some point in their career. Those that don't like the spy or don't agree with the films might frown on the idea but there is a lot of prestige that comes with being seen as a Bond girl since it means that no matter what the woman's name and likeness is going to be cemented into Hollywood in some way for as long as people are willing to remember them.
2. Morena's mother was very supportive of her acting career.
This is a big up for any actor or any individual that follows their dream since the support of others can make it doubly worth it and even help at times when the going gets rough. In show business there's no doubt that some moments are harder than others, but with someone that believes in you saying you can do it the struggles ease up just a bit sometimes.
3. She's extremely competitive.
This is a good quality to have since it takes a bit of inner fire to really put yourself out there and go for what you want. Too many people don't seem to realize that if you want something and aim to get it you need to have that drive to try and be the best that you can be and outshine everyone else, if only for a moment.
4. She comes from a very artistic family.
It's always a big up for anyone when they choose a path in life that mirrors that of their family in some way. This tends to allow people to use those closest to them as sounding boards at time or can lend them access to advice that they might find difficult to find otherwise.
5. At one time she was Natalie Portman's understudy.
This was for a stage play when both women were slightly younger, but to think that she was backing up Natalie Portman at one point in her career is kind of amusing since now she's the one that would likely be granted an understudy.
6. She's taken on a few voice roles in DC animated films and shows.
In her career she's jumped across the line and done both DC and Marvel but she has managed to voice a few roles for DC animated features and has even appeared as one of the more prominent characters on the series Gotham.
7. During her role in Deadpool she was kind of self-conscious about being almost completely nude.
Both she and Ryan Reynolds were kind of uncomfortable with the more intimate scenes that they were put into but apparently Ryan was very understanding and quite supportive, therefore making Morena a lot more comfortable since he was a fun person to work with.
8. Since her big break she's been seen just about anywhere she can be put.
Rodger Dodger seems to have been lauded as one of her big breaks, but opinions tend to vary on things like this so it's fair to say that somewhere along the line her career exploded and she's been seen anywhere and everywhere she can now.
9. Her social media standing is enormous.
As of now her social media following is in the millions and to be honest it's not too surprising since her role in Deadpool made her one of the most loved characters in the movie, while her roles elsewhere have been pleasing fans throughout the last several years without fail. She's simply one of those actors that you watch and tend to fall in love with since she's so sincere about what she's doing.
10. She's been married twice.
She has children from each marriage and apparently neither one of them ended nicely, as the second time her husband filed for divorce due to problems that simply couldn't be fixed.
11. Morena is a native of Brazil
Morena Baccarin was born in Rio de Janeiro, Brazil in June of 1979. Her parents moved with their family to Greenwich Village, New York because her father was transferred to a new position at Globo TV headquarters to be an editor. Her dad, Fernando Baccarin was a journalist. She considers herself to be Brazilian-American. Morena was just seven years old when she and her family moved to America.
12. She is of Italian descent
Morena Baccarin is of Italian descent and it is reflected in her first name. The name Morena has meaning in several languages, In both Portuguese and Italian, her name means "brunette. Morena Baccarin enjoys a richly diverse heritage, moving from South America to the United States which adds to her understanding of multiculturalism from a personal perspective.
13. Baccarin has an impressive educational background
After moving to the United States, Morena attended Public School 1 which is a Collaborative Studies Lab in New York City. While attending the school, she was a classmate with Claire Danes with whom she has co-starred in "Homeland." She went on to attend the Fiorello H. LaGuardia High School of Music & Art and Performing Arts. After graduation, she continued with her education entering the prestigious Julliard School in their theater program and she was in the school's Drama Division's Group from 1996 through 2000.
14. She has received multiple award nominations
Morena Baccarin has co-starred in several high grossing films and popular television series. As a result of her contributions to the films and shows, she has received multiple award nominations. In 2016, she was nominated for the MTV Movie Awards Best Female Performance Deadpool and Nominated Best Kiss with Ryan Reynolds. She was also nominated for Teen Choice Awards Choice Movie Actress: Action Deadpool. She was also nominated in 2010 and in 2011 for the Saturn Award Best Supporting Actress of Television V, Scream Awards Breakout Performance – Female V, and NewNowNext Awards Bring of Fame: Actor V. In 2013, she won the Primetime Emmy Award Outstanding Supporting Actress in a Drama Series Homeland as well as the Screen Actors Guild Award Outstanding Performance by an Ensemble Series Homeland. In 2001 Morena won the Wine Country Film Festival Best Actress Way Off Broadway Award.
15. Morena Baccarin is at home in film or on television series
Morena has not limited herself in her acting career. She is just as good as a co-star in films such as "Deadpool" and "Deadpool 2" as she is in playing the role of Dr. Leslie Thompkins in the television series "Gotham." The recurring roles have helped her to amass a regular fan base who know they can catch their favorite actress in her recurring roles. She has achieved a good balance between the two.
16. She speaks two languages
Morena Baccarin speaks more than one language. She obviously speaks the English language very well, but it wasn't her first language. Being born in Brazil, her native language is Brazilian Portuguese.
17. She listens to NPR and Fox News
Morena likes to stay up to date on what is going on in the world, and although she can't always be as up to date as she would like, she makes an effort. She shared that she listens to both NPR Radio and she watches Fox News. She shared that it is her belief that you can not just listen to the things that you agree with if you want to stay up on what is happening in the world around you.
18. She likes watching random movies
On her days off, when she's not extremely busy, Morena Baccarin likes to kick back and turn the television on to see what is on. She disclosed that she just likes to find a random movie that he either hasn't seen, or hasn't watched in years. Three of them which came to her mind were "Moonstruck" "Misery" and "Coming to America."
19. She doesn't feel the need to wear makeup
Morena shared that she doesn't put on makeup when she's not working. She only uses it when necessary. She said that instead, she may use a tinted moisturizer and she may apply a bit of blush and mascara but she keeps it minimal.
20. Her favorite television show is "Modern Family"
Even big stars like Morena Baccarin have their favorite weekly sitcoms. Although her schedule doesn't usually permit her to watch television regularly, she catches up on the show that launched in 2009 whenever she can. She said that she loves the show and it's one of her favorites although she doesn't even know when it airs for certain.
Every Show She's ever Been In
Firefly (2002-2003)
In this sci-fi drama, Baccarin played Inara Serra, a high-society courtesan that was born on Sihnon during the late 25th century. Inara Serra was a young girl who was adept at swordplay. Later on, Baccarin would reprise the role of Serra in the movie Serendipity.
Still Life (2003-2004)
This short-lived drama was about the Morgan family's recovery from a loss. Baccarin played Maggie Jones, the love interest in the story. The show only had 6 episodes, and Baccarin was in every single one.
Justice League Unlimited (2005-2006)
During this time, Baccarin provided the voice for Black Canary/Dinah Lance and Edgar Mandragora. She voiced these characters in three episodes. Interestingly enough, while starting out with this animation, Baccarin will find herself again doing voice work for DC characters later on in her career.
The O.C. (2006)
In 2006, Baccarin was in three episodes of the O.C. as Maya Griffin. The daughter of Henry Griffin, the Head of the Hospital Board, Maya dated Jeff Hephner's Matt Ramsey character. The biggest purpose of Maya's role in the show was to be the reason for Matt's firing.
Stargate SG-1 (2006-2007)
In 2006, Baccarin goes back to sci-fi as Adria in Stargate SG-1. Baccarin played the adult version of Adria in the show. Adria is the daughter of Vala Mal Doran and of the Ori. Adria ended up lead the Ori into power until her regime ended in 2007. That was when Adria's influence over the Milky Way finally ended for good. Baccarin reprised this role in the movie Stargate: The Ark of Truth.
Heartland (2007)
Baccarin had another short show called Heartland back in 2007. She played Nurse Jessica Kivala, one of the lead characters in the show. The show had only 9 episodes and Baccarin was in every single one.
V (2009-2011)
This show was basically about the invasion of a ruthless alien race, and Baccarin was at the helm of it all. She was Anna, the leader of the Visitors, and although she appeared to have been a charming creature, she was actually manipulative and tyrannical. In addition, Anna was really a reptilian creature on the inside much like all other visitors.
The Good Wife (2012-2013)
Baccarin had a short stint in the famous TV drama, The Good Wife. She played the character Isobel Swift in two episodes. The first episode was aired in 2012, Long Way Home, and the second episode was aired in 2013, The Wheels of Justice.
Homeland (2011-2013)
This CIA drama is one of the best shows on television currently, and Baccarin had a steady recurring role from 2011 to 2013. She was in a total of 36 episodes. Baccarin played Jessica Brody, the wife of Damien Lewis' character Nick Brody. Baccarin received her first Emmy nomination for Supporting Actress in a Drama series for her portrayal of this character.
The Red Tent (2014)
The Red Tent was a TV miniseries that told the story of the twelve tribes of Israel. Baccarin played the role of Rachel in two episodes. Rachel was Jacob's favorite wife and also Leah's sister. Iain Glen played Jacob while Minnie Driver played the role of Leah.
The Mentalist (2011-2014)
The Mentalist was a unique show; it was one of the first ones that used psychology in solving crime and mystery. Baccarin played Erica Flynn in three episodes over the span of 3 years: 2011, 2012, and 2014. Erica Flynn was a matchmaker, and she murdered her husband John. She was eventually incarcerated in her final episode for her crime.
The Flash (2014-2018)
Baccarin finally returns to the world of DC, this time in a live-action version. Be that as it may, we still don't get to see Baccarin in these episodes from The Flash. We do, however, get to hear her voice. Baccarin plays Gideon, an advanced computer AI from the future. We see Gideon in the Time Lab located in a location in STAR Labs that's only known to Harrison Wells.
Gotham (2015-2018)
Her latest recurring role is in the Netflix series, Gotham. Baccarin plays Leslie Thompkins, Batman's doctor friend. She is also Bruce Wayne's godparent and very close confidante. Baccarin has been playing this role since 2015 and has been in 75 episodes to this day.
A Collection of Awesome Homeland GIFs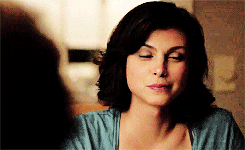 1. Is this for real?
Even if you don't really know anything about the show, this GIF is nothing short of hilarious. In it, her character is giving that look that almost everyone gives when they simply can't believe something that another person has said. You have to love the look she is giving, especially when she takes it a step further and puts her hand over her face as if to say, "Is this for real?"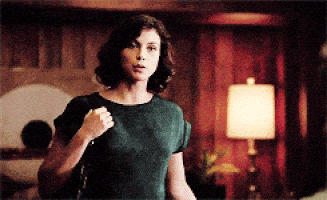 2. Playing Coy
It really depends on your point of view what the character is saying in this particular GIF. On one hand, she might be playing coy with someone that she's interested in. On the other hand, it looks like she could just as well be putting someone in their place. The beautiful thing about it is that without watching the entire scene from the show itself, you don't really know. It makes this GIF perfect for a wide variety of different situations.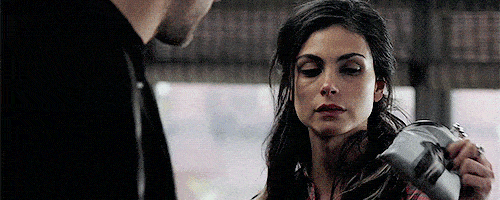 3. The Spark
You know that look that somebody gives when they have that spark, during that perfect moment of chemistry with another human being. That's exactly the look that she's giving in this one. If you've ever experienced this for yourself, you know it can literally be a magical moment that makes you feel on top of the world. If you haven't yet experienced it, keep waiting for it because it's very much worth the wait.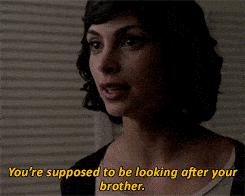 4. Looking Vulnerable
Everyone has their vulnerable moments and in this GIF, it looks like she is having one of her own. To be honest, it looks more like she just got hit with a heavy dose of the truth and she isn't quite sure what to do about it. Whatever it is, it seems to be rather painful. This is a good reaction to use whenever you feel like you have just been hit with a freight train, hearing something that you've been trying very hard not to admit to yourself.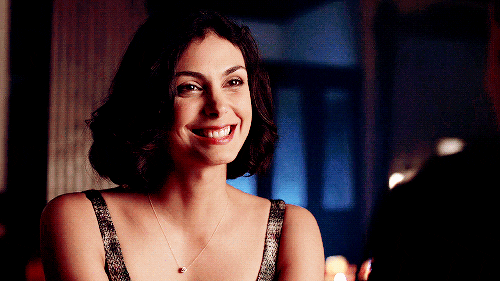 5. Total Innocence
This GIF shows the character letting her hair down, so to speak. She looks like she's being completely innocent about things, maybe even trying to act a little bit on the naive side. Perhaps she's trying to demonstrate that she doesn't always have to be serious and that it's okay to have fun every once in awhile. Maybe she is just genuinely enjoying herself. Whatever the case may be, she turns on her smile in full force and makes every effort to appear more relaxed than usual.
Tell us what's wrong with this post? How could we improve it? :)
Let us improve this post!