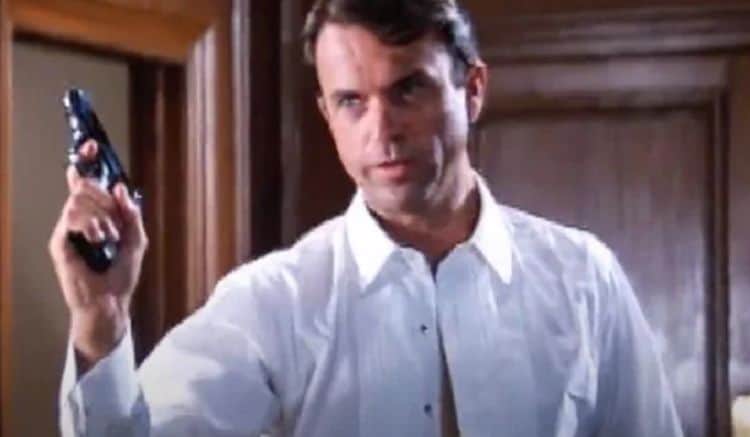 There are so many people that would likely want to play the role of James Bond that it might be easier to figure out who doesn't want the role at this point. But it's interesting to learn that Sam Neill actually auditioned for the part at one point, but obviously didn't get it. This might have actually been a blessing in disguise for Neill and for the fans since when thinking about it he's had a very successful career taking on roles that aren't quite as big as Bond but are definitely important since his time as Dr. Alan Grant in Jurassic Park was enjoyable, his roles in Event Horizon and Peaky Blinders were pretty cool, and In The Mouth of Madness is a mind-bending movie that people should see at least once if they can get through it. But Bond is the type of role that kind of needs to go to someone that has the right look for it, and without trying to insult Sam, he doesn't have it. Instead, he looks like someone that should either be a scholar, a villain or perhaps even a father figure or someone like a mentor. Bond has been established as the kind of guy that is what the old school alpha males might look like, smooth and almost predatory with a piercing gaze and a build that's either muscular or at least just athletic. Sam really looks more like a guy that would be comfortable out on archaeological dig than sipping martinis and driving fancy sports cars.
It's not always the best idea to doubt people when it comes to playing certain roles, but over and over, Sam has proved that he can play a variety of roles, but the deadly calm super-spy isn't one of them since he definitely shows a great deal of emotion, where Bond is typically cool and calm through most situations until it's time to let down the walls and actually be a human being. As Dr. Alan Grant he was good at showing annoyance and even wonder when it came to traveling to Jurassic Park. But once the wonder had worn off he was definitely annoyed, scared, and near the end, he was a bit sorry for Hammond it appeared since he knew of the old man's desire to give the world something that would amaze everyone. Dr. Grant actually went through a very great amount of development throughout the movie since when it started he really didn't like kids and had no patience for them. That obviously tends to change when one has to make their way through a strange jungle with relics of a bygone era all around them and one, in particular, attempting to kill them a couple of different times, not to mention the fact that three others were very intent on killing the lot of them. Between the T. Rex and the velociraptors, it does feel likely that Dr. Grant finally found some sort of protective instinct towards children that might have transferred over to the third movie, even if we didn't get to see it.
As John Trent, he was more of a skeptic and wasn't exactly what one might call a decent human being, but he wasn't evil either. He was someone that didn't want to believe what was right in front of him, even when it was about to trample him into the ground. The thing with Sam Neill is that he's a good actor until it comes time to be an action star, and then he kind of hits a wall. Even when he was younger he still looked like the kind of guy that you'd rather sit in the pub with over a good discussion about this or that and a couple of pints than see downing a martini or having a shoot-out with a fellow spy. Something about it just doesn't add up, but the guy is definitely a great actor, a little understated perhaps, but someone that's reliable and fully capable of taking on many roles since he's been one of the more enjoyable actors to watch over the years. Plus, it almost feels that once a person plays Bond that there's a certain level of expectation that goes into their act, as though people want to see the absolute best from them over and over and perhaps even see them return to the role of Bond eventually before they get too old for it. Sean Connery grew to hate the character of James Bond but would go on acting out the part for a while before he finally broke away from it. It does feel as though Sam really dodged what looked like an opportunity but could have been a huge mistake had he been given the role. His career certainly hasn't suffered for it.