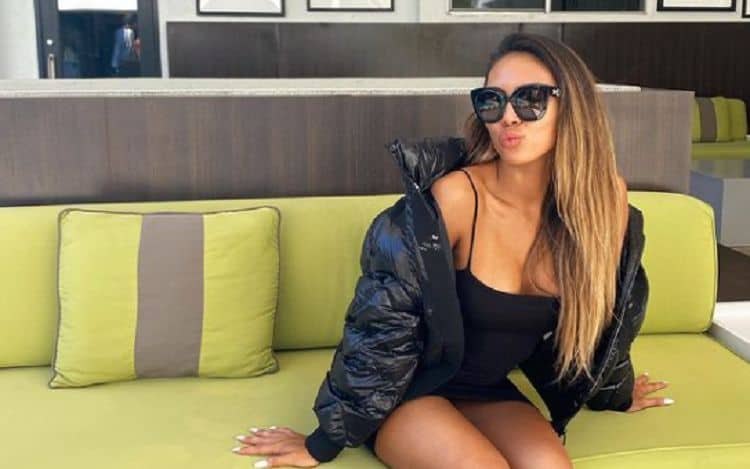 Does the name Montana Yao mean anything to you? It might if you're a fan of the NBA's Malik Beasley. She's the wife – or estranged wife – of the Minnesota Timberwolves guard. The couple is not in a good place right now, and many fans are wondering what happened to their marriage. He was spotted out and about recently – hand-in-hand, we might add – with a famed basketball wife and girlfriend of many years, Larsa Pippen. You know her name. She's the very famous ex-wife of famed player Scottie Pippen, and she's got a real thing for basketball players. However, Montana Yao, model and wife of Larsa's latest boyfriend, is not overly amused by her husband's choice to date. Who is Yao? Let's find out.
1. She's Young
Born Montana Helena Klein Yao, she was born in 1997. She was born and raised in Newport Beach, California, and she attended high school in Pasadena. She's a long-time California girl – her entire life, to be honest – and she's quite young.
2. She's Got a Large Following
Yao has more than 123k followers on Instagram, and she works as a model. She's lovely, so the job suits her perfectly. However, it seems that many people are unfamiliar with her despite the fact that she has a large following and models professionally.
3. She is a Pageant Queen
Her younger life was spent in the beauty pageant world. She was given the title of Miss Malibu Teen USA as recently as 2016, and she went on to compete in the Miss California Teen USA pageant the same year. She was able to earn a place in the Top 10 in the pageant, but she did not win.
4. She Met Her Husband in 2018
She and her basketball player husband met in 2018, welcomed their son Makai in 2019, and somewhere between their meeting and 2020, they were married. We don't know when they tied the knot, however, and we don't know if it was before their son was born or sometime after. We do know that she was only 21 when they met, and he was 22. They are only a year apart in age.
5. She Didn't Know Her Husband was Dating
When Larsa Pippen and Malik Beasley were photographed strolling along the streets of Miami while holding hands, she saw the photo at the same time the rest of the world saw it. She even posted about it, and her caption read, "Wow…I don't even know this man…this is wild ya'll I'm seeing it for the first time just like y'all," and it clearly didn't go over well. What's interesting is that Pippen is a good 20+ years older than this man.
6. She Filed for Divorce
She might be young, but she's not stupid. The moment she saw photos of her husband out with another woman hand-in-hand, she decided to file for divorce. She wasn't having any of that. She's not staying in a marriage with a man who is unfaithful to her, and not one person blames her for that.
7. She's Accused her Husband of Kicking Her Out of the House
While he was allegedly telling people that his marriage was in trouble, his wife claims she didn't know a thing about it until she saw photos of her husband with his new girlfriend. That's when he told her and their son that they need to leave their home and find somewhere else to live. She also alleges that he does not do his part to raise their son, and has only contributed $800 to care for him over the course of the past two years.
8. She's Appalled Her Husband Questions His Paternity
While we don't know any of the specifics of their marriage, their relationship, or their private life in any capacity – and there are always three sides to every story – we do find it sad that after being a father for two years, Beasley has decided that he might not be his son's father now, and he is questioning his paternity. If he had any questions, it's something he should have addressed from the start. He's now the only father this little boy knows, he's raised him, and now he asks questions amid a difficult divorce? How sad he needs the court to tell him to parent his child after already doing so for two years. What kind of parent can walk away from a child they've already raised even if they find out that child is not their own? It's no fault of the child if he is not his biological child.
9. She's Not Taking This Sitting Down
When someone commented on her Instagram photos that she's looking a lot like her husband's new girlfriend, Larsa Pippen, recently, she clapped back with some savage truth. She's only 23, and this is how she's looked from day one. Her exact comment was, "gtfo my page with his BS. I BEEN looked this way. More like someone look more and more like ME. With all that surgery," about Pippen, who is 23 years her senior.
10. Her Son Comes First
Tell us what's wrong with this post? How could we improve it? :)
Let us improve this post!